Montana is set to become the first US state to ban TikTok from personal devices after its Governor Greg Gianforte signed the ban into law on May 17, local time, citing cybersecurity and data privacy risks.
Similar allegations were raised by US lawmakers during a congressional hearing on TikTok in March. However, experts argued that TikTok does not pose the so-called national security threat to the US, and the crackdown on the company is seen as an excuse to suppress Chinese enterprises.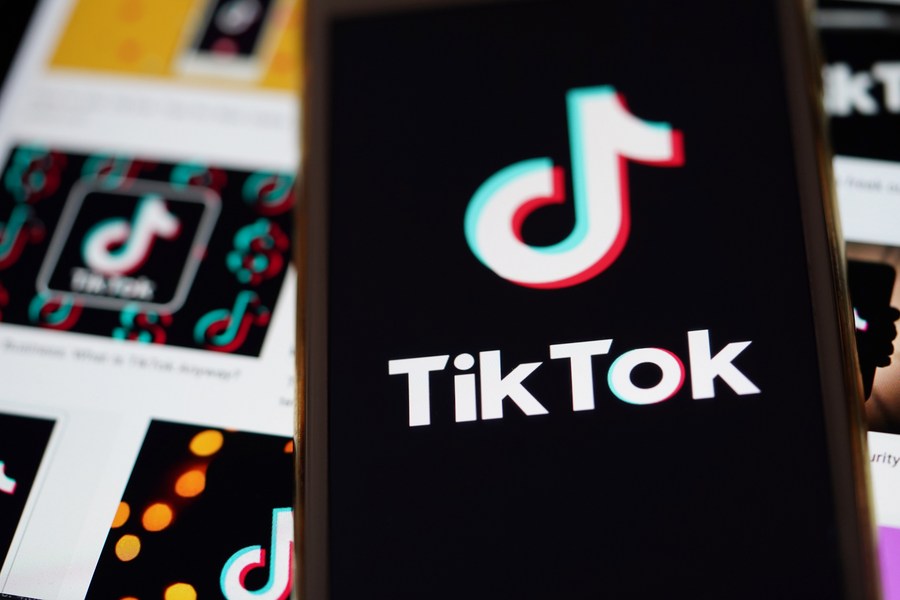 The logo of TikTok is seen on a smartphone screen in Arlington, Virginia, the US, on August 30, 2020. (Photo/Xinhua)

US and Canadian experts: TikTok poses no threat to US national security
The US Central Intelligence Agency (CIA) conducted an assessment during the Trump administration and found no evidence of the Chinese government accessing user data from TikTok.
The report released by the Georgia Institute of Technology in January, titled TikTok and US National Security, also stating that "TikTok is a commercially-motivated enterprise, not a tool of the Chinese state," and has implemented measures to separate the Chinese market from global markets, thus posing no threat to US national security.
TikTok CEO Shou Zi Chew highlighted on the congressional hearing as well that TikTok is a subsidiary of ByteDance, a private company not owned or controlled by the Chinese government.
He emphasized that TikTok has never manipulated or deleted users' content at the request of Chinese government, and is committed to protecting the data safety of its 150 millions users. A comparative analysis by University of Toronto's Citizen Lab in 2021 echoed Chew's testimony, concluding that TikTok's features and code don't endanger users' privacy and US national security.
In response to the safety concerns, TikTok is investing over 1.5 billion USD in Project Texas to establish a US data firewall, and plans to move all its user data in the US to servers controlled by Oracle, the Silicon Valley company, according to Chew.
Facebook has no risk of being banned after leaking user data
In fact, compared to TikTok, Facebook has been more criticized for privacy issues, and caused the Cambridge Analytica scandal where as many as 87 million Facebook users' information was leaked to Cambridge Analytica, a political consulting firm to serve for Trump's 2016 presidential campaign.
However, Facebook did not really take authentic action to settle down the concerns it raised after the scandal.
In 2018, UK Information Commissioner's Office released a report about the use of data analytics in political campaigns, noting that Facebook had not fulfilled its promise to address issues related to data privacy. Moreover, it was not until 2018 that Facebook suspended Cambridge Analytica and its parent company Strategic Communication Laboratories (SCL) from its platform.
"In terms of data and privacy security, I don't see any additional risk that TikTok presents other than Instagram, Twitter, LinkedIn or other similar apps," Perihan Elif Ekmekci, deputy dean of the School of Medicine, TOBB University of Economics and Technology, told GDToday in a recent interview.
"Two of my daughters are very much involved with TikTok, and are really using it for good purposes. They are learning a lot from it and become more street smart because of the videos, so they find the lawsuit against TikTok ridiculous," she added.
Ekmekci noted that if TikTok indeed has issues, the appropriate action for the US would be regulation rather than a "ban".
US has a history of exerting national power to crack down on successful foreign enterprises
The US has a history of exerting its national power to crack down on successful foreign enterprises. TikTok isn't the first case.
For example, in the 1980s, the US initiated a trade war with Japan to suppress the latter's economic and technological competitiveness. At that time, Japanese companies was very competitive in the world semiconductor industry, accounting for 50 percent of the global market in 1986. The US, therefore, took a series of measure using treaties and sanctions to force Japanese companies to give up their market share. By 2020, the US had occupied 50 percent of the global semiconductor industry market, with only 10 percent left to Japan.
The US also used long-arm jurisdiction to pressure French company Alstom, the energy industry giant, to sell its power and grid business to its main competitor, General Electric, through which the US gained partial control of most French nuclear power plants.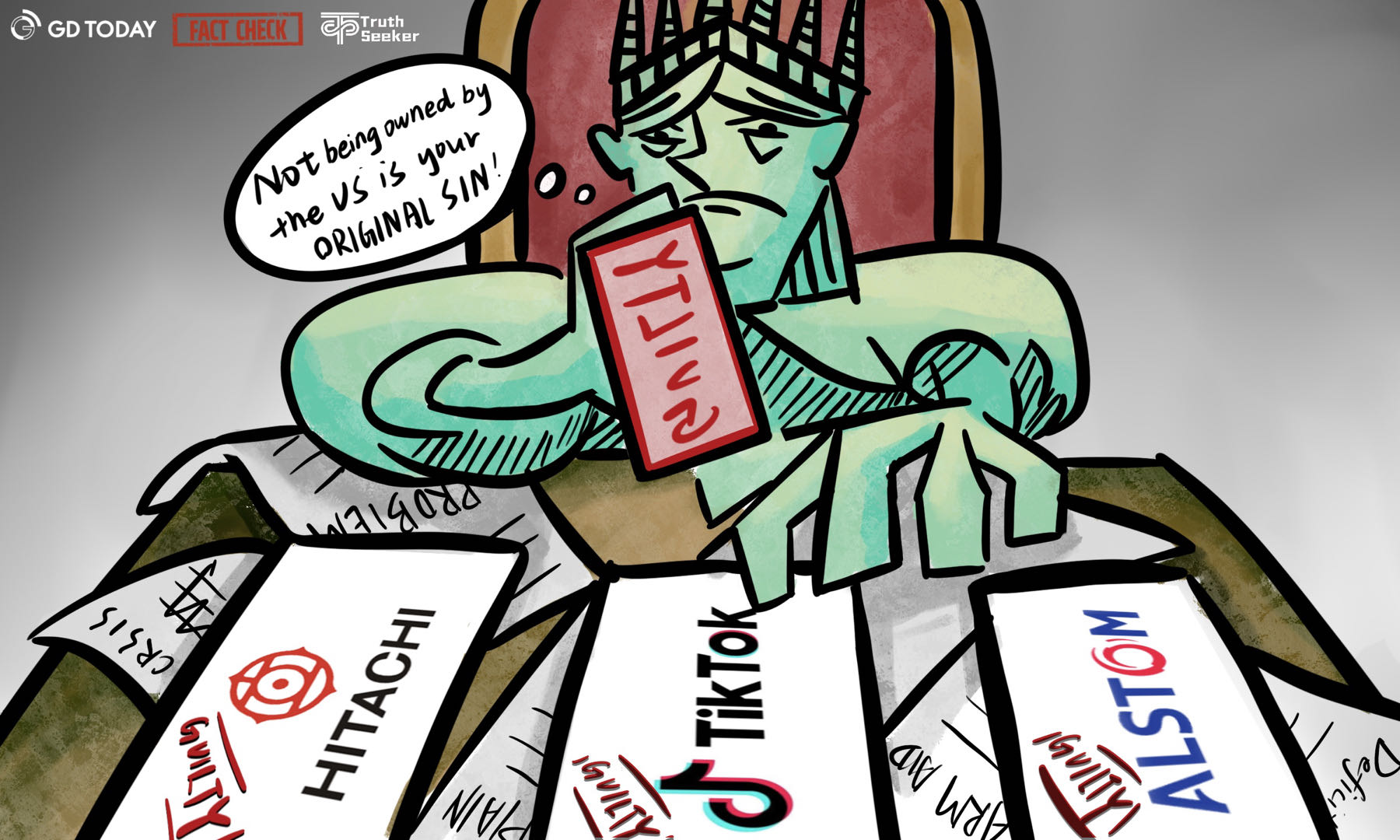 Francis Crawley, chairman of the International Data Policy Committee of the Committee on Data for Science and Technology (CODATA), took Huawei as another example of US' suppression of foreign companies in a recent interview with GDToday. In 2018, Canada arrested Huawei executive Meng Wanzhou at the request of the US government. Moreover, the US urged allies not to adopt Huawei's 5G equipment based on national security concerns. As a result, countries using Huawei equipment such as United Arab Emirates and Qatar have achieved top mobile network speeds, while the US lags behind.
Karim Farhat, author of TikTok and US National Security, wrote in the report that the attacks on TikTok are rooted in the idea of a complete decoupling from the Chinese economy, which is popular in US politics, and the consequences of doing so are devastating.
Crowley describes the US crackdown on TikTok as a game of politics and power, which is about the control of data and economy in its competition with China.
He argued that to safeguard data security, countries need to interact with and learn from each other. "Data policies have to fit in with people's way of life. It can not be one-size-fits-all," He said.
Co-presented by GDToday and School of Journalism and Communication, Jinan University
Author | Xu Yuqin (intern), Li Fuying (intern)
Editor | Wing, Steven, Lydia