The "Two Sessions", a key event in China's political calendar of 2023, will start on March 4 and 5 in Beijing, while the local "Two Sessions" are already underway across China.
The 14th Guangdong Provincial People's Congress opened its first annual session today (January 12), and the first annual session of the 13th Guangdong Provincial Committee of the Chinese People's Political Consultative Conference (CPPCC) kicked off on January 10.
Every year, the "Two Sessions" serve as a window to observe Guangdong's development and to understand how China's whole-process people's democracy works at the local level.
How does Guangdong Provincial People's Congress work?
Local people's congresses at all levels are local state organs of power. They represent the people to exercise state power, formulate and promulgate local regulations, decide on major issues, as well as elect, remove and supervise state functionaries. In Guangdong, as of August 2022, 12,836 contact stations across the province have been established for deputies to offer help to or collect suggestions from local citizens.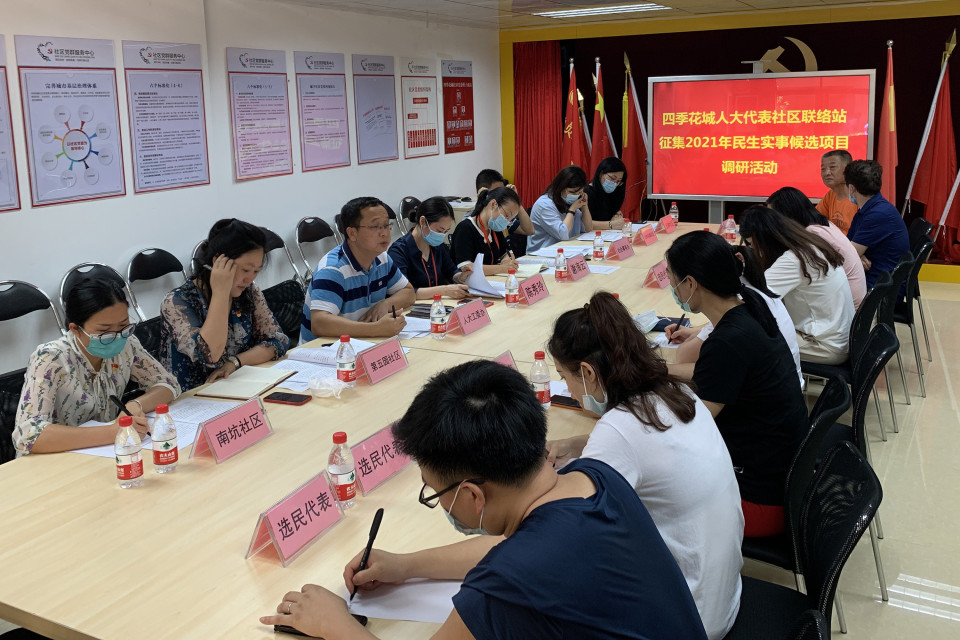 Deputies meet representatives of the local residents in a community in Shenzhen (Photo/Nanfang Daily)

From January 12 to 16, deputies converge on Guangzhou for this year's Guangdong Provincial People's Congress. There are 793 deputies in total elected from 21 municipalities and the army of Guangdong. Apart from government officials, there are also deputies from other social sectors, such as professionals from different industries, members of ethnic groups and members of the Chinese community who have lived abroad and returned home.
During the congress, they will deliberate over the budget and the work report of the Guangdong government, which summarizes the province's major performances in 2022 and outlines plans for economic and social development in 2023.
Deputies will also put forward suggestions, criticisms or complaints on the government's work, which the departments and organizations concerned should consider, deal with and reply to.
According to the Standing Committee of Guangdong's Provincial People's Congress, the 965 suggestions put forward by deputies at last year's congress have been handed over to 100 departments and organizations, and all the deputies related have received a reply. Most of the suggestions (74.6%) have been adopted or partially adopted, and 182 suggestions have been listed in the government's recent work plan.
Deputies also have the right to submit motions during the congress. After examination by general meetings and group meetings of the delegation, a relevant special committee and finally the presidium, the motions will be submitted to a plenary session of the congress for a vote. Adoption requires a simple majority. If adopted, the motion then becomes legally binding from a certain date in the province.
At this year's meeting, both the governor and vice governor of Guangdong province, heads of the province's Supervisory Commission, High People's Court and People's Procuratorate, as well as new chairpersons of the Standing Committee of the 14th Guangdong Provincial People's Congress, will be elected. Their term will last for 5 years. Deputies to the 14th National People's Congress will also be elected, which will open on March 5 in Beijing.
How does the CPPCC Guangdong Committee work?
The CPPCC Guangdong Committee is a meeting of political advisers and consists of representatives from the Communist Party of China (CPC), other political parties, public figures without party affiliation, people's organizations, ethnic minority groups and all sectors of society, compatriots from Taiwan and returned overseas Chinese, as well as specially invited individuals from Honk Kong and Macao Special Administrative Regions and other sectors.
Committee members are attending this year's meeting in Guangzhou, which will conclude on January 13, and new chairpersons of the 13th CPPCC Guangdong Committee will be elected and start their 5-year terms.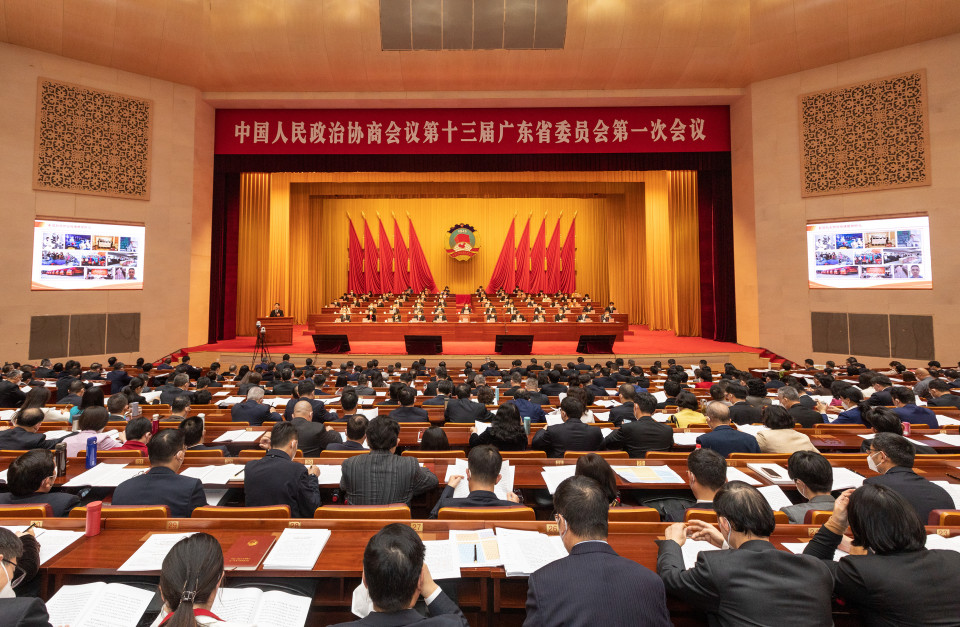 The first annual session of the 13th Guangdong Provincial Committee of the Chinese People's Political Consultative Conference opens in Guangzhou on January 10. (Photo/Nanfang Daily)
During the meeting, committee members will discuss government work reports, put forward proposals and offer comments and suggestions on major political and social issues, such as economics, ethnic affairs, religion, health, environment, education, sports and foreign affairs.
On January 10, Wang Rong, chairman of the CPPCC Guangdong Committee delivered a work report, saying over the past 5 years, Guangdong CPPCC has received 5,143 proposals, 3,965 of which were ultimately filed and replied to.
For instance, 722 proposals have been made to promote the development of the Guangdong-Macao In-Depth Cooperation Zone in Hengqin, the Qianhai Shenzhen-Hong Kong Modern Service Industry Cooperation Zone, and Guangzhou's Nansha district.
It is worth mentioning that a department in charge of handling proposals is obliged to give a reply to each proposal.
The "Two Sessions" of Guangdong province is ongoing. Stay tuned and find out what Guangdong's policy agenda is for 2023 and the years to come.
Author | Lydia Liu
Video editor | Qin Shaolong
Poster designer | Lulu
Editor | Wing, Steven, Jasmine, Ou Xiaoming, James