By Dr. Henry Huiyao WANG
In February, Munich is usually plagued by incessant rains and chilly weather. However, this year's edition of the Munich Security Conference (MSC) saw the city basking in a balmy and clement atmosphere, rendering overcoats redundant during strolls outdoors. Many attendees, including ourselves, thought that this was the warmest MSC to date. This mild winter has enabled most EU nations to navigate the energy crunch triggered by the war in Ukraine without going through the worst.
In its nascent stage, the MSC comprised selected groups from Western political and academic spheres, who convened to discuss matters pertaining to security during the Cold War. Consequently, some referred to it as a family gathering of the West. While the conference's primary focus on security remained unchanged after the Cold War, the breadth of topics and participants expanded significantly, signaling a transition towards a global forum. However, the conference retains some of its earlier traits, particularly its emphasis on Western attendees with high credentials. The conference's discussions are characterized by unparalleled intensity and wield a considerable impact on policy making. CNN has aptly described the Munich Security Conference as "the highest-level summit on diplomacy and global security."
This year, not only French President Macron, German Chancellor Scholz, British Prime Minister Rishi Sunak and US Vice President Kamala Harris attended and delivered speeches, but also more than one-third of the US congressmen were present, forming the largest delegation of the United States in the history of the MSC, so much so that the former head of the Wilson Center joked that they have enough Congresspeople to conduct their Congressional business.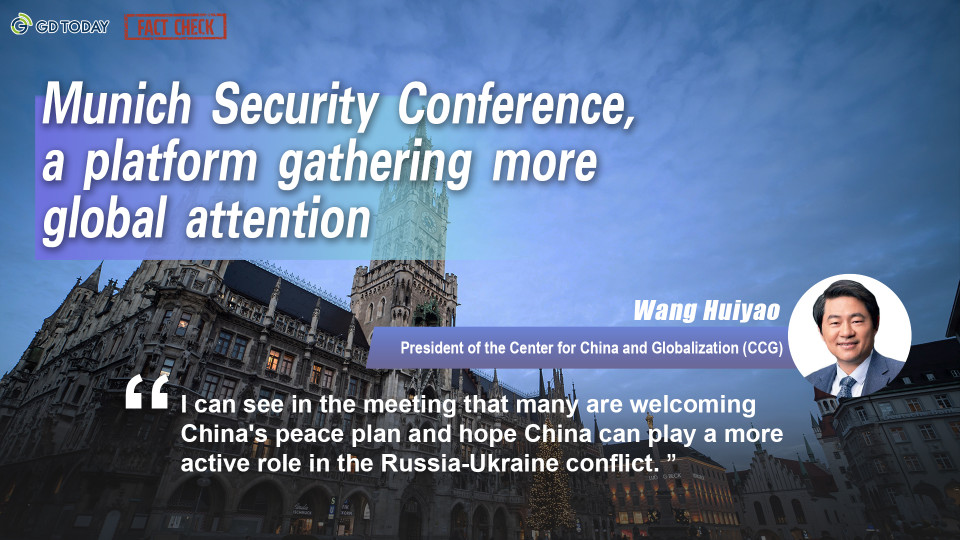 As customary, hundreds of participants convened at Hotel Bayerischer Hof in Munich for a tightly packed three-day session of meetings, featuring high-level interactions. The Munich Security Report provides insightful analyses and appraisals of global security matters from a Western perspective, often serving as a must-read for decision-making.
MSC 2023 saw Western representatives adopt a yieldingly tough stance against Russia's military actions in Ukraine. US Vice President Harris delivered a speech outlining the United States' perspective on the Russian-Ukrainian conflict, accusing Russia of committing "war crimes" in Ukraine, whereas Germany's Foreign Minister Annalena Baerbock said that peace will be possible 'tomorrow' if Russia stops bombing and withdraws troops.
China showed a more pragmatic attitude. Wang Yi's meeting with Dmytro Kuleba, Minister of Foreign Affairs of Ukraine, yielded an upcoming "China's position on the political settlement of the Ukraine crisis." Beijing insists it is firm in advocating peace and dialogue, and "China's peace plan for Ukraine (was) greeted cautiously by the West," as The Guardian later reported. But I can see in the meeting that many are welcoming China's peace plan and hope China can play more active role in the Russia Ukraine crisis.
Owing to the gathering's high-profile participants, it also emerged as a prime opportunity for senior government officials to engage in formal and informal communications.
Wang Yi, Director of the Office of the Central Foreign Affairs Commission of the Communist Party of China, engaged in "informal talks" with the US Secretary of State Antony Blinken, one of the highlights of bilateral interactions during MSC and speaking to the conference's rising role as a platform. The New York Times referred to that as a "tense meeting," but face-to-face communications are certainly better than not having a meeting and is conducive to finding a floor between the world's two largest economies. The US State Department press release also expressed its interests in continued dialogue with China.
China has become an indispensable participant and topic in recent years at MSC. For example, in 2020, there were as many as 11 side events explicitly involving China. In 1999, China sent official representatives for the first time to participate in the meeting, and official representatives participated many times in the following editions, which attracted a lot of attention. At the 2020 MSC meeting then-State Councilor and Foreign Minister Wang Yi refuted then-US Secretary of State Mike Pompeo's accusations against China.
French President Emmanuel Macron is expected to visit China shortly, and Chinese and US Presidents could meet again this year after a summit in Bali, Indonesia. Wang Yi's whirlwind diplomacy before, during, and after the MSC laid the foundation for China's diplomatic activities going ahead.
Remnants of stereotypical thinking from the West continue to persist. For instance, the Munich Security Index 2023 employed the crisis of democracy as a benchmark, illustrating the democracy versus autocracy divide that dominates the Western discourse. However, this polarization fails to resonate. Leaders in several Middle Eastern countries find it challenging to navigate this dichotomy and are reluctant to choose sides. During a side event, a representative from Singapore noted that this simplistic classification falls short in capturing the intricacies of governmental systems, urging a more inclusive approach. Many representatives expressed the hope that China would take a more vocal stance on this topic.
The presence of Chinese delegates at such events serves to provide a balance to Western speakers, leading to a more rational and objective discourse. At a side event focused on the topic of "democracy and autocracy," we responded to Western criticisms, and although there were only a handful of Chinese delegates present at the MSC this year, they played a significant role in ensuring a diversity of perspectives.
The MSC also serves as a platform for China to facilitate détente and dialogue among major powers. Our non-governmental Center for China and Globalization's (CCG) actively participated in various side events during the conference, where we conveyed China's policies, positions, and views from a civil society point of view.
The weather in Munich also lent added credence to the CCG side event on China-US climate cooperation, where friends old and new were invited. One notable quote came from Professor Graham Allison, the Founding Dean of Harvard University's Kennedy School of Government, who emphasized that China-US relations should not be solely defined by competition, but also by cooperation. He emphasized that the degree of emphasis on cooperation between China and the United States should be no less than that of competition. Such a view, if recognized by US elites, could have a positive impact on bilateral ties
The impact of the Munich Security Conference on Western policymaking remains as potent as ever. An acquaintance of mine, a United Nations official who attended the meeting, revealed that he feels compelled to attend each year because many of the voices and insights he hears are incorporated into policies six months later. A clear example of this is that after the intense discussions of Chinese tech companies at a previous MSC, many Western nations implemented corresponding policies regarding them.
China needs to accord greater significance to this platform, not only to foster communication and dialogue, dispel misconceptions, and achieve consensus, but also to proffer Chinese solutions and proposals, and strive to optimize the interests of all parties from a pragmatic standpoint.
Dr. Henry Huiyao WANG is the Founder and President of the Center for China and Globalization (CCG), a leading non-governmental think tank in Beijing. The article reflects the author's opinions and not necessarily the views of GDToday.
(If you want to contribute and have specific expertise, please contact us at newsguangdong@sina.com.)