On February 3, a train carrying toxic chemicals derailed in the Ohio village of East Palestine, sparking days of fires. About 4,700 residents within several kilometres remain unable to return home due to the fear of explosions.
The U.S. authorities carved out an evacuation zone and carried out a controlled release of toxic fumes to neutralize the burning cargo. Then they lifted the evacuation on February 8, five days after the accident. Residents continued to worry about their health as worries about the derailment's and fire's effects on the environment and the transportation system grew.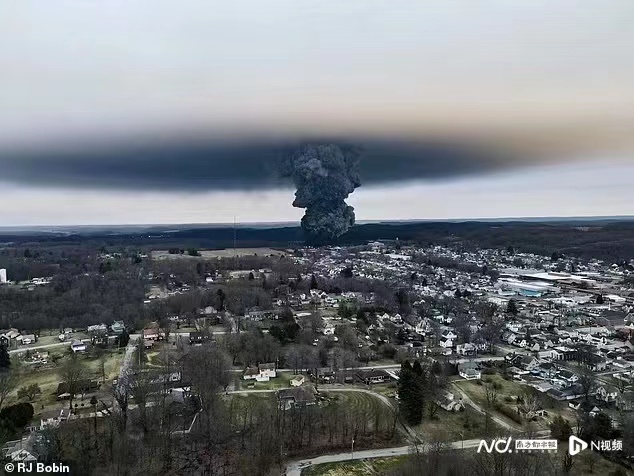 (Photo: Southen Metropolis Daily)

Here's a timeline of events:
February 3
According to the U.S. Environmental Protection Agency, a Norfolk Southern Railroad freight train derailed in East Palestine, Ohio, at about 8:55 p.m. Norfolk Southern reported the incident at 10:53 p.m. to the National Response Center.
The train consisted of about 150 cars, 50 of which were affected. According to the National Transportation Safety Board, 20 of the 150 cars contained hazardous materials, 10 of which were affected by accidents.
February 4
According to EPA, responders discovered contaminated runoff from the derailment affecting nearby Sulphur Run and Leslie Run creeks. Norfolk Southern contractors erected barriers and tailrace dams to limit the flow of contaminated water.
Residents near the derailment were asked to leave the area.
February 5
At a news conference, Ohio Gov. Mike DeWine asked remaining residents to leave the area due to a rail car being at risk of exploding. "You have to leave. It's a matter of life and death." DeWine urged residents at a news conference. He also told reporters covering the conference to leave the area as soon as it was over.
Meanwhile, the railroad operator Norfolk Southern reported that workers had discovered that pressure relief devices in five rail cars carrying compressed vinyl chloride had stopped working, and that there had been a "dramatic temperature change" in one of the cars that posed a potential explosion hazard.
February 6
DeWine and Pennsylvania Governor Josh Shapiro ordered the immediate evacuation of all remaining residents so that Norfolk Southern could conduct a controlled release of chemicals from the rail cars and prevent an explosion.
Remaining residents in a 1-mile by 2-mile area around the village were asked to leave before Norfolk Southern began a controlled release and burn of vinyl chloride in five rail cars at approximately 3:30 p.m.
February 8
DeWine, Shapiro, East Palestine Fire Chief Keith Drabick, and other state officials stated that East Palestine residents could safely return home.
NewsNation correspondent Evan Lambert was arrested for trespassing while attending DeWine's press conference about the derailment. In a statement, East Palestine police said they asked Lambert to stop his live coverage because he had been "loud," which led to an argument. Police said they arrested the broadcast journalist after he refused to leave the premises.
Lambert was held in custody for about five hours before being released, NewsNation reported. At the end of the press conference, DeWine said that he did not authorize the arrest.
February 10
Norfolk Southern contractors constructed a dam and water bypass on Sulphur Run to prevent further pollution of downstream waters.
The EPA sent Norfolk Southern a general potential liability letter listing areas where the company may be liable for damages and cleanup related to the wreck.
According to the letter, some derailed rail cars contained vinyl chloride, ethylene glycol monobutyl ether, ethylhexyl acrylate, isobutylene and butyl acrylate.
February 13
Norfolk Southern submitted its disaster response plan to EPA, outlining how it has responded to the derailment and what actions it proposes.
February 14
According to the U.S. National Transportation Safety Board (NTSB,) 10 of 20 cars carrying hazardous materials derailed. 38 cars left the check, and 12 cars were damaged in the ensuing fire. There is no preliminary report on the probable cause of the derailment provided by NTSB.
Author | Clarice
Editors | Wing, Steven, Jasmine, James