By Dr. Hassan Daud Butt
From time immemorial, countries have remained in search of modernization models that can serve their national interests and bring prosperity. Today countries are exploring avenues for all-round, coordinated modernization while exploring national, regional, and global connectivity and markets.
On the international front, the world continues to battle COVID-19 uncertainties and economic challenges compounded by the Ukraine crisis. These global challenges are the main stress test that international development cooperation and regional integration initiatives have ever faced. In this exceptional time, China took center stage and ensured social cohesion, political stability, and national development towards a new path of modernization.
As Chinese leaders discuss future plans and review past progress, the biggest achievement of the Chinese leadership was its absolute commitment to the welfare of its people and its triumph over absolute poverty by lifting 98.99 million impoverished rural residents out of poverty by the end of 2020. Practically, leaving no man, woman, or child behind, China endeavored for a political system that can meet the expectation of its 1.4 billion people to deliver on the range of desirable political goods ensuring rule of law, security of possessions, a just judicial system, and a sustainable economy creating lasting momentum with a set of values that ensures fair play and mutual respect.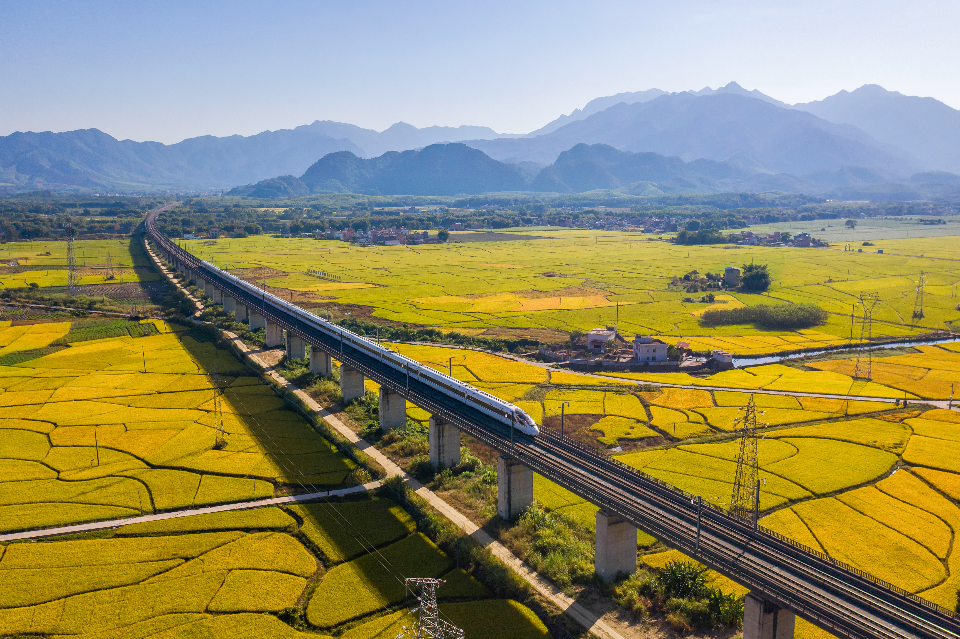 A view of Zhangshi town in Shaoguan city, south China's Guangdong province. (Photo/Nanfang Daily)
The Congress formulated action plans and major policies, assess where resources are to be allocated within society to meet future challenges and mobilize all Party members and people from all ethnic groups across the country. Today, Chinese government officials remain committed to the creation of an all-inclusive growth model. Despite a sizable aging population, the party has worked to broaden insurance coverage.
Overall, the CPC in its stages of growth has worked tirelessly towards reducing the wealth gap and preserving national culture. The pension layers starting from basic pension to occupational pension to individual pension have created social security system for all. Among many Chinese citizens, there is a prevailing view that the CPC has led to China's continuing economic strengthening.
Under the pragmatic policies of the CPC, the average annual growth rate of GDP in the last four decades is at 9.5% and China's GDP reached the level of 17.7 trillion USD in 2021, ranked the 2nd in the world after the US, a major feat in many ways. The other major achievements of the CPC were to have its 100th anniversary, promote socialism with Chinese characteristics in a new era, achieve victory over poverty, fight against corruption while maintaining meritocracy, lead towards the path of modernization and remain people-centric. Against this backdrop, one achievement that China can proudly look at is the Belt and Road initiative which has contributed to a connected and prosperous region via energy, infrastructure, and investments in socio-economic projects across its partner countries including Pakistan.
Overall, the CPC has secured historic successes unprecedented in human history while embarking on a new journey toward building a modern socialist country.
China's journey for development from a poor country to today's preeminent provider of financing for global development is unprecedented. China is now exploring and focusing on sectors and expanding investments in areas strongly linked to the Sustainable Development Goals (SDGs). The recently announced Global Development Initiative of China squarely focuses on socio-economic development and mitigating the effects of climate change menacing venerable countries like Pakistan.
China's strengths will help to develop BRI partner countries to eradicate extreme poverty and accelerate technological development and high-quality growth. As the pandemic is taking a heavy toll on the global economy and has exerted pressure on de-harmonizing international economic order, the arduous economic and social recovery tasks are weakening support for combating climate change challenges, such as providing adequate financial support for developing countries.
As part of the philosophy of a community of shared future for mankind", China also makes strong links to the UN SDGs and uses the 2030 Agenda to frame its development efforts. China is increasing its emphasis on governance, climate change, health, humanitarian assistance, agriculture, food security, infrastructure, as well as education and training.
For Pakistan, China's rise is a great admiration and an opportunity for learning and development. What is important for us is to learn from this Chinese development feat and understand China's rapid ongoing transformation and the factors on which China's progress focuses in the past decades to become the most powerful engine of the world's economic growth.
In this changing global scenario, where the degree of competition among countries and regions has become more intense, the process of modernization will be challenging and incremental. This daunting task needs us to chart a clear and innovative path to regional and global economic success as in the words of former Chinese leader Deng Xiaoping: "It does not matter if a cat is black or white, as long as it catches mice."
Dr. Hassan Daud Butt is honorary director of the Center for BRI and Regional Studies and senior fellow of the Center for China and Globalization (CCG). He is a projects management specialist and is a faculty member of the Projects Management Department at various institutes/universities. He has also served as a diplomat in China and Vietnam and has been the project director for China-Pakistan Economic Corridor projects.
(If you want to contribute and have specific expertise, please contact us at newsguangdong@sina.com.)