"Why do we choose Guangzhou? Because Guangzhou can give you a chance to try the new things in your mind. The most important thing is Guangzhou's strong support for enterprises, building them up from ground zero." Bekar Mikaberidze, Founder of Belt and Road Georgian Business House, said at the "Bridges" Storytelling Event on August 27.
Organized by GDToday, the "Bridges" Discovery Tour invited 15 business representatives and social media influencers to visit Guangzhou, Shenzhen, Zhuhai, and Qingyuan from August 21 to 27 for a glimpse of tech development and rural revitalization in Guangdong.
Why has this southern province in China attracted a large number of tech companies and professionals worldwide? How has the life in rural areas here been changing through the times? The"Bridges" members shared their discovery at a story-telling event on August 27.
Guangdong, Hong Kong and Macao deeply integrated
Colombian content creator Fernando Munoz Bernal has lived in Dongguan for 22 years. He arrived in China in 2000. At that time, visiting Hong Kong from Dongguan took around 6 hours, and people need to go through complicated procedures, and could lose cellphone signal the moment one got on the MTR towards Central or Kowloon.
Nowadays, convenient infrastructure has provided solutions to the long journey. "I can take the metro at the corner of my home, ride 15 minutes to Humen, get on a high-speed train for 90 minutes and do both sides of immigration in east Kowloon using E-channels," said Bernal.
Having visited the Zhuhai and Macao border, Bernal has learned the level of integration across the border is high. In his opinion, the Traditional Chinese Medicine Science and Technology Industrial Park of Cooperation Between Guangdong and Macao (GMTCM Park) is an example of how China has taken full advantage of the excellent relation between Macao and Portugal as well as other Portuguese-speaking countries in the African continent to promote and foster commercial and cultural exchanges.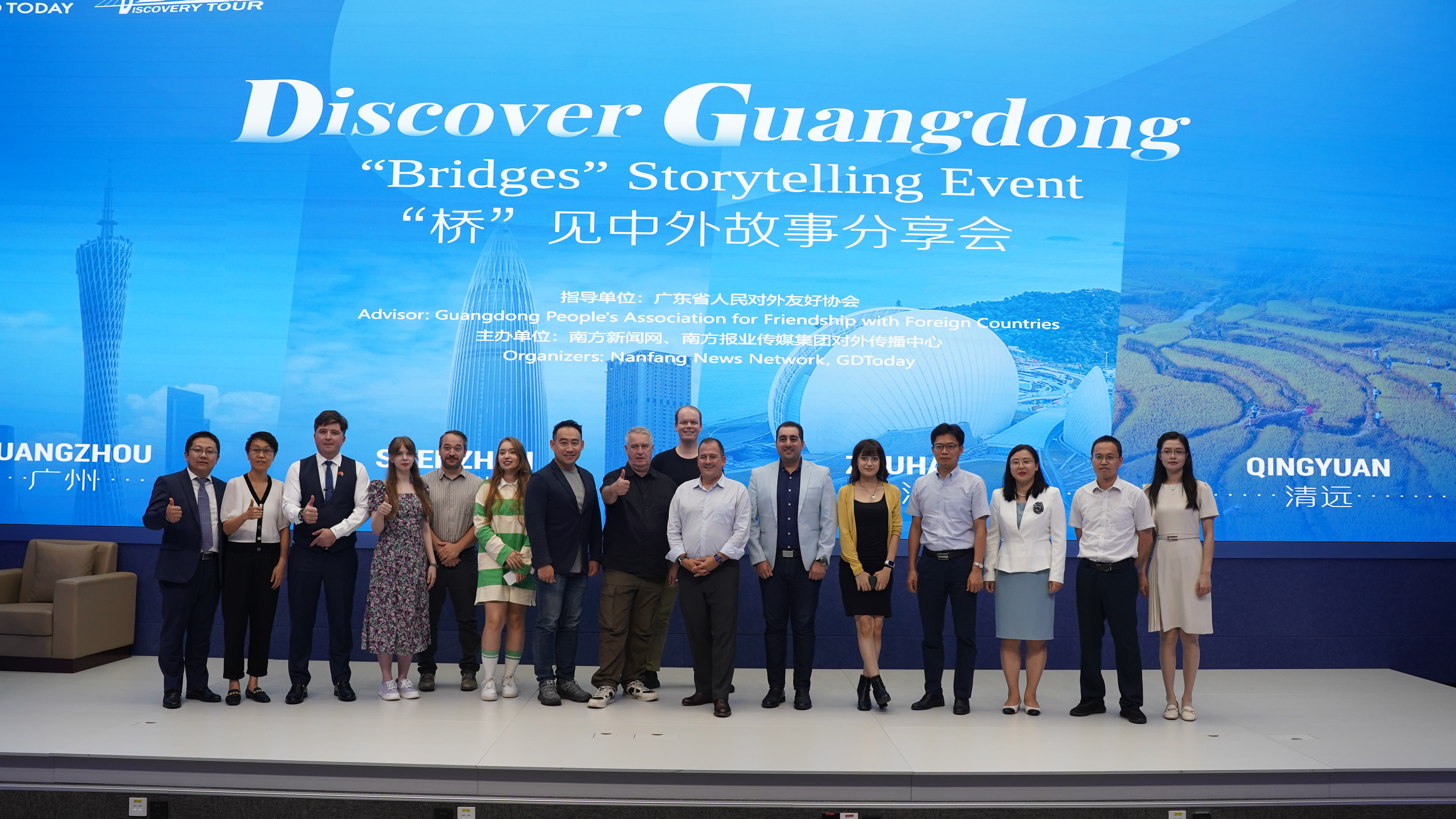 (Photo: GDToday)
Greater Bay Area is gearing up for innovation-driven development
The test inside the Nail Penetration Lab has left deep impression on members of the "Bridges" Discovery Tour, including Martina Gdovinova, Slovakian content creator. When the nail went down and pierced into two different kinds of batteries, the MCM battery was on fire while nothing happened to the BYD blade battery.
"BYD EVs are very attractive to me, because I care about the safety and environmental protection when it comes to a car. Slovakia's per capita automobile output ranks first in the world. However, there is one problem: these are all gasoline cars. I think China has really made more efforts in environmental protection than us." Gdovinova, shared her views at the "Bridges" Storytelling Event.
Klaus Zenkel, Vice President of European Chamber and Chair of the Chamber's South China Chapter, believes that here in the GBA (Guangdong-Hong Kong-Macao Greater Bay Area), the environment has strong potential to implement the required new technologies for a green future, which will bring major opportunities for cooperation between Guangdong and EU companies.
In Hengqin, Anastasia Macjuka, Latvian lifestyle blogger, was impressed with how Guangdong and Macao mutually develop TCM. "They focus on research together with institutions, promoting and distributing TCM abroad, production of TCM, training doctors and medical staff," said Macjuka.
Notably, in Authenmole, the company that pioneered the modern Chinese medicine unmanned factory low carbon production line, also experienced instant tea and functional tea, which are more compatible to the modern pace of life.
Macjuka, who is qualified in biology, has a personal experience with TCM as she was suffering from chronic tonsillitis in her early 20s, but TCM helped her to get rid of this problem in two months. She said, "Chronic diseases are actually curable by TCM instead of antibiotics which will impact your microflora and bring many side effects. So, it is wonderful to see this sector expanding to the rest of the world."
Rural revitalization via tech, emerging industry a highlight of Qingyuan
According to Jerry Grey, Zhongshan-based Australian freelancer, traditional medicine is one of the many drivers of poverty alleviation. Jobs are created along with roads built, processing plants constructed, 4G and 5G utilized, as well as markets guaranteed.
Having stayed in China since 2004, Grey has both travelled widely with charity groups as early as 2005, and on his bike as recently as 2021 when he cycled through rural Guangdong into Guangxi. "What we've seen in more recent times is astonishing, poverty is being eradicated within China," said Grey.
Moreover, as for Atta Ghanaat, Secretary of the Iran Chamber of Commerce in South China, Qingyuan is a good example of some historical cities because it keeps their traditional customs while developing with new methods and new lifestyle.
In this city, "Bridges" members visited Gu Long Xia Hot Spring Hotel, which uses idle rural resources for development. "You can find some luxury hot spring hotels for your weekend with friends or some playground for your kids and family, with fresh and organic food." Ghanaat said, "You can visit some historical places such as a Thousand-year-old Yao Villge to know more about traditional buildings, ethnic clothing and folk activities."
Known as "Guangzhou's Vegetable Basket" and "Land of Fish and Rice", Qingyuan also impressed Ghanaat with the mandarin fish industry and Si Miao Rice, the latter with a full automatic producing line from beginning to packing, as well as the organic products.
"I am sure Qingyuan has more to know and, in the future, we will hear more about this city. I recommend to my friends to come and visit the green Qingyuan," he said.
Author | Hannah
Editor | Wing, Keane, Jasmine, Jerry