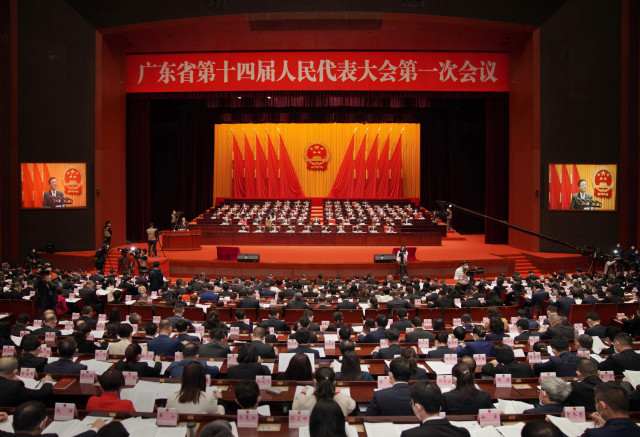 (Photo / Nanfang Daily)
Guangdong's GDP is estimated to hit 12.8 trillion RMB in 2022, a year-on-year increase of 2 percent, ranking the first in China for 34 consecutive years.
That was according to Wang Weizhong, the governor of Guangdong, when delivering the government work report at the First Session of the 14th Guangdong Provincial People's Congress today (January 12).
During the report, Wang summarized the progress Guangdong has made in the past five years. Guangdong has developed the Guangdong-Hong Kong-Macao Greater Bay Area, Shenzhen Demonstration Pilot Area, and paced up the construction of Hengqin, Qianhai cooperation zones and Nansha.
Over the past five years, foreign investment in actual use registered 800 billion RMB in Guangdong. The province has attracted ExxonMobil, BASF and other projects with investment over 10 billion USD each to settle. Guangdong now is home to 17 Global Fortune 500 companies, increased by 6 for the last five years.
Wang further indicated that Guangdong has set a goal of 5 percent of GDP growth rate in 2023.
In 2023, the province's fixed-asset investment is expected to increase by 8 percent, retail sales of consumer goods by 6 percent, total import and export volume by 3 percent. The CPI increase is expected to be about 3 percent.
Guangdong will focus on the real economy and manufacturing, developing itself into a leading province in manufacturing and quality.
Also, Guangdong plans to enhance education, sci-tech innovation, and talent work, expand domestic demand and stabilize external demand, and boost higher-level coordinated development of rural and urban areas.