Many real-life "lion dance youths" in Guangdong devote themselves to intangible cultural heritage and its inheritance from generation to generation.
Last year, Chinese animation comedy "I AM WHAT I AM (雄狮少年)" brought lion dance, Guangdong's intangible cultural heritage, to the big screen.

Just like the teenage protagonists in the film who pursue their dream of becoming the best lion dance performers, many real-life "lion dance youths" in Guangdong devote themselves to intangible cultural heritage and its inheritance from generation to generation.
Similar to main characters of "I AM WHAT I AM", Huang Baoyi, a 26-year-old girl from Shunde, Foshan, has worked toward the goal of winning the Genting World Lion Dance Championship.
She has been learning lion dance for 13 years and chose it as her career, becoming a member of Sanzhou dragon-lion dance team.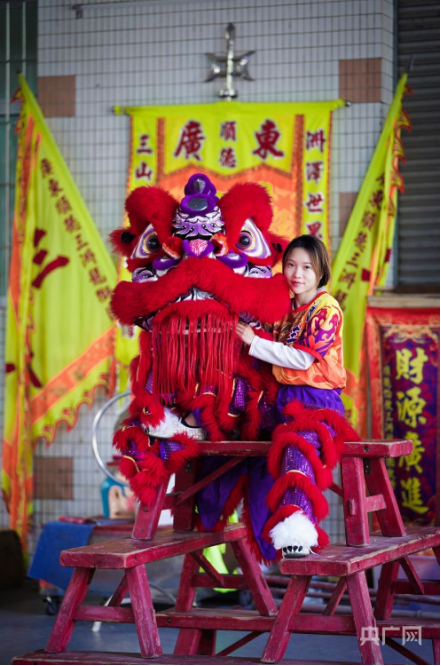 (Photo: CNR News)
For most lion dance performers, the age of 30 is a turning point for their physical abilities, and almost everyone wants to pass on this skill. Therefore, while promoting lion dance culture, Huang is also making efforts to pass it on to younger generations with her teammates.
Huang works as a lion dance coach in five primary schools, and there are also some children coming to study lion dance at their training base on weekends. She was particularly impressed by a young student. "She is only in first grade, but she is the most active in training. While everyone else rested, she still practiced with the dance movements of lion head."
For Huang, these students are "little lions" who can carry forward the culture and dreams of lion dance.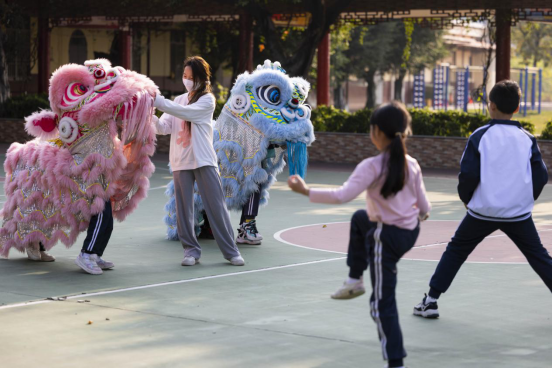 (Photo: Nanfang Daily)
Witnessing the importance of intangible cultural heritage, in addition to Huang, there are more and more of the youth in Guangdong have stepped up on intangible cultural heritage inheritance.
For instance, Liang Xiaoman, a sixth generation inheritor of Cantonese Embroidery, usually teach children embroidery at schools. She added Cantonese Embroidery elements into earrings, necklaces, hair bands and ties, bringing traditional skills closer to young people's daily life.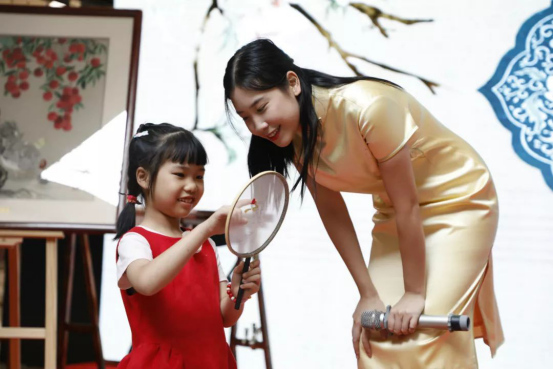 Photo: Guangzhou Haizhu Fabu (广州海珠发布), official WeChat account of Haizhu District's publicity department
Tang Peiwen, an inheritor of Cantonese Opera, is a public service lecturer at the Cantonese Opera Art Museum, teaching children the skills and knowledge of this art form.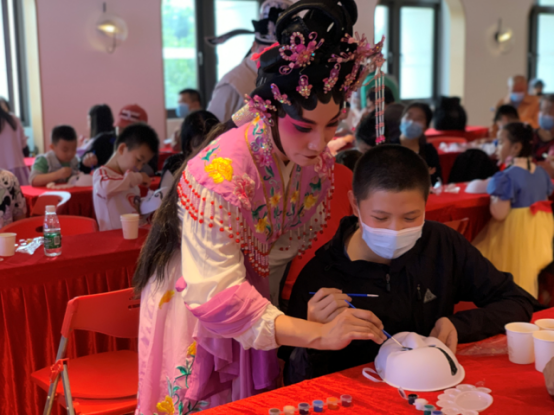 Photo: Guangzhou Liwan Fabu (广州荔湾发布), official WeChat account of Liwan District's publicity department
Guo Yihui, 22, is the youngest inheritor of Chaozhou woodcarving so far. He combines modern and his youthful factors with woodcarving to popularize it in a trendy way. "Chaozhou woodcarving is part of the essence of traditional Chinese culture," he said, "and I believe it is my responsibility to pass it on."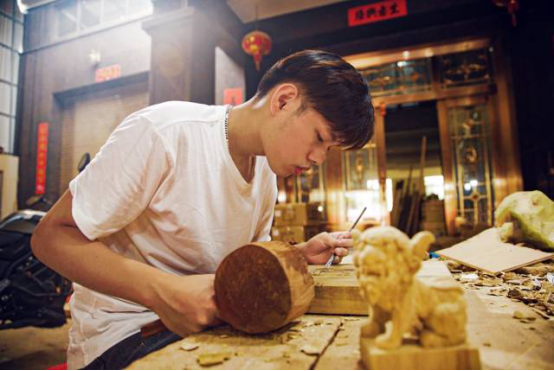 (Photo: Nanfang Daily)
Over the years, more organizations and individuals have participated in promoting intangible cultural heritage to the younger generation, including not only the culture and tourism departments, cultural centers, as well as intangible cultural heritage protection centers, but also schools, civil organizations and inheritors.
To honor their efforts, the Department of Culture and Tourism of Guangdong Province recently unveiled the winners of "2021 Guangdong intangible cultural heritage into campus" solicitation activity. Among 113 shortlisted projects, 10 won the Excellent Case Award and 10 won the Good Case Award.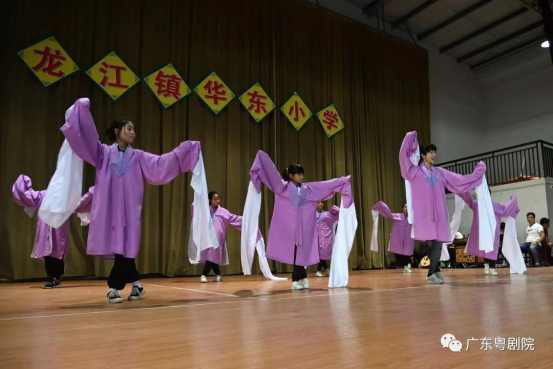 (Photo provided to Newsgd.com)
The shortlisted cases this time cover a large number of excellent traditional cultural projects from 16 cities in the province. In addition to Cantonese opera, Cantonese Embroidery and lion dance, there are also many local folk arts with local characteristics, such as bamboo sieve painting, gambiered Canton gauze and Tea Mountain dolls.
Author: Holly
Editor: Wing, Olivia, Monica, Jerry