<P>What does the Belt and Road Initiative mean for China-Qatar ties? What can be expected from the 21st Century Maritime Silk Road Forum? How can cooperation between Qatar and China, especially Guangd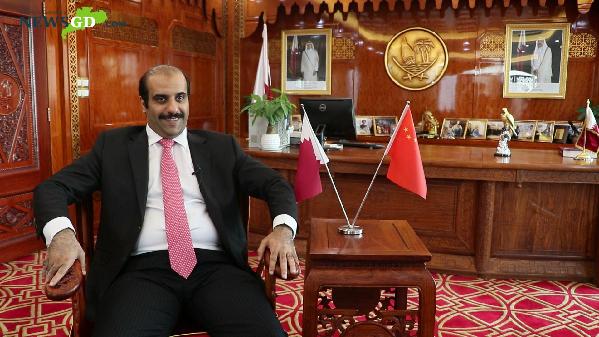 Mr. Ali Ghanem A.F. Al-Hajri, Consul General of Qatar in Guangzhou
Walking through the corridors of the Consulate General of Qatar in Guangzhou, a space filled with rich colors adorned with Qatar-style geometric patterns, one will still find it hard not to be captivated by a delicate model of an ancient Chinese ship.
It is a scaled-down version of one of the famous Ming Dynasty admiral Zheng He's flagships, the so-called Treasure Ship. From 1405 to 1433, Zheng He navigated seven naval expeditions across the seas to the Indian Ocean. His voyages reached as far as the Middle East and East Africa, marking the peak of ancient China's seaborne trade.
.
And Qatar, by virtue of its position linking Asia, Europe and Africa, was an important hub on the ancient maritime Silk Road which helped to promote trade and cultural exchange between China and the West.
The relationship between China and Qatar has continued into the present day. Qatar is one of the first countries to join the Belt and Road Initiative and one of the Asian Infrastructure Development Bank's first shareholders.
From Nov 28 to 30, a delegation from Qatar is to visit Zhuhai and attend the 21st Century Maritime Silk Road Forum on Chinese (Guangdong) Companies Going Global & International Communication, to discuss cooperation with Guangdong and indeed the whole of China, in terms of the economy and trade.
What does the Belt and Road Initiative mean for China-Qatar ties? What can be expected from the 21st Century Maritime Silk Road Forum? How can cooperation between Qatar and China, especially Guangdong be strengthened in the future? Mr. Ali Ghanem A.F. Al-Hajri, Consul General of Qatar in Guangzhou, gave his answers in an exclusive interview with Newsgd.com.
The Belt and Road Initiative: one of the greatest initiatives
China and Qatar both attach very great importance to cooperation and have been working closely in various fields within the Belt and Road Initiative, which Mr. Ali Ghanem A.F. Al-Hajri describes as "one of the greatest initiatives in human history".
In 2015, the first Renminbi clearing centre in the Middle East was opened in Doha, capital city of Qatar, offering access to RMB-based financial exchanges. Qatar Airways, currently connecting 7 Chinese cities (Guangzhou included) with Doha in only 8 hours, has become one of the most popular international airlines in China.
"The Belt and Road Initiative is very important for Qatar, GCC countries, the Middle East and the whole world. It will make a lot of things (happen)," said Mr. Ali Ghanem A.F. Al-Hajri.
Chinese companies have already been actively engaged in big construction projects in the field of infrastructure in Qatar, bringing with them "architectural innovation and advanced technology". This can be seen in the construction of key facilities for the 2022 FIFA World Cup, in addition to the newly open Hamad Port, one of the largest ports in the Middle East.
"New technology, educational resources, these are what we need from China." Mr. Ali Ghanem A.F. Al-Hajri added, "And this is why we come to attend the 21st Century Maritime Silk Road Forum, one of the biggest conferences inside China about the Belt and Road Initiative. We look forward to cooperating with Guangdong (based) enterprises in the field of new technology, new energy."
---
Huge potential for cooperation between Guangdong and Qatar
Just outside Mr. Ali Ghanem A.F. Al-Hajri's office window, on a high floor right in the heart of Zhujiang New Town, the city's modern landscape, life and economic development is encapsulated in this cluster of high-rises and a steady stream of cars.
New technology and economy, along with modern life, are the very three terms Mr. Ali selected to describe Guangdong, a province he sees huge potential for Qatar to cooperate with.
Over the past two years, since the Consulate General of the State of Qatar in Guangzhou opened in late 2015, 63 trade and investment delegations from Guangdong have visited Doha and signed cooperation agreements and memorandums of understanding with local government and enterprises.
Some Cantonese companies are also involved in the construction of facilities of the 2022 FIFA World Cup.
"There are promising opportunities available to Chinese, Guangdong (based) companies in Qatar in various fields, especially in infrastructure and advanced modern technology, including telecommunications, transportation, small and medium industries and many other fields."
Though believing that enormous potential for cooperation between Qatar and Guangdong remains untapped, Mr. Ali also emphasized that the great competition in the Qatari market would be a challenge for those companies who want to invest in Qatar. But he also pointed out that both countries had done a lot to help overcome the challenge, such as the possibility of dealing in Chinese currency through the Renminbi clearing centre and visa-free policy.
"After the great successes of Chinese (Guangdong) companies in the projects implemented in Qatar, all companies' opportunities have increased, and the confidence in these companies and in Chinese technology has increased," Mr. Ali reaffirmed his belief in further cooperation with China, and in particular Guangdong.
Author: Abby
Editor: Simon