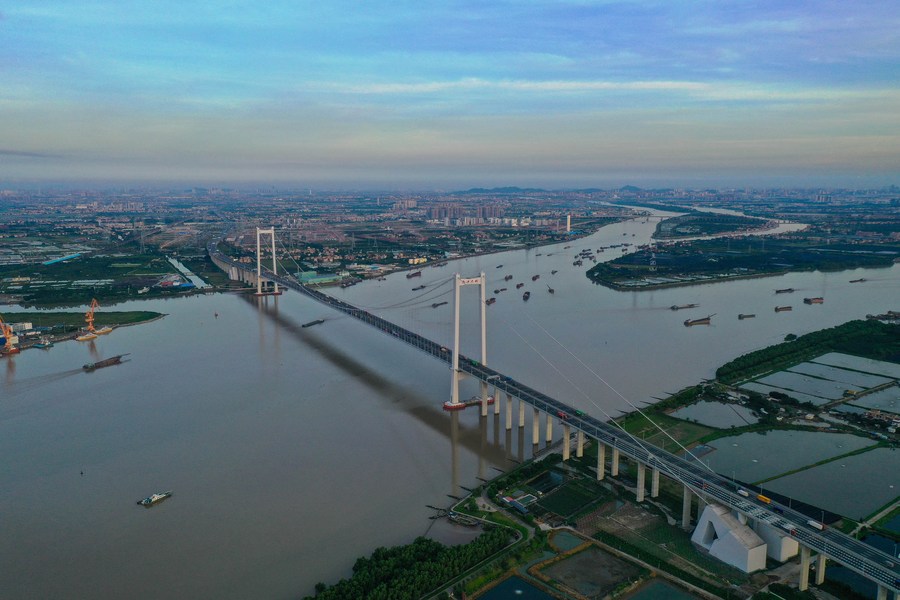 Aerial photo taken on June 29, 2022 shows a view of the Nansha Bridge, which links Guangzhou City and Dongguan City, in south China's Guangdong Province.(Xinhua/Liu Dawei)

John Lee, chief executive of the Hong Kong Special Administrative Region (HKSAR), on Monday expressed his hope that closer collaboration between Hong Kong and Guangzhou will promote the development of the Guangdong-Hong Kong-Macao Greater Bay Area (GBA) to a higher level.
Lee made the remarks as a delegation of the HKSAR government and Legislative Council (LegCo) conducted the final day of its visit in Guangzhou on Monday. The delegation, led by Lee, met with leaders of Guangdong Province and Guangzhou City to conclude its four-day visit to mainland cities of the GBA.
He said this was the first joint visit to the mainland by the current-term HKSAR government and the LegCo, and it was a vivid demonstration of the implementation of "patriots administering Hong Kong" to improve governance jointly by the executive authorities and the legislature of the HKSAR.
Lee also said the visit fully demonstrated the great importance attached by the HKSAR to and its active participation in the development of the GBA.
The visit facilitated the HKSAR government's work in strengthening the connection and deepening the consensus of collaboration with various mainland cities of the GBA, laying a solid foundation for the continuous promotion of high-level cooperation in the GBA to achieve complementarity, he noted.
The HKSAR will capitalize on its unique advantages of enjoying strong national support while maintaining unparalleled connectivity with the world under the "one country, two systems" principle, and work together with other GBA cities in promoting high-quality development and telling good stories of the GBA in the international arena, he said.
The HKSAR endeavors to integrate into the national development, continuing its contribution to the country's high-standard opening up and the advancement of Chinese modernization, Lee added.
Noting that the program of the four-day GBA visit was substantial, President of the HKSAR LegCo Andrew Leung said the LegCo members have gained a deeper understanding of the importance of Hong Kong integrating into the national development. The tour will enable them to offer valuable advice and suggestions to facilitate the quality development of Hong Kong and the GBA, he said.