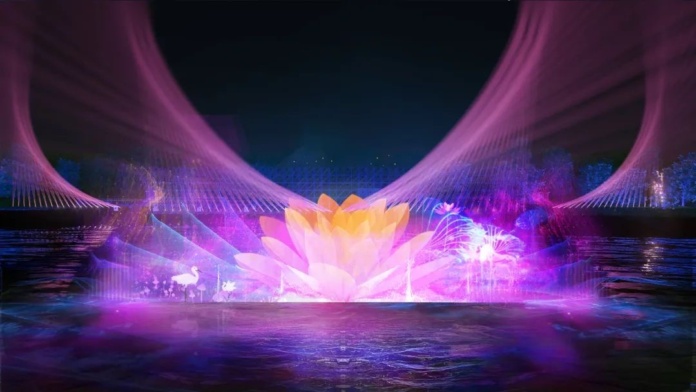 Hengqin is set to offer what it described as an "enchanting" experience for tourists during the Mid-Autumn Festival and National Day with a water dance light show at the Hengqin Rowing Park from 28 September to 3 October.
The event will showcase a variety of attractions, including drone performances, live concerts, and a delightful food festival.
Visitors will be treated to a spectacular display on a 1000-square-meter screen, accompanied by a 30-meter-high water curtain and a fleet of 1000 drones.
The show will also blend digital lighting, naked-eye 3D effects, and holographic projections, creating a fusion of light, shadow, music, and artistic performances.
The previous edition of this event attracted over 30,000 visitors during its nine-day run, according to the Guangdong-Macao In-Depth Cooperation Zone in Hengqin.
The goal is to turn it into an annual tradition and a signature event for Hengqin.
In line with their efforts to enhance tourism, Hengqin authorities have planned a series of cultural and tourism events for the second half of 2023, aiming to attract more visitors and promote the 'Macau-Hengqin Sightseeing Tour' brand.
Additionally, collaborative efforts between Hengqin and Macau will focus on developing high-quality tourism routes, encouraging travellers to explore both regions on a single trip. This strategy aims to foster the growth of cultural and tourism industries in the area.