"Most economists and businessmen from the Republic of Korea (RoK) think that Guangdong is of strategic importance for investment and there will be more RoK ventures in Guangdong Province," said Moon Chung-in, Former Special Advisor to the RoK President Moon Jae-in for National Security and Foreign Affairs, at an interview with GDToday on Understanding China·Greater Bay Area Dialogue.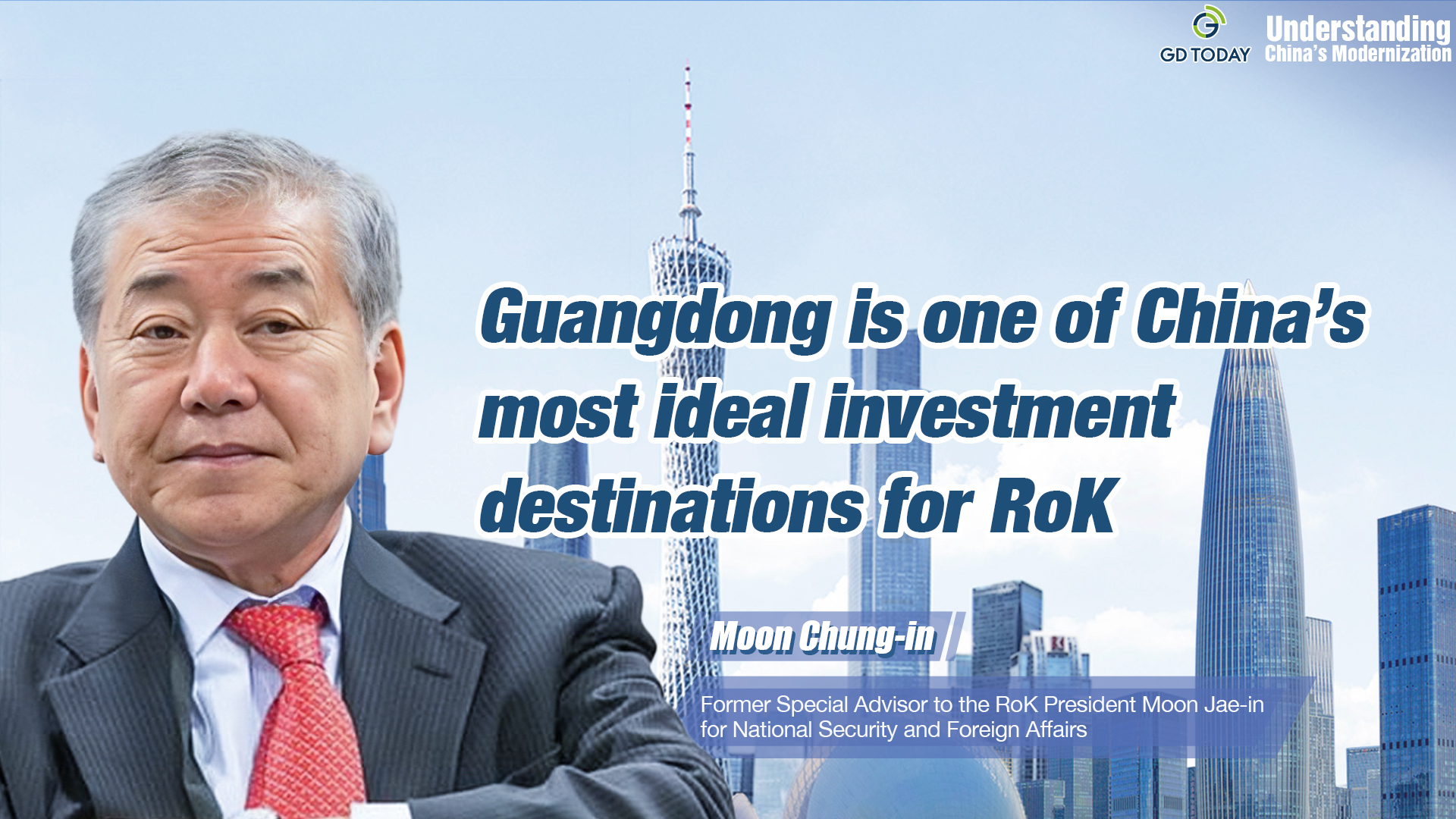 The West should hold more empathy with China
Moon holds that there is an amazing similarity in economic modernization between China and RoK, particularly in terms of its emphasis on export and the government's role in development.
According to Moon, in the Chinese path to modernization, which is fostered by the reform and opening up policy, the Chinese government has paid great attention to mobilizing finance, securing overall industrial development, and supporting the high-value-added manufacturing industries, particularly technology-intensive ones.
"There is a tendency to demonize China, which could be attributed to the fear of China's rise. The West has formed some stereotypes of China. They do not have strategic empathy toward China or understand China as a civilized state," Moon said when expressing his concerns over the West's disregard for voices from China.
RoK's companies in China have been benefiting from RCEP
The Regional Comprehensive Economic Partnership (RCEP) entered into force on January 1, 2022. During January-November 2022, China saw investment from RoK jump by 26.1 percent, according to the data released by the Ministry of Commerce of the People's Republic of China.
Moon regards the RCEP as a very important agreement in the region in terms of free trade relations. "RoK companies in China have been benefiting from the RCEP arrangement with its contribution to reducing tariffs and non-tariff barriers on trade between the two sides. Even though RoK has an FTA (Free Trade Arrangement) with China, Chinese import tariffs on components and intermediate goods from RoK were as high as about 40 percent. But due to the RCEP, those tariffs have been removed. Therefore, virtually no tariffs on South Korean companies are imposed on importing intermediate goods from RoK, which is a very positive action."
Moon also pointed out that China and RoK should work together to oppose neo-protectionism and strengthen cooperation in cutting-edge technologies, such as semiconductors and electric batteries. The US's attempt to decouple China may undercut the open regional cooperation within the framework of East Asia.
"RoK has been a major importer of battery components from China, while Guangdong has many emerging industrial sectors, including battery manufacturing," said Moon.
The integration of Hong Kong, Macao, and the nine cities in the province into an economic and innovation powerhouse since the overall development plan for the Guangdong-Hong Kong-Macao Greater Bay Area was first unveiled in 2019 has made Guangdong Province, in Moon's opinion, one of the best places for RoK businesses to settle or invest in China. This is because the province has a huge economic volume and serves as a vital link between the outside world and the Chinese mainland.
Reporter: Rofel
Editor: Wing, Nan, Jasmine, James
Graphic designer: Lulu