''Chinese and Western modernization are saliently different,'' said David Ferguson, honorary chief English editor of Foreign Languages Press, China International Communications Group, in an interview with GDToday during the Bridges Global Chats held earlier in December.
Since he came to China as a journalist in 2006, Ferguson has observed China's model of governance for 16 years.
He elaborated on the differences between Chinese and Western modernization, saying the latter was based on the exploitation of their own working classes, natural resources and other countries. In contrast, the Chinese path to modernization is people-centered, featuring common prosperity, green modernization and cooperation with other countries.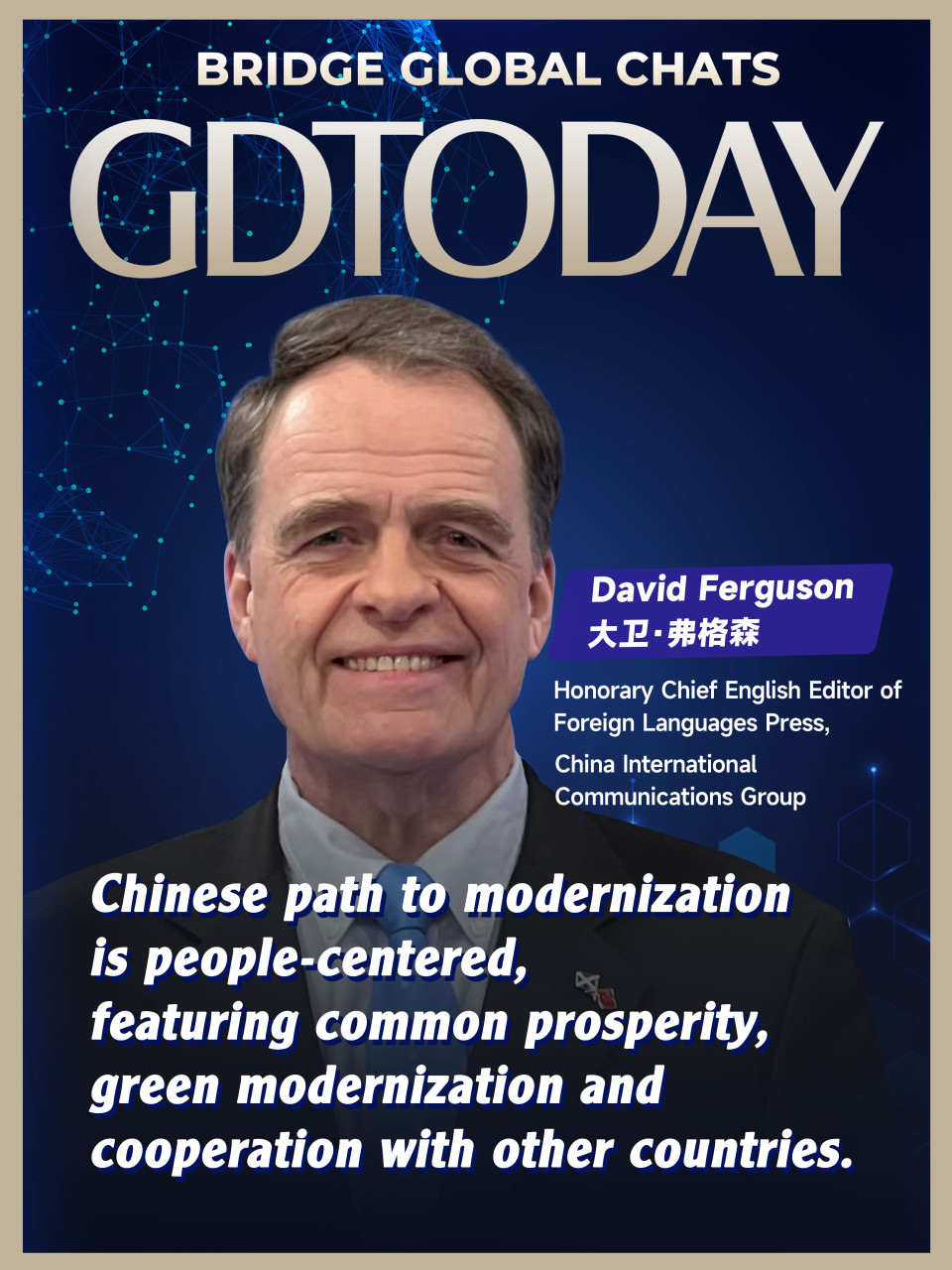 In terms of common prosperity, Ferguson recalled that when he visited the rural areas of Gansu, once one of the most impoverished provinces of inland China, he witnessed how the local government lifted people out of poverty through infrastructure development.
Through building roads and bridges, journey of hours or a day to a township or a market has been notably shortened so that villagers are able to seize business opportunities and easily transport their products to the markets. Ferguson said, ''This can make a fundamental difference to local households, which I think is a very good illustration of a people-centered development''.
When it comes to green modernization, Ferguson noted that different from the extensive use of natural resources and massive pollution along the path to modernization in some Western countries, ''China is now the biggest producer of clean energy and the biggest country in terms of forestation.''
Chinese modernization is also about working together with other countries, instead of occupying, suppressing and exploiting them through direct and indirect colonialism, which are the measures some Western countries took, Ferguson said.
He took China's vision of building a global community with a shared future for mankind for example and believes the Belt and Road Initiative practices the vision.
''The global community of a shared future goes beyond economic cooperation. It will start with tackling problems, such as fighting poverty, environmental problems, pandemics and natural disasters. It also allows us to seize future opportunities in innovation, technology development, medical advances that increase and enhance the value of life, as well as the improvement of working and living methods,'' Ferguson elaborated.
''The West is not open to hearing about the Chinese path to modernization and trying to understand it, because they're too concerned with the thought of how Chinese modernization is going to cause them to lose,'' Ferguson noted.
In his view, China and some Western countries hold different perceptions of development. ''The West, in particular the US, are win-lose countries. If you win, it will mean I lose something. And China, in contrast, is a win-win country. If we can help you to develop, it will help us too,'' Ferguson said.
He suggested that China should learn to talk to audiences in the West and explain its path to modernization in a way that ordinary people in those countries can understand. ''China needs to be able to get messages across to ordinary people: We are your partners and friends, not your opponents or adversaries,'' Ferguson said.
''Countries and people can learn from China's model. They can look at the specifics: How it works and why it works, and consider what will work for them and how to apply it,'' he added.
Author | Lydia Liu
Editor | Wing, Jasmine, Jerry