From June 17 to 19, Xinghai Xinghai, an original opera co-created by Xinghai Conservatory of Music and Guangzhou Opera House will debut in Guangzhou. With Xian Xinghai, known as "People's Composer" in China, as the prototype, the drama unveils the stories of how the musician uses his songs to inspire Chinese people to fight Japanese invasion for their country.
A poster of the opera "Xinghai Xinghai" (Photo provided to Newsgd.com)
The drama composes of two major clues:
The first focuses on the contemporary stories. A group of students of the Xinghai Conservatory of Music disagree with each other when they rehearse the Yellow River Cantata, one of the famous pieces created by Xian Xinghai. To solve their divergences, they decide to travel along Xian's life track to learn more about the composer's story. After successfully approaching the destination Yan'an, they finally figure out the essence of the piece Yellow River Cantata.
The second clue spotlights Xian Xinghai's own experiences. Since 1940, Xian started to work in Moscow. When war broke out in 1941, Xian attempted to return to China by way of Ulaanbaatar, Almaty and Xinjiang, but failed in the end. Xian developed pulmonary tuberculosis due to overwork and malnutrition. After the war, Xian returned to Moscow for medical treatment but died of pulmonary disease in 1945 at the age of 40.
Through the journey along Xian Xinghai's life track, the students of the Xinghai Conservatory of Music finally make sense of the profound meaning of Xian's work and realize how to present Yellow River Cantata in this new era.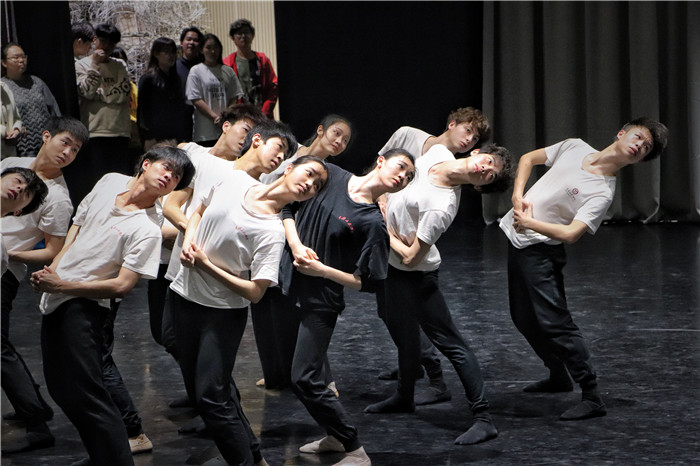 A rehearsal photo of the opera "Xinghai Xinghai" (Photo provided to Newsgd.com)
About Xian Xinghai:
Born in 1905 in Macao, Xian traveled far and wide. In Singapore, primary schoolteachers found his talent and led him, the son of a widowed housemaid, into the world of music. In Paris, the wannabe composer, worked as a busboy in restaurants and a cleaner in public baths until he was admitted into the prestigious Conservatoire de Paris and got his training from world-class masters.
Then there was Kazakhstan, where Xian spent some of his last years with true friends before his death in Moscow at the age of 40. "I am very happy that you understood me. Being understood is the greatest reward an artist can ask for," one of his Kazakh friends recalled him saying to the audience after his piece, Amangeldy earned thunderous applause.
A rehearsal photo of the opera "Xinghai Xinghai" (Photo provided to Newsgd.com)
Time:19:30, Friday to Sunday, June 17 to 19, 2022
Venue:Opera Hall, Guangzhou Opera House
Ticket prices: RMB 80, 180, 280, 380, 480, 680VIP
Duration:About 120 minutes (an intermission of 15 minutes)
Address:No.1 Zhujiang Xi Road, Tianhe District, Guangzhou (广州市天河区珠江西路1号)
Nearest metro station: Take Metro Line 3 or 5 and get off at the Zhujiang New Town Station, and then use the GT Land Plaza Exit
Author | Nancy (intern)
Editor | Wing, Nan, Monica& Jerry