All are welcomed to share your stories with us to stand a great chance to win some mysterious and amazing gifts.
The latest COVID-19 resurgence in Guangdong started in late February, with new local infections have been reported in cities such as Guangzhou, Shenzhen, Dongguan and Zhongshan. To contain the virus and protect our beautiful home, a huge societal effort has been made, with everyone playing their part and following the public health advice, in particular medical workers and volunteers having fought day and night at the frontline against the pandemic.

今年早春以来,广东出现了新一轮新冠肺炎疫情,广州、深圳、东莞和中山等地相继出现本土确诊病例和无症状感染者。为迎战奥密克戎,广东全力做好本土疫情应对处置工作,全民共同守护美好家园,携手同心筑起抗击疫情的坚强防线。
Have you recorded any impressive, touching moments of this period via text, photos or videos? GDToday is soliciting your thoughts, wishes, stories and moments in the fight against the pandemic in Guangdong recently. It can be your own experiences such as taking a nucleic acid test, or staying indoors yourself or with your family to avoid unnecessary public gathering, as well as the stories of the public or medical workers' dedicated efforts to curb the virus in the community, or your thanks and encouragement to the frontline workers and volunteers.
在近期抗击新冠肺炎疫情期间,你是否记录下一些难忘记忆与感人瞬间?GDToday 现发起"共同守护美好家园"有奖征集活动,无论是你自己的亲身经历亦或是所见所闻,特别是抗疫一线医务人员、志愿者的故事或对他们的感谢与鼓励等,都欢迎与我们分享。
All are welcomed to share your stories with us to stand a great chance to win some mysterious and amazing gifts.
欢迎大家踊跃投稿,一经选用,即有机会赢取神秘丰厚礼品。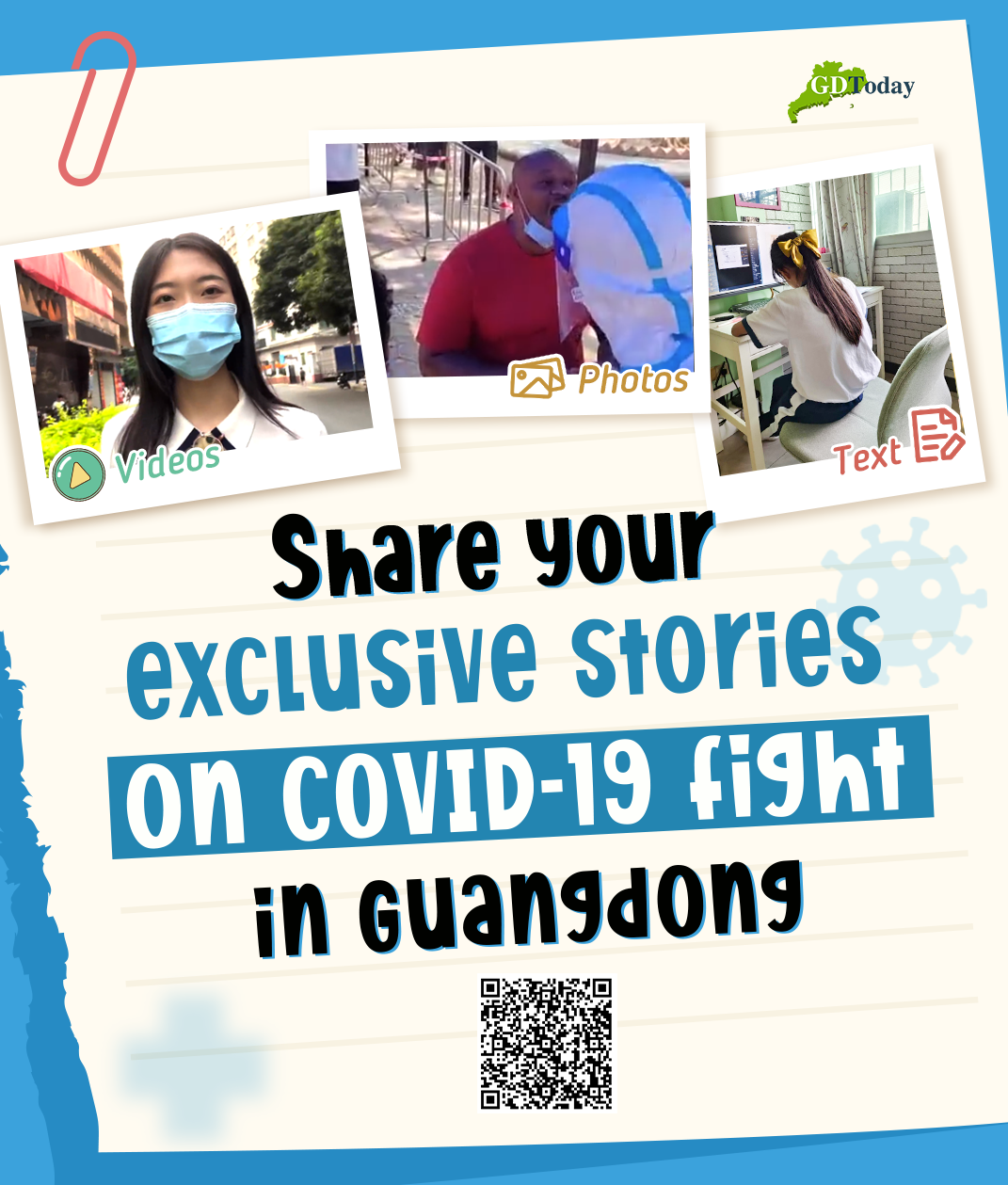 How to participate:
Please click on the link below to fill out the questionnaire, and send your thanks, wishes or stories via text, photos or short videos.
点击下方链接填写问卷,将你的祝福、感谢或故事通过文字、照片或短视频发送给我们。
https://form.southcn.com/form-pc/index.html#/form/62592a3b86f97c9c6f0acc8a
When to submit: From now till May 8;
Entry showcase: May 13;
Award list announcement: May 16
投稿截止日期:5月8日;
作品展示:5月13日;
公布获奖:5月16日。
What you could send to us:
Photos, videos, micro-documentaries, interviews, VLOG, animation and so on. It can be the touching moments and your impressive memories in the fight against the pandemic in Guangdong.
征集内容:
通过照片、短视频、微纪录片、Vlog、动画等形式,展示抗疫期间您在广东感受到的温暖瞬间与深刻记忆。
Notes:
1. Captions, author info and contact info should be provided along with your works.
2. Video duration should be less than 3 minutes, the fps is not limited, and the video should be shot in horizontal screen.
3. The content you submit should be positive and cannot involve commercial advertisements, personal privacy or other sensitive information.
4. All entries must be original works. Participants shall bear any legal consequences of plagiarizing other people's intellectual property or copyright disputes.
5. For all collected works, GDToday owns all rights including but not limited to intellectual property rights, and can be used for public welfare purposes such as display and publicity free of charge. Entries can be published on all media platforms belonging to GDToday (Newsgd.com and Southcn.com).
6. If you have any questions about this event, you can add us on WeChat (ID: Fera@GDToday) and leave us a message.
注意事项:
提交作品时记得附上相关文字介绍、作者信息与联系方式;视频长度为3分钟以内、横屏拍摄最佳;作品传递正能量、不涉及广告、个人隐私或其他敏感信息;所有作品必须为原创,如非原创,后果自负;GDToday有权对征集到的作品公开发表、播出推送;如有本活动相关问题,请添加微信号留言咨询(ID: Fera@GDToday)。
Stay tuned for more details about mysterious gifts for our participants. Looking forward to your participation!
GDToday后续还会公布神秘礼物,欢迎踊跃投稿和持续关注!
Author | Holly
Poster | Mia
Editor | Wing, Olivia, Monica, Jerry