Editor's note: This year marks the 20th anniversary of China's accession to the WTO. How did China's WTO entry benefit global growth? What is China's role in upholding multilateral trading system? How to create a better world trading system based on WTO? GDToday & Newsgd.com invited global experts to share insights on "China's 20 years in the WTO".
On the afternoon of November 10, 2001, the 4th WTO Ministerial Conference in Doha, Qatar, unanimously adopted China's decision to enter the WTO. One month later, China acceded to the WTO, becoming its 143rd member.

Since then, China has been able to fit into the mercantile world system, "having the flexibility to adapt its ideology to the existing market economy", and not just to "survive in it, but to thrive in it", said Vaira Vike-Freiberga, former President of Latvia, Co-chair of the Nizami Ganjavi International Center, and former President of Club de Madrid.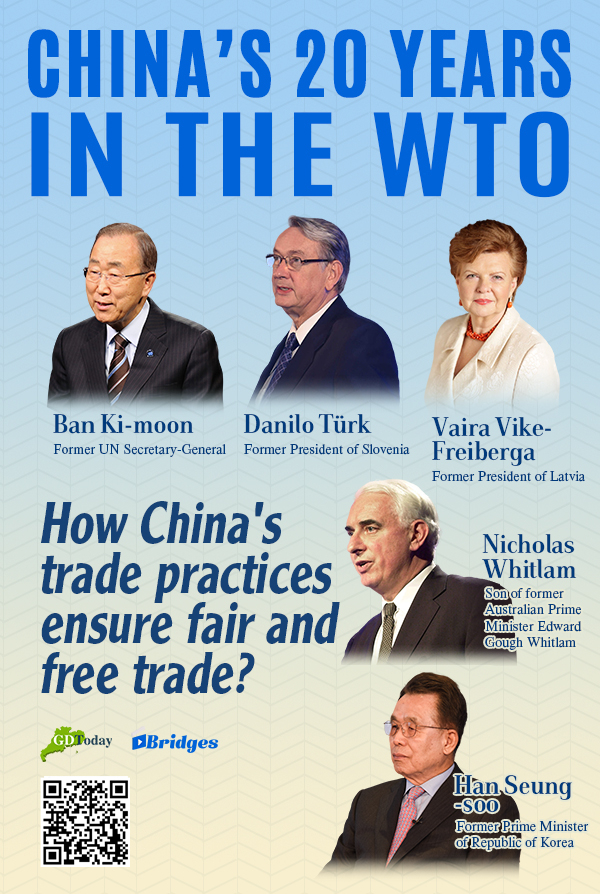 Looking back on China's 20-year development, GDToday & Newsgd.com interviewed world dignitaries, during the 2021 Imperial Springs International Forum, to shed light on China's contributions to the world trading system and uncover the facts hidden behind the trade disputes between China and the US.
Reporter | Lydia Liu, Keane
Video Script | Lydia Liu, Jiang Chang (intern)
Video editor | Zoey
Graphic designer | Mia
Editor | Wing, Jerry