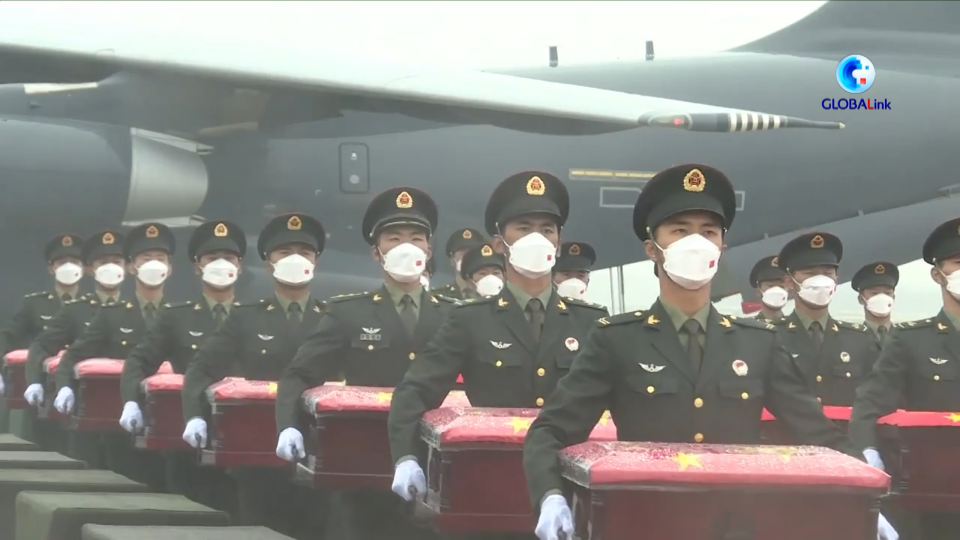 The remains of 88 Chinese soldiers killed during the War to Resist US Aggression and Aid Korea arrive at Shenyang Taoxian International Airport on Friday. (Photo/Xinhua)
S. Korea hands over fallen soldiers as repatriation mission enters ninth year
The remains of 88 Chinese soldiers killed during the War to Resist US Aggression and Aid Korea (1950-53) returned from South Korea to Shenyang, capital of Liaoning province, on Friday, the latest handover in a nine-year mission for establishing a spirit of friendship and practical bilateral cooperation.
As the Chinese People's Liberation Army Air Force's Y-20 aircraft entered national airspace, two J-20 fighters formed an escort to honor the fallen warriors.
This is the first time for J-20s, the country's most advanced fighter aircraft, to participate in the mission of repatriation. Their participation marks the highest tribute and respect for heroes returning to the homeland.
After landing at Shenyang Taoxian International Airport, the 88 caskets and 837 related belongings were removed from the plane and displayed in front of Party and government officials, military personnel, family members and members of the public for a brief remembrance ritual.
"My uncle died in the war in 1950. Every year, I visit the scene of the event held to observe the return of the martyrs' remains. Today's happy life is hard won, and the martyrs' blood will not be shed in vain," said Zhao, a member of one of the martyrs' family.
Gao Penghua, a 95-year-old veteran of the war, watched a live webcast at home and welcomed his comrades back home.
"Though I'm retired, I'm still a soldier. Back then, the young Chinese soldiers had attained martyrdom on the battlefield. These heroes will always be remembered and mourned by the people," said Gao.
The local Veterans Affairs Bureau stated that a burial ceremony will be held at the Chinese People's Volunteer Army Martyrs' Cemetery in Shenyang on Saturday.
Lyu Chao, dean of the Institute of American and East Asian Studies of Liaoning University, said: "This year marks the 30th anniversary of the establishment of diplomatic ties between China and South Korea. The repatriation of the remains of the martyrs to China is also an important witness to the deepening of mutual friendly relations."
The war started in October 1950. Under the command of Peng Dehuai (1898-1974), 2.9 million Chinese People's Volunteer Army soldiers fought in the war, and nearly 200,000 died in combat.
South Korea began to recover the remains of fallen soldiers in 2000. China and South Korea have successfully carried out the handover of the remains of 825 Chinese People's Volunteers martyrs in South Korea for eight consecutive years from 2014 to 2021, following humanitarian principles and in the spirit of friendship and practical cooperation.