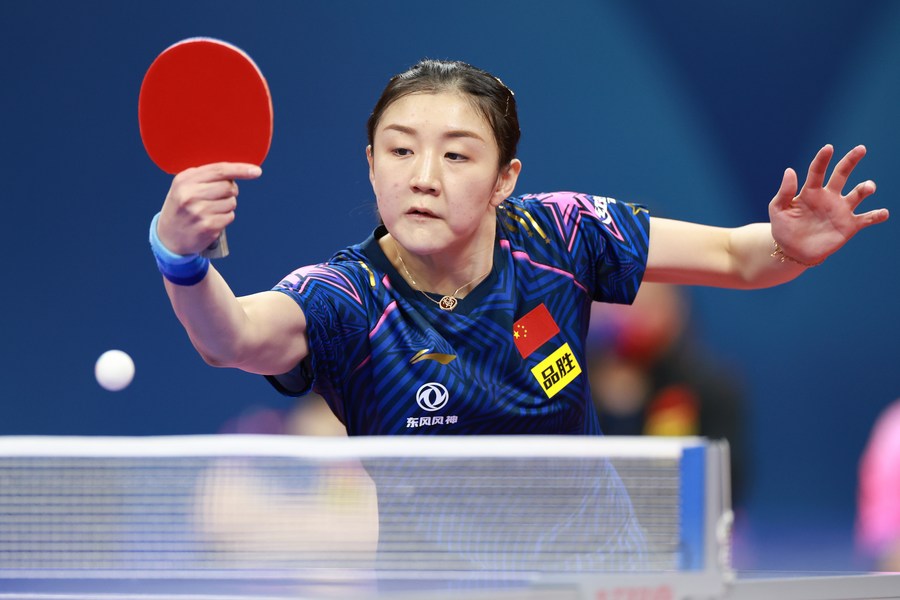 Chen Meng of China hits a return against Li Yu-Jhun of Chinese Taipei during the women's teams semifinal match at the 2022 ITTF World Team Table Tennis Championships Finals in Chengdu, southwest China's Sichuan Province, Oct. 7, 2022. (Xinhua/Liu Xu)
China and Japan beat their respective rivals in the semifinals to meet in the table tennis team worlds final.
Title favorites China and Japan passed the women's semifinals at the World Team Championships here on Friday to compete in the final.
The world's top three players Sun Yingsha, Chen Meng and Wang Manyu defeated their respective rivals 3-0 to help China to smash Chinese Taipei 3-0, while Chen Meng labored to win with 12-10, 11-8, 11-6.
"It's the first time to play with Li Yuzhun, who has her special skills that give me some difficulties in the first game, but the second and third games are normal," Chen Meng said.
"No matter who will be our opponent, we will try our best to play in the final," said Sun Yingsha.
The Japanese women's team smashed Germany 3-0, world No. 6 Mima Ito eased past world No. 8 Han Ying 3-0, and her teammates Hina Hayata and Miyuu Kihara prevailed with two 3-2.
In the men's quarterfinals, China beat Sweden 3-0. World No.1 Fan Zhendong defeated Mattias Falck 3-0 with 11-7, 11-9, 11-5, and world No. 2 Ma Long downed Sweden's new star Truls Moregard 3-0 with 13-11, 11-8, 11-6.
22-year-old Wang Chuqin lost the first two games to Sweden's Kristian Karlsson, while he won the next three games to reverse the match 3-2.
Japan beat Portugal 3-1, and they will play China in the semifinals.
Germany edged France 3-2 to meet South Korea, who defeated Hong Kong, China 3-1, in the semifinals.