Team China attend the awarding ceremony of the BWF Sudirman Cup in Suzhou, east China's Jiangsu Province, May 21, 2023. (Xinhua/Du Yu)
China was crowned at the 2023 Sudirman Cup after whitewashing Republic of Korea 3-0 in the final here on Sunday.
The triumph means the hosts have clinched the title three times in a row, and won 13 championships in the past 18 editions.
Mixed doubles Zheng Siwei and Huang Yaqiong recovered from one set down to beat Seo Seung-jae and Chae Yu-jung 18-21, 22-20, 21-8 before Shi Yuqi made it 2-0 by thrashing Lee Yun-gyu 21-13, 21-17 in the men's singles.
"I think because of our firm belief and the aura we exuded, our opponents were a little bit scared, and they obviously missed the last two reserves, which I think is probably not a coincidence," Zheng told Xinhua.
"We are very united and we also have a good mentality on key points. So I think these are the strengths of the Chinese team," Shi added after the crucial tie.
Olympic women's singles champion Chen Yufei sealed the victory for China after defeating world No. 2 An Se-young 21-16, 22-20.
With the hard-fought victory, in-form Chen broke her three-time losing streak against An and enabled the holders to defend their title.
China, the most successful team in tournament history, finally got revenge as they were stunned 3-2 by Republic of Korea in the final six years ago.
The biennial tournament, hosted in Suzhou, east China's Jiangsu Province, attracted wide attention because the result will affect qualification for the 2024 Paris Olympics.
The 2025 Sudirman Cup will continue to be held in China, with the host city to be determined.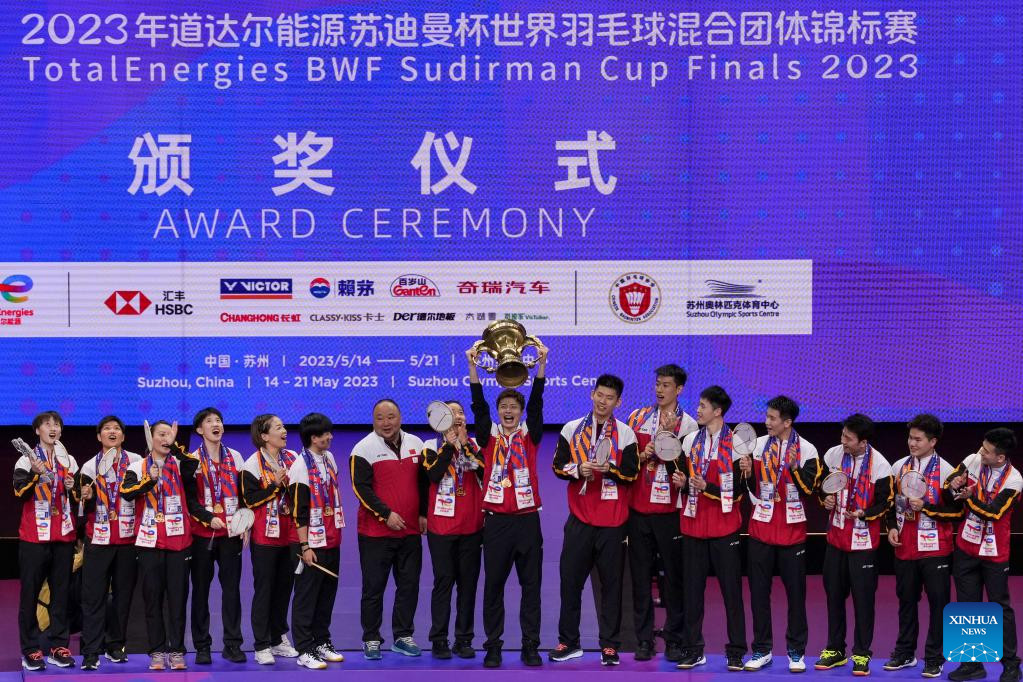 Team China pose with the trophy during the awarding ceremony of the BWF Sudirman Cup in Suzhou, east China's Jiangsu Province, May 21, 2023. (Xinhua/Li Bo)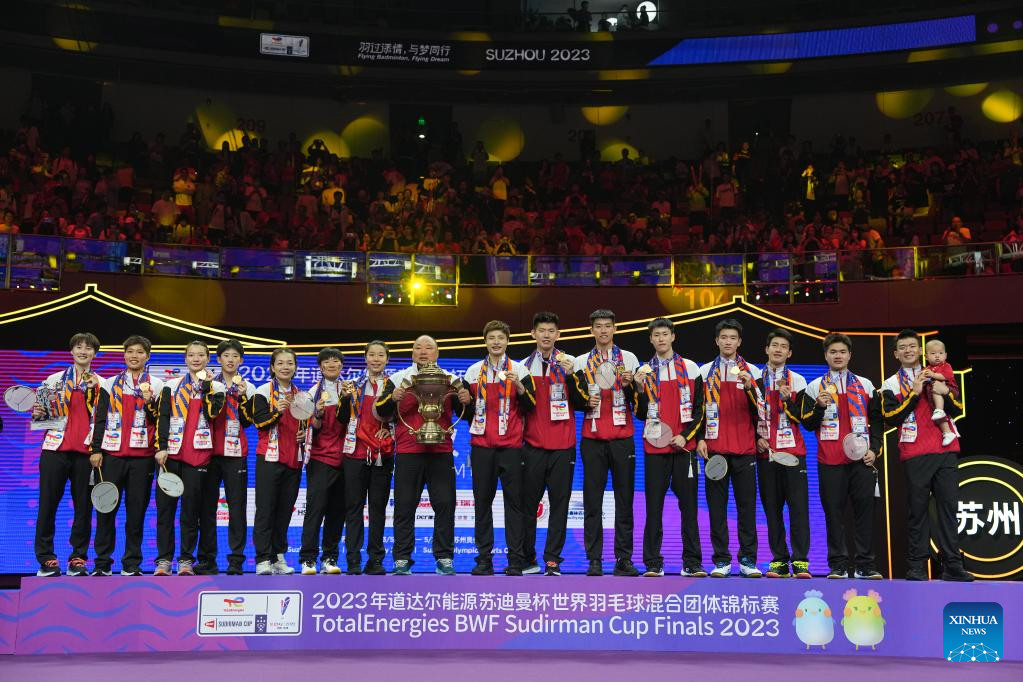 Team China pose with the trophy during the awarding ceremony of the BWF Sudirman Cup in Suzhou, east China's Jiangsu Province, May 21, 2023. (Xinhua/Du Yu)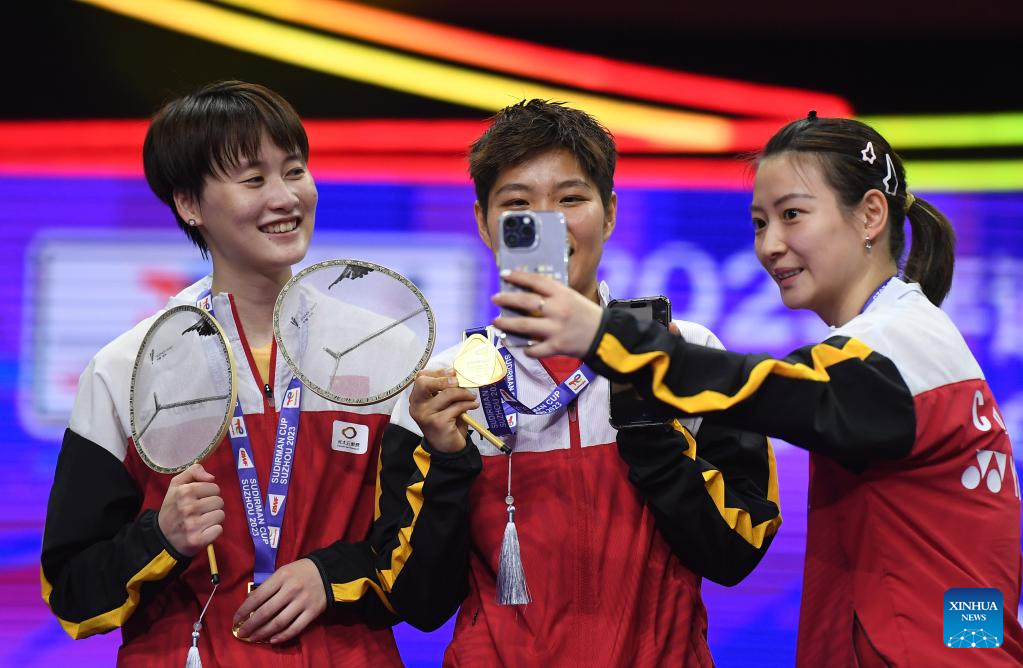 Chen Yufei (L), Huang Dongping (C) and Huang Yaqiong of China take selfie during the awarding ceremony of the BWF Sudirman Cup in Suzhou, east China's Jiangsu Province, May 21, 2023. (Xinhua/Hou Zhaokang)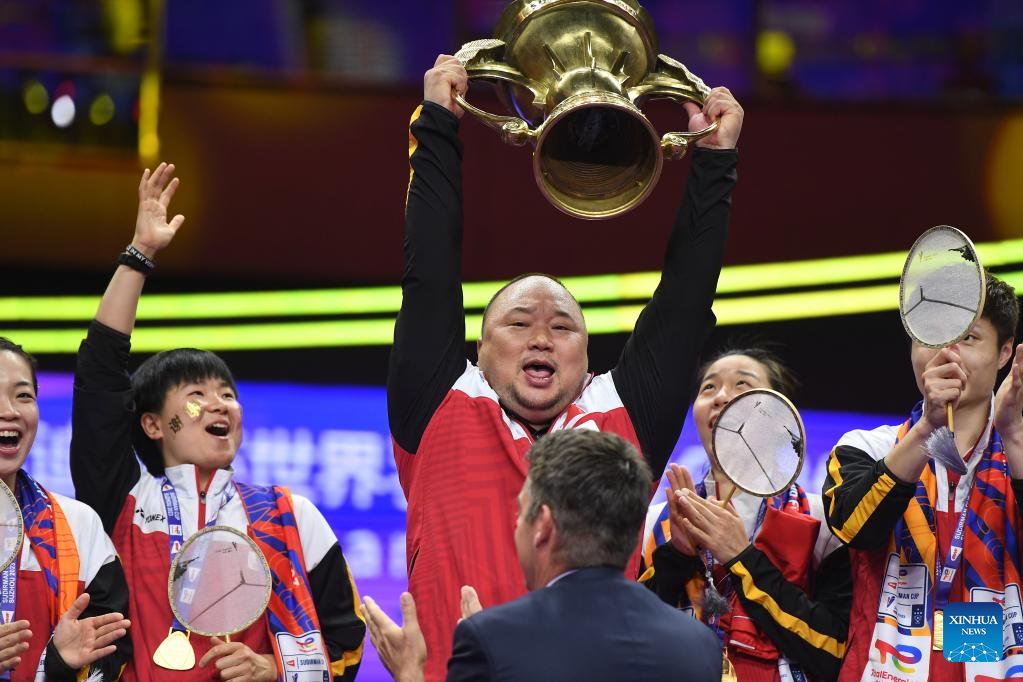 Zhang Jun (C), president of the Chinese Badminton Association, celebrates with the trophy during the awarding ceremony of the BWF Sudirman Cup in Suzhou, east China's Jiangsu Province, May 21, 2023. (Xinhua/Hou Zhaokang)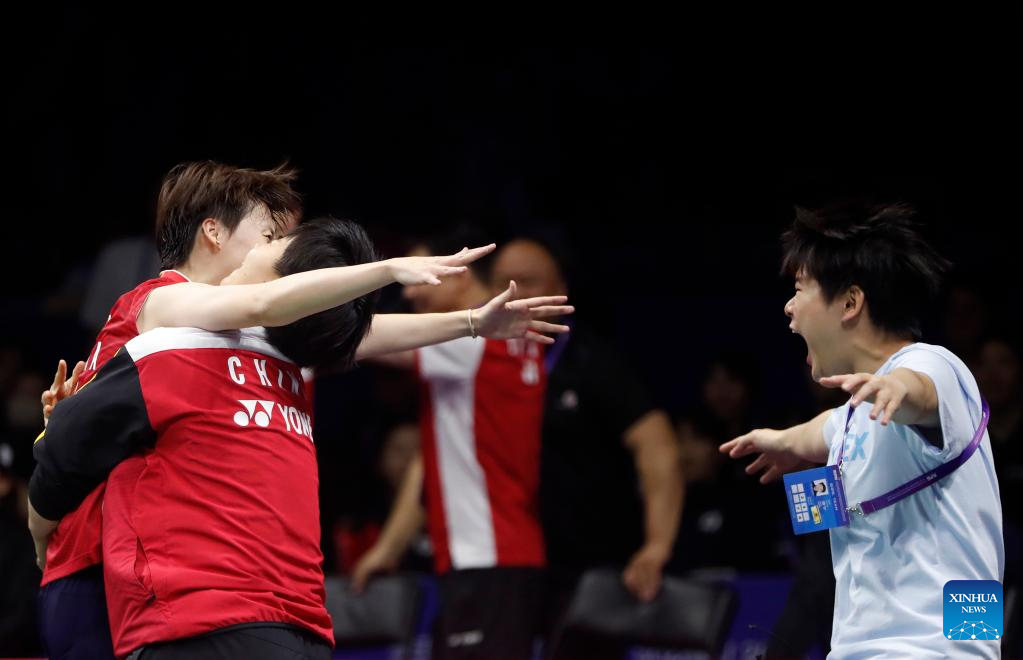 Chen Yufei (L) of China celebrates after the women's singles match against An Se Young of Republic of Korea of the final between China and Republic of Korea at BWF Sudirman Cup in Suzhou, east China's Jiangsu Province, May 21, 2023. (Xinhua/Jia Haocheng)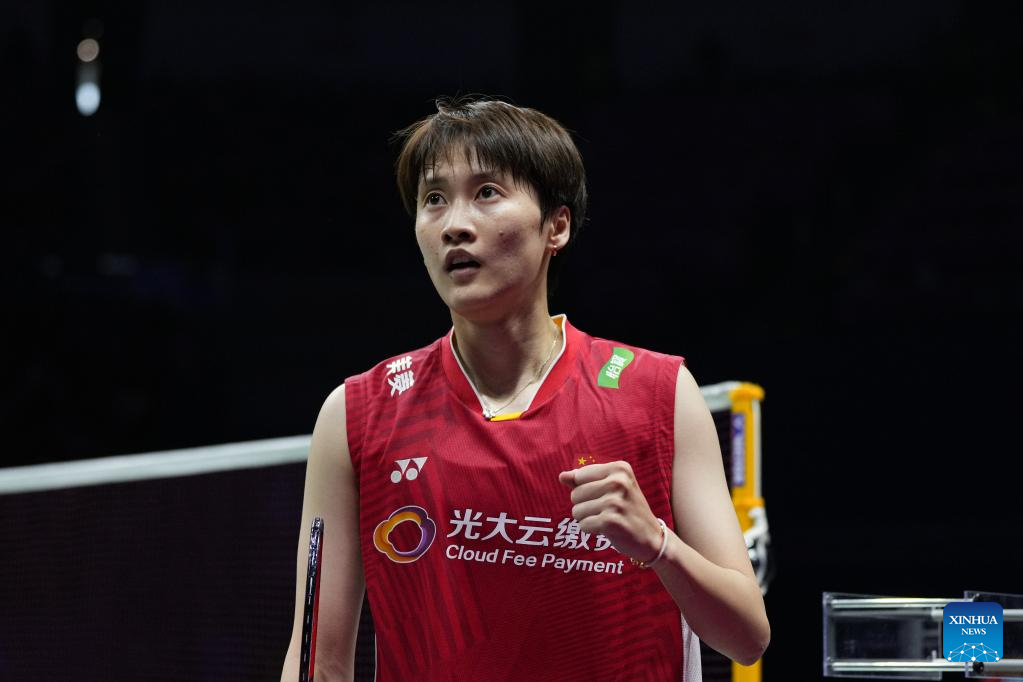 Chen Yufei of China celebrates during the women's singles match against An Se Young of Republic of Korea of the final between China and Republic of Korea at BWF Sudirman Cup in Suzhou, east China's Jiangsu Province, May 21, 2023. (Xinhua/Du Yu)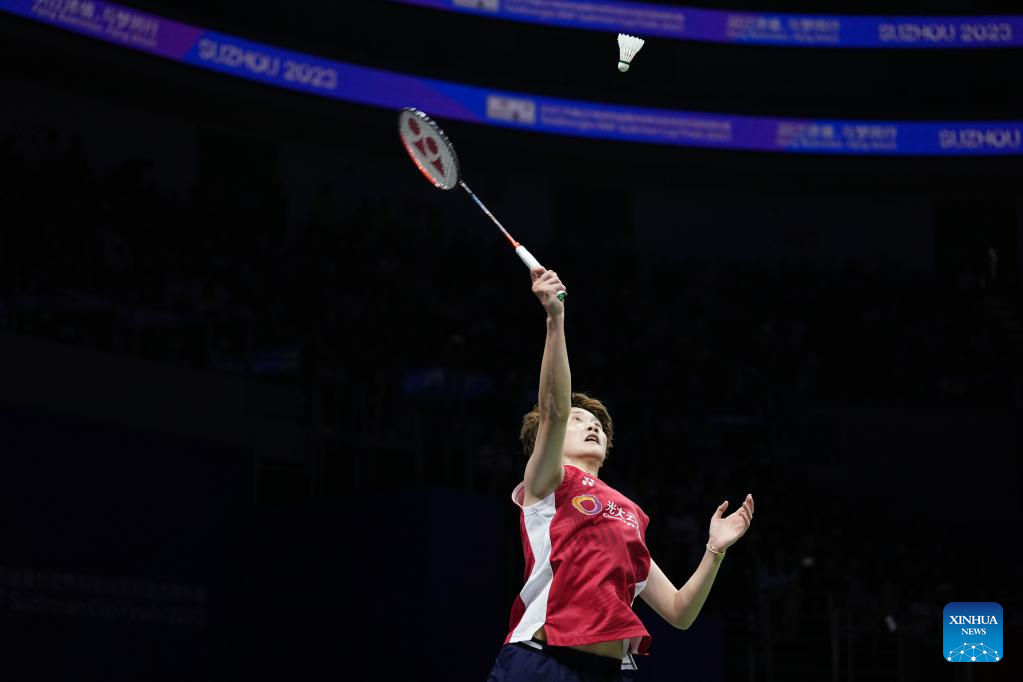 Chen Yufei of China hits a return during the women's singles match against An Se Young of Republic of Korea of the final between China and Republic of Korea at BWF Sudirman Cup in Suzhou, east China's Jiangsu Province, May 21, 2023. (Xinhua/Du Yu)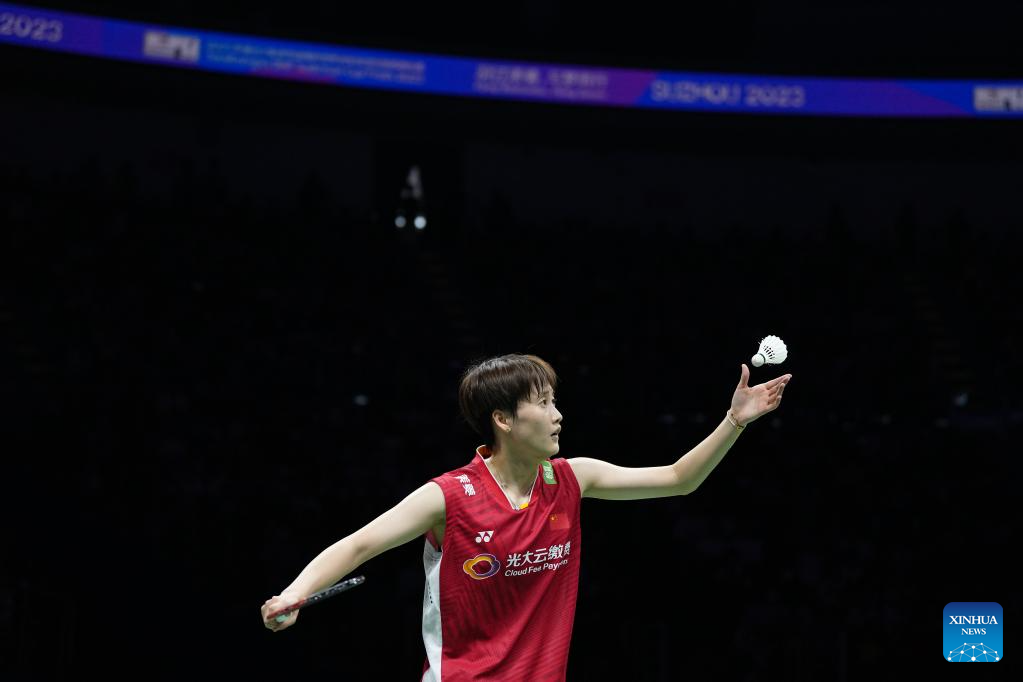 Chen Yufei of China serves during the women's singles match against An Se Young of Republic of Korea of the final between China and Republic of Korea at BWF Sudirman Cup in Suzhou, east China's Jiangsu Province, May 21, 2023. (Xinhua/Du Yu)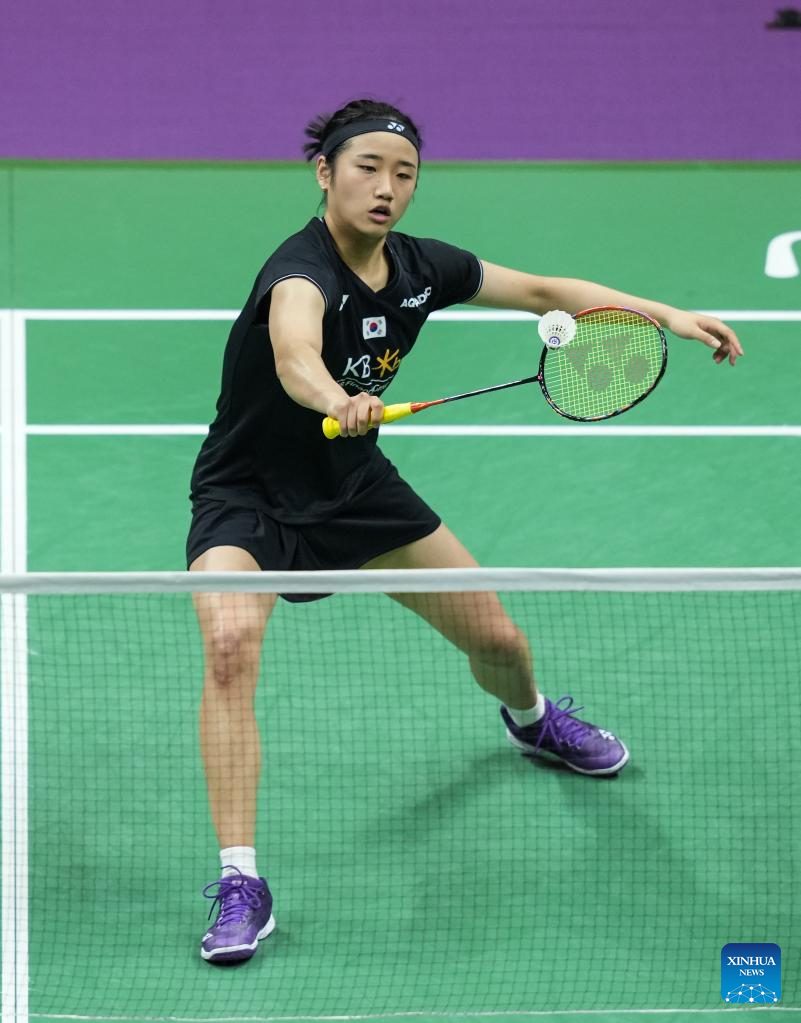 An Se Young of Republic of Korea competes during the women's singles match against Chen Yufei of China of the final between China and Republic of Korea at BWF Sudirman Cup in Suzhou, east China's Jiangsu Province, May 21, 2023. (Xinhua/Yang Lei)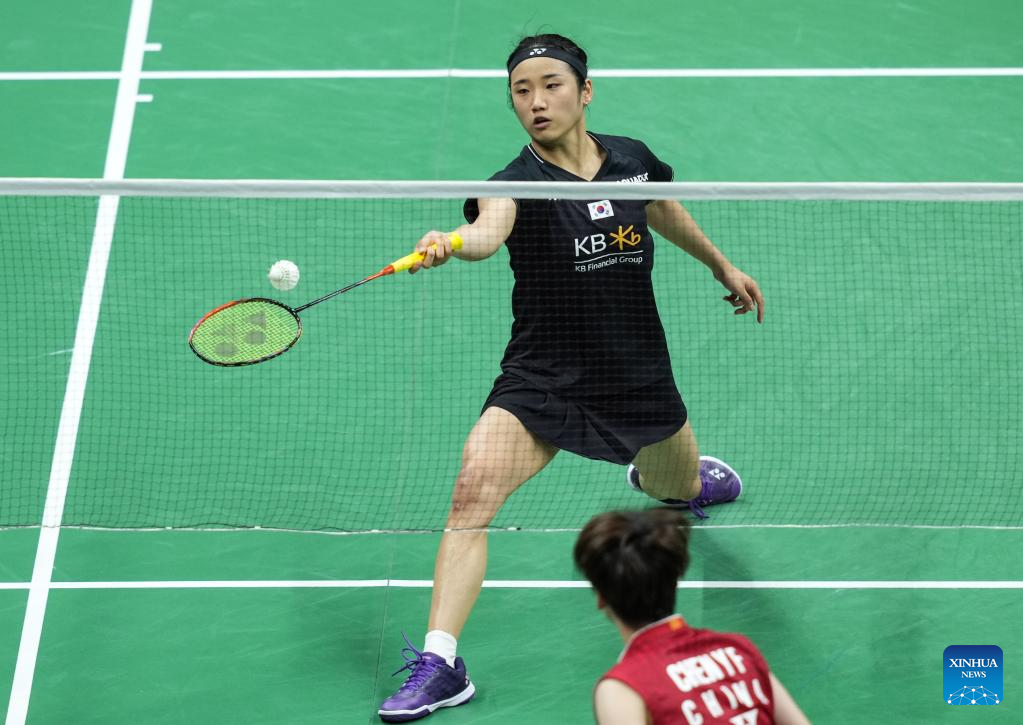 An Se Young (Top) of Republic of Korea competes during the women's singles match against Chen Yufei of China of the final between China and Republic of Korea at BWF Sudirman Cup in Suzhou, east China's Jiangsu Province, May 21, 2023. (Xinhua/Yang Lei)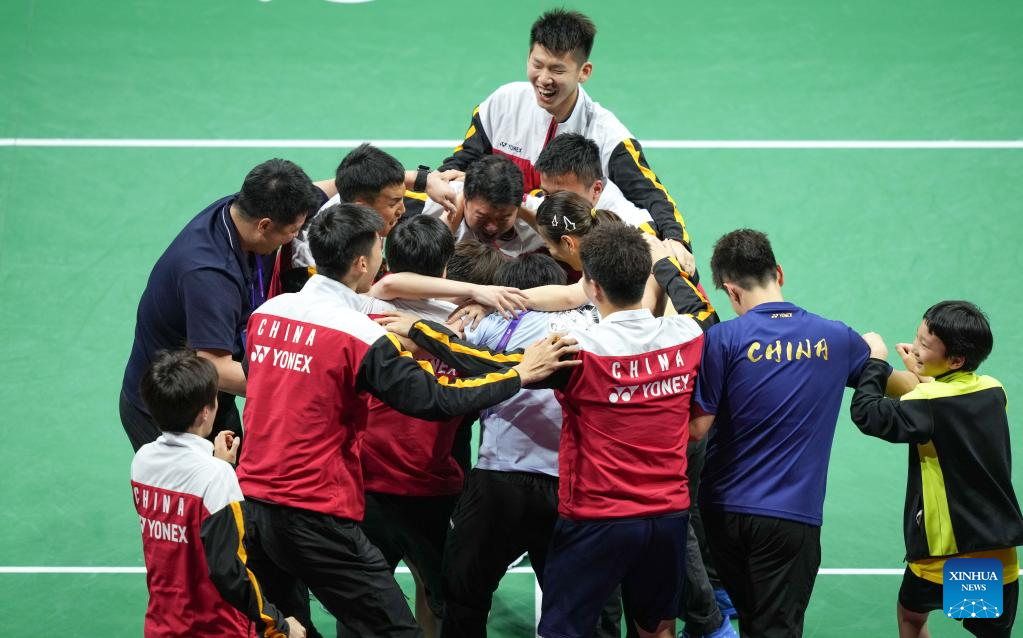 Team China celebrate after winning the final between China and Republic of Korea at BWF Sudirman Cup in Suzhou, east China's Jiangsu Province, May 21, 2023. (Xinhua/Yang Lei)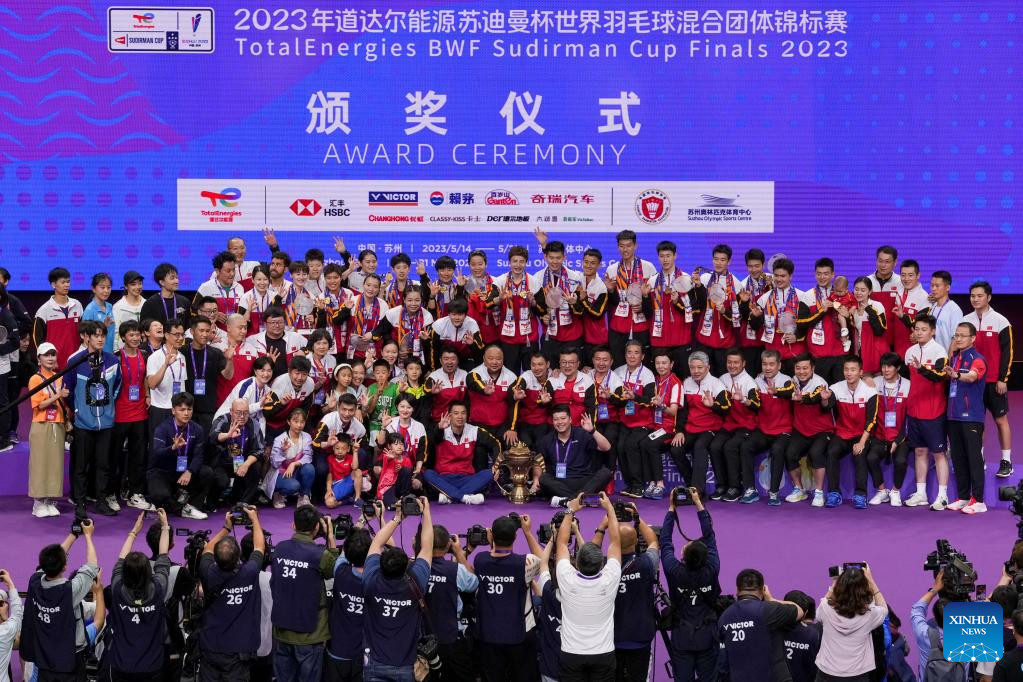 Team China pose with the trophy after the awarding ceremony of the BWF Sudirman Cup in Suzhou, east China's Jiangsu Province, May 21, 2023. (Xinhua/Li Bo)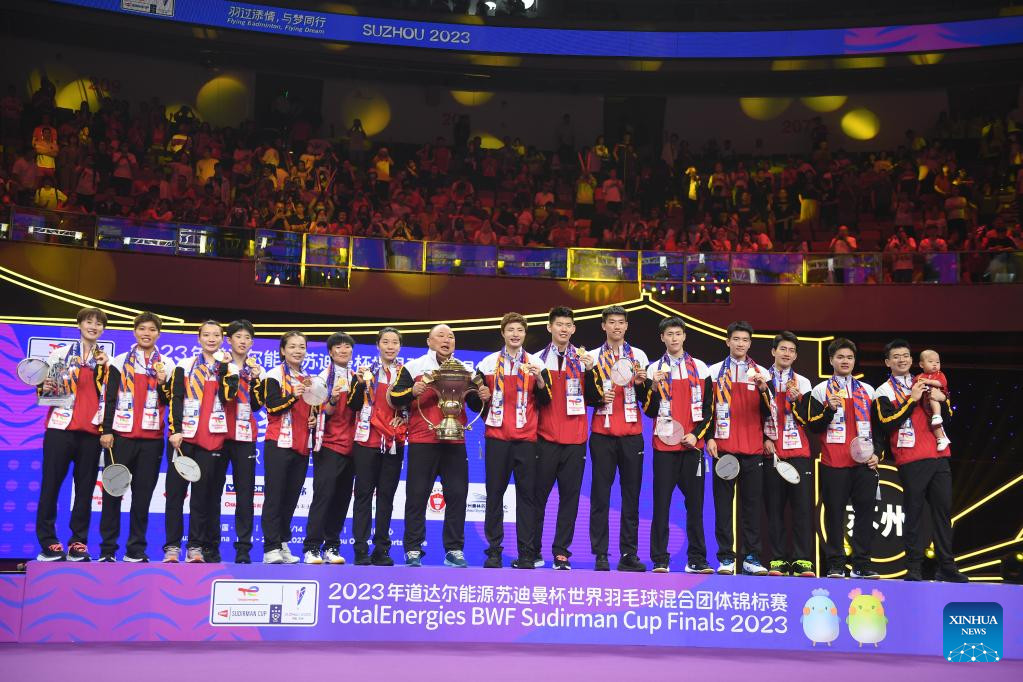 Team China pose with the trophy during the awarding ceremony of the BWF Sudirman Cup in Suzhou, east China's Jiangsu Province, May 21, 2023. (Xinhua/Hou Zhaokang)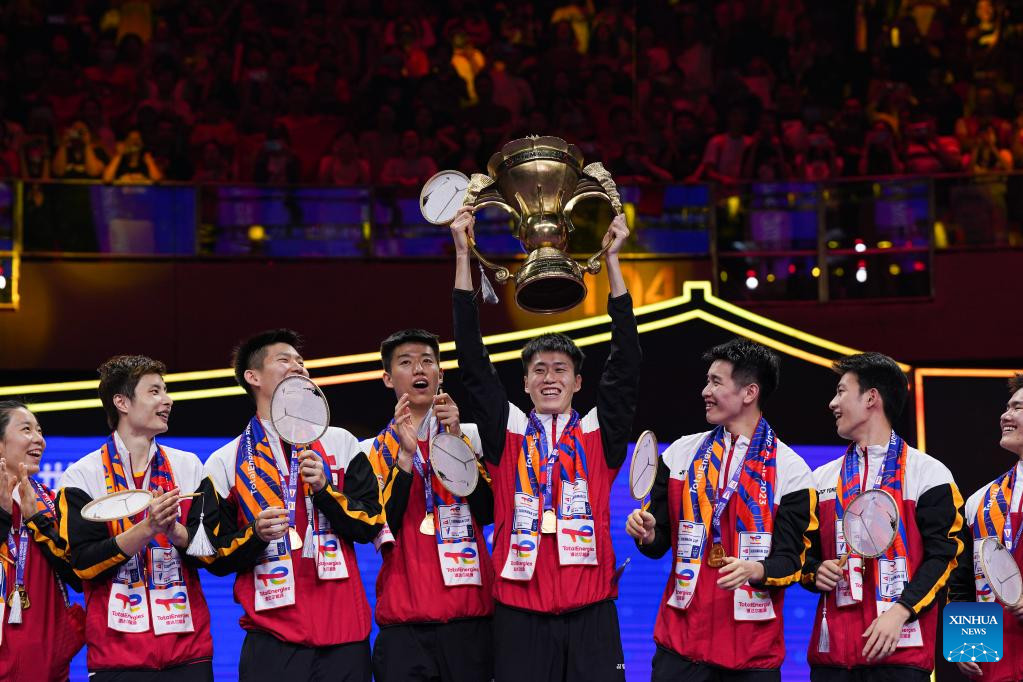 Team China pose with the trophy during the awarding ceremony of the BWF Sudirman Cup in Suzhou, east China's Jiangsu Province, May 21, 2023. (Xinhua/Du Yu)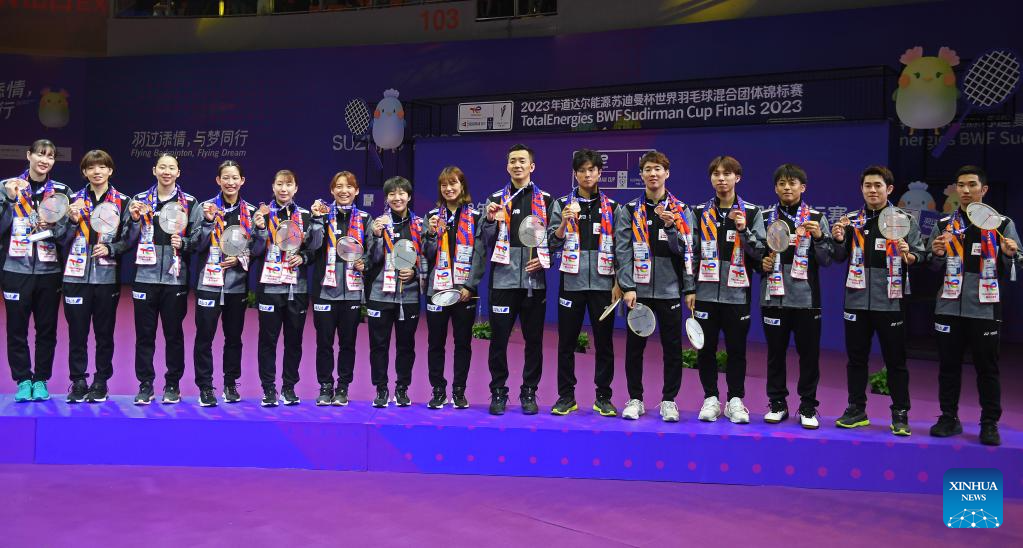 Team Japan pose with medals during the awarding ceremony of the BWF Sudirman Cup in Suzhou, east China's Jiangsu Province, May 21, 2023. (Xinhua/Hou Zhaokang)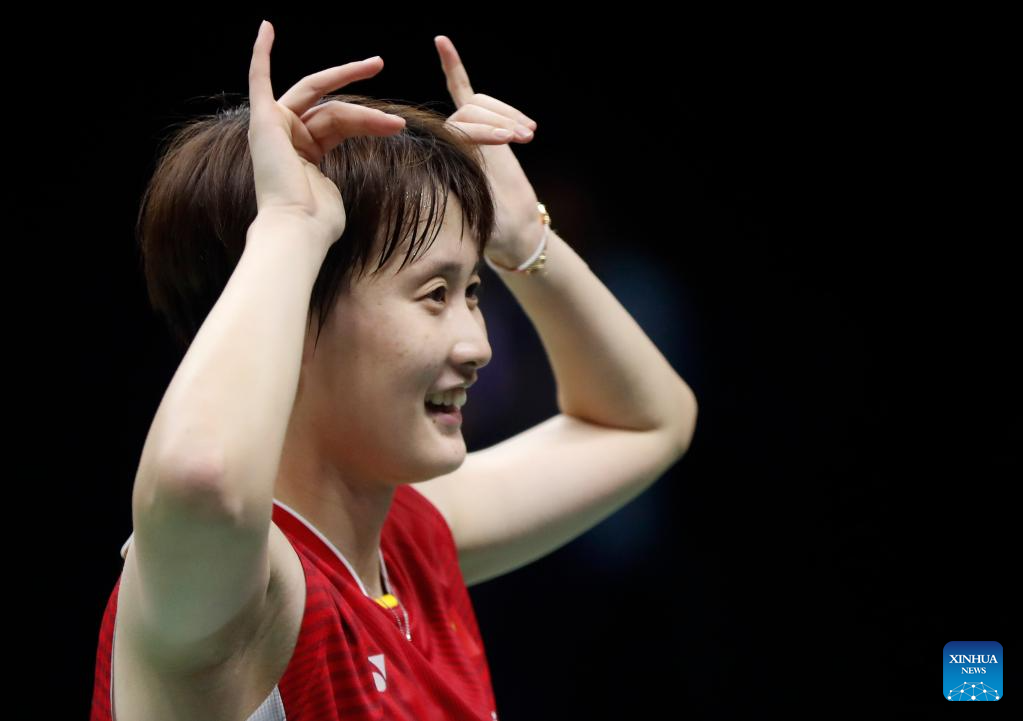 Chen Yufei of China celebrates after the women's singles match against An Se Young of Republic of Korea of the final between China and Republic of Korea at BWF Sudirman Cup in Suzhou, east China's Jiangsu Province, May 21, 2023. (Xinhua/Jia Haocheng)