Resolving HK's acute housing and land supply problem, upgrading the people's livelihoods, and making the special administrative region more competitive on the world stage are among the cornerstones of chief executive-elect John Lee Ka-chiu's blueprint as he sets out to begin a new chapter for the city in the next 5 years.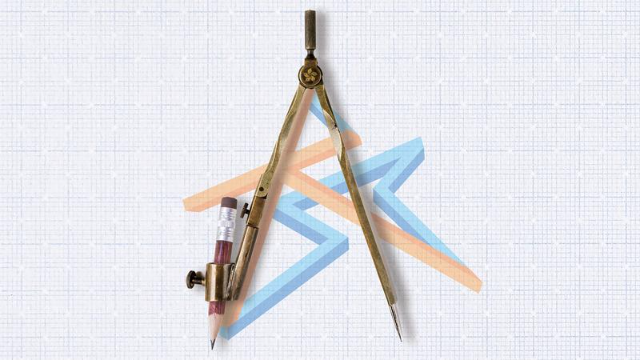 Resolving Hong Kong's acute housing and land supply problem, upgrading the people's livelihoods, and making the special administrative region more competitive on the world stage are among the cornerstones of chief executive-elect John Lee Ka-chiu's blueprint as he sets out to begin a new chapter for the city in the next five years.
Lee aims to create a task force that would submit plans within the first 100 days of his administration to speed up the construction of public rental flats. He proposes allowing those on the long list of public housing applicants to move into new flats in certain projects even before community facilities or transport services are in place, saying this would shorten their waiting time by a year.
As of December, there were about 152,000 general applications for public rental housing on the waiting list, according to the Housing Department. The average waiting time is six years — the longest in nearly a quarter of a century.
Lee also suggests setting up a steering committee on land and housing supply to coordinate with policy bureaus and departments and supervise the implementation of land development projects. He and his team would explore building more road and rail networks to stimulate development in rural areas.
"We would like to see the new government explore ways to streamline administrative procedures and the construction process to expedite the development cycle," says Nelson Wong Chi-fai, head of research at global real estate services firm Jones Lang LaSalle in Hong Kong.
For land-starved Hong Kong, resuming land seems to be the most feasible way to deal with the pressing shortage problem. But the government has made little progress in tackling the issue in the past few years. It is estimated there are more than 1,600 hectares of brownfield sites that are underutilized. Due to the scattered private land ownership and the difficulties in modifying leases, conducting a full review of the matter is critical to boosting land supply.
"The land development process should be streamlined to cover various regulations, such as the Town Planning Ordinance, the Land Resumption Ordinance and the Environmental Impact Assessment Ordinance," suggests Chiu Kam-kuen, greater China international director and chief executive at Cushman & Wakefield.
The Land Resumption Ordinance, in particular, should be refined to speed up resettlement and compensation for existing land users. By consolidating and merging the current use of brownfields, it can allow brownfield sites to be released and used for other development projects, he says.
Lau Chun-kong, managing director at Colliers Hong Kong, would like to see strong execution powers in dealing with compensation for the resumption of brownfield sites. He suggests the new SAR administration charge land premiums at standard rates for the redevelopment of agricultural lots, evaluate the land premium valuation at market rates, and conduct early processing and approval of land exchange applications to accelerate the land exchange process to increase land supply.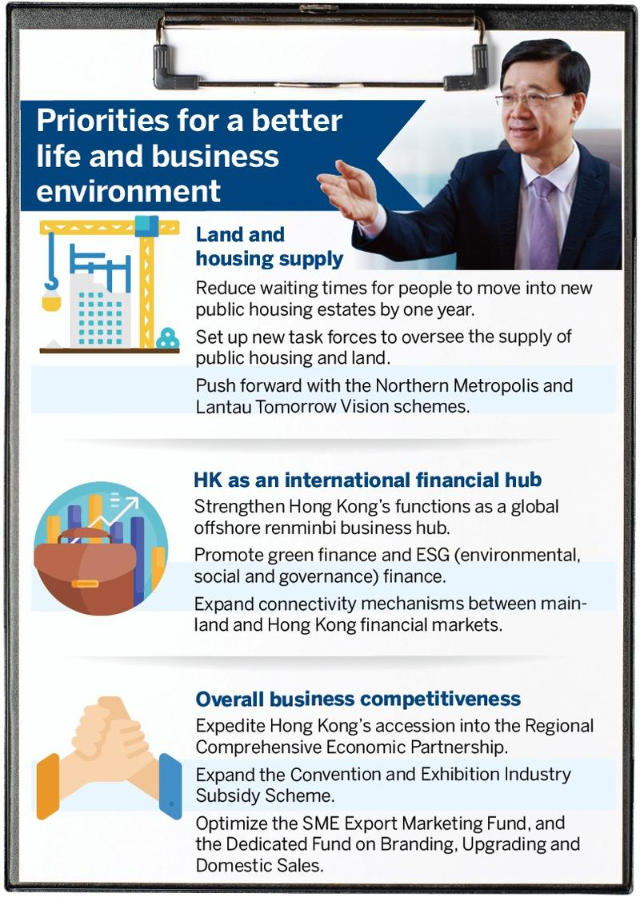 Proactive measures
In his election platform, Lee also vowed to push forward the mega Lantau Tomorrow Vision land reclamation project and the Northern Metropolis plan to build a new city center near the border with the mainland.
"As major developers in Hong Kong still hold 1,000 hectares of agricultural land reserves, the government should proactively incentivize them to participate in the land sharing scheme," says Chiu.
"The measures to be taken may include using the standard rates in calculating land premium, raising the plot ratio, accelerating infrastructure construction and, most importantly, simplifying the application process so that remote land resources in the New Territories can be effectively released and utilized," he says.
Wong agrees that the government should be more proactive in promoting an infrastructure-led approach to build up new development areas. "This would offer land owners incentives to consider pushing forward their development plans."
For the Northern Metropolis project, close liaison with the Shenzhen government and other governments in the Guangdong-Hong Kong-Macao Greater Bay Area would help in planning and developing the identified industries and trade, Lau told China Daily. "The early implementation of infrastructure projects, especially railways, will be critical to creating capacity," he says.
Lau also says the Lantau Tomorrow Vision land reclamation project can be the most important land bank for Hong Kong in the near to medium term.
Besides boosting land and housing supply, Hong Kong's chief executive-elect will strive to lift the city's status as a global financial hub. His nine objectives include building up the global offshore renminbi business, supporting digitalization of the real economy, and promoting green finance in the city. Lee's manifesto also mentioned plans to forge stronger bonds with the mainland's financial markets and expand cooperation with the cities in the Guangdong-Hong Kong-Macao Greater Bay Area.
With Hong Kong's mature stock market and a very strong and professional force for the city's legal and accounting system, the government should leverage these advantages to take the city's financial position to a new level, says Eden Wong Yi-dung, president of CPA Australia's Greater China Division.
In Eden Wong's views, the chief executive-elect should give priority to developing sustainable finance and family office businesses in his financial strategies. "The government could consider introducing incentives and regulatory reforms to encourage financial institutions to increase their offerings of green and sustainable funding options."
The SAR could also expand its family offices' asset management business by strengthening cooperation with other cities in the Greater Bay Area, thereby buttressing Hong Kong's reputation as a world financial pivot.
Raising competitiveness
Rex Ho Yun-hang, Asia Pacific financial services tax leader for PwC Hong Kong, notes that implementing these initiatives would reduce and, hopefully, reverse any brain drain by creating more jobs and attracting new talents from various industries to Hong Kong. He agrees that the Greater Bay Area, as a launch pad, can provide Hong Kong with significant opportunities to tap the vast mainland market and help Hong Kong build a solid foundation to fortify its international financial status.
"We recognize the importance of strengthening the interconnection mechanism between the mainland and Hong Kong financial markets," says Ho. "Apart from those that have been proposed, we should expand the mechanism to other assets, such as carbon trading and real-estate investment trusts."
At the same time, Hong Kong should stay ahead of the curve in promoting other asset classes such as infrastructure and digital assets, says Ho. "Lee's objectives will make Hong Kong more vibrant and diverse by transforming the city from a traditional to a modern international financial center. They will foster deeper links with the Chinese mainland and our regional neighbors."
Another of Lee's pledges is to raise Hong Kong's overall competitiveness and pursue sustainable development as the city's economic vitality and competitiveness have been buffeted by COVID-19 and other internal and external reasons.
Lee's manifesto lays out six core policies to achieve the goal, including lifting Hong Kong's international financial position and promoting its core strengths as well as turning the city into a world technology center.
In Eden Wong's view, the SAR government should introduce more resources and policies to attract and retain tech-savvy talent, or upgrade the capabilities of the local workforce with relevant technology skills.
Therefore, the government should consider commissioning a large-scale review of the skills, training and workforce development needs of Hong Kong, including reassessing the skills and capabilities of the workforce, the key skills and competencies that will be in high demand in the medium to long term, as well as the potential to achieve targeted reforms in the education and training system.
Ho believes that Hong Kong's simple tax system and low tax rate are two of the pillars for maintaining the city's competitiveness. The Organization for Economic Cooperation and Development's BEPS (base erosion and profit shifting) 2.0 project unveiled in October last year, which includes a proposal to introduce a global minimum corporate tax of 15 percent from as early as next year, will have a great impact on international tax rules, he says.
In the context of a post-BEPS era, Hong Kong should review its existing tax concessionary regime and consider introducing new rules to bolster Hong Kong's competitive edge. The government should actively engage with stakeholders and multinational enterprises to ensure that any changes made to its tax regime and tax administrative system are practical and viable for the future, says Ho.