Guangzhou University and 17 foreign universities jointly held the 2021 Annual Conference of the Alliance of Guangzhou International Sister-City University (GISU) via an online video link on November 10. During the conference, universities discussed effective paths to help global cities improve their innovative governance and crisis response capabilities in the context of globalization and the post-epidemic era. They hope to take practical actions to promote international cooperation in higher education and build a community with a shared future for mankind.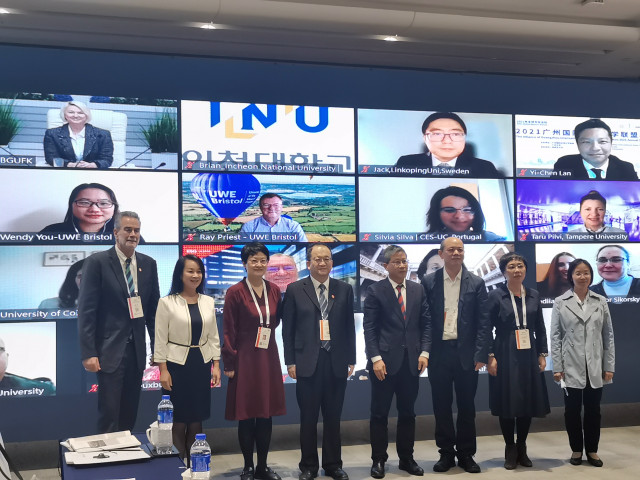 (Photo: Newsgd.com)
Initiated by Guangzhou University in 2018, GISU aims to provide an international higher education exchange platform for universities located in Guangzhou's sister cities.
The conference endorsed applications for membership from five universities, including Charles Darwin University in Australia, Belarusian State University of Physical Culture, Gorgan University of Agricultural Sciences and Natural Resources in Iran, University of Zaragoza and Polytechnic University of Valencia in Spain. The current number of member universities has increased to 18.
In order to develop higher-quality education among members, in 2021, the alliance launched a joint scientific research project, focusing on the four major areas of artificial intelligence, smart city/culture and tourism integration, advanced technology, innovation and entrepreneurship. Durban University of Technology, University of Coimbra, and Linköping University took the lead to form inter-school teams to conduct research on the frontier issues in above four fields and create socially significant results.
Meanwhile, the alliance launched the Digital Academy Program, focusing on blockchain, intelligent and advanced manufacturing, innovation education, machine learning and other fields. It organized 6 online lectures by well-known scholars from member universities, attracting more than 1,200 teachers and students who watched online.
Wei Minghai, chairman of the GISU and principal of Guangzhou University, delivered a speech at the conference. He introduced that from 2020 to September 2021, scholars from the alliance universities have published 123 ESI papers. The cooperation project between the Engineering Research Center for Earthquake Resistance of Guangzhou University and the University of Padua was supported by the National Natural Science Foundation of China.
"The development of global higher education in the post-epidemic era, from my perspective, requires all universities to adopt a more open, inclusive, and cooperative attitude," Wei emphasized.
More than 110 people attended the annual conference online and offline, including officials from the Foreign Affairs Office and the Education Bureau of Guangzhou Municipal Government, as well as representatives from the consulates of Russia, Belarus, Ukraine, Poland, Brazil, Iran, Australia and other countries in Guangzhou.
Author: Ariel
Editor: Nan, Jerry