In the first four months of 2023, Guangdong's export has maintained growth, rising 5.4 percent to 1.68 trillion RMB, data from Guangdong Sub-administration of the General Administration of Customs of the People's Republic of China (GACC) showed.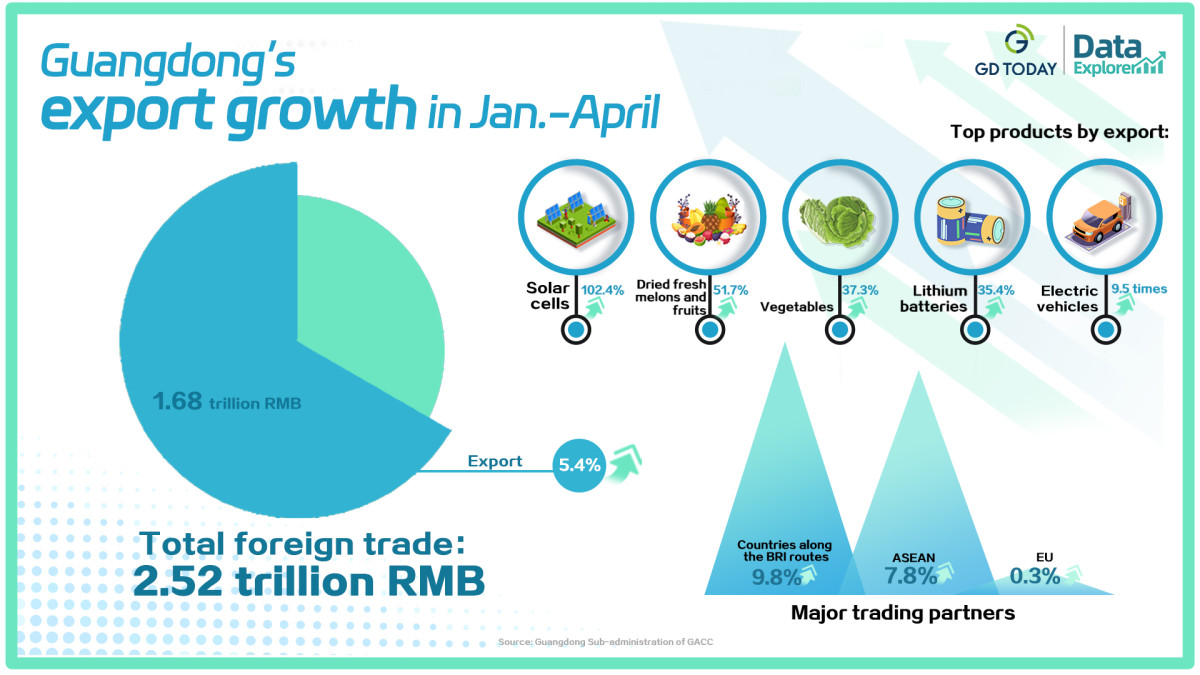 High technology and green products are becoming the new driving force of Guangdong's foreign trade growth.
The top three products by exports - electric vehicles, lithium batteries, and solar cells grew by 9.5 times, 35.4 percent, 102.4 percent respectively; while the export of distinctive agricultural products increased by 51.7 percent and 37.3 percent respectively in dried fresh fruits and vegetables.
During this period, the province's total foreign trade was 2.52 trillion RMB, in which the share of general trade and bonded logistics both increased.
The imports and exports of general trade reached 1.47 trillion RMB, up 4.9 percent and accounting for 58.1 percent of the total. With the full resumption of cross-border logistics, the imports and exports through bonded logistics registered 428.54 billion RMB, up 11.1 percent.
In terms of trading partners, Guangdong's imports and exports to ASEAN and EU increased by 7.8 percent and 0.3 percent respectively, while imports and exports to countries along the Belt and Road Initiative (BRI) routes, other RCEP members, and Brazil and Chile grew by 9.8 percent, 0.7 percent, 30.7 percent and 4.6 percent respectively.
Generally speaking, the strong resilience and adequate vitality of Guangdong's foreign trade remain unchanged.
Author | Fanny, Poster (Intern)
Poster | Lu Lu
Editor | Olivia, Nan, Will, Jerry