In the first two months of 2023, Guangdong's economy shows strong signs of recovery, with the fixed-asset investment up 4.7 percent and the total retail sales of consumer goods up 1.8 percent year-on-year.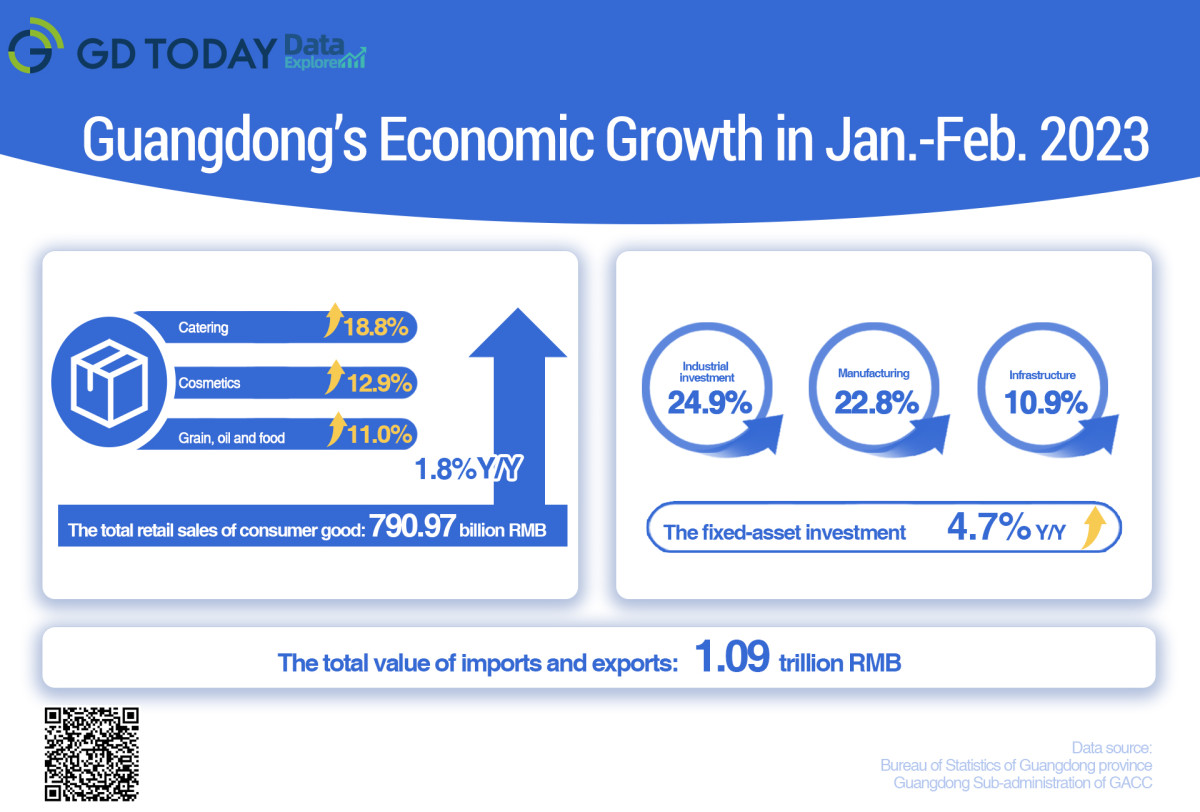 [Poster]
Major projects hold the key to stabilize economy and achieve the high-quality development. The total value added of industrial enterprises above the designated size reached 521.91 billion RMB, with an average two-year growth of 1.9 percent.
Specifically, the industrial investment grew by 24.9 percent, while that of manufacturing and infrastructure by 22.8 percent and 10.9 percent respectively.
From January to February, the consumer spending was the main force boosting the economic rebound in 2023. The total retail sales of consumer goods registered 790.97 billion RMB, up 2.8 percentage points compared with that of last December.
Since China has optimized its COVID-19 prevention policies last December, Guangdong's the catering sector is gaining momentum in January and February, with an income growth rate of 18.8 percent.
In terms of different types of consumption, the retail sales of grain, oil and food, as well as cosmetics by enterprises above the designated size went up by 11 percent and 12.9 percent, respectively.
According to the latest statistics released by the Guangdong Sub-administration of the General Administration of Customs of the People's Republic of China (GACC), the total foreign trade of Guangdong province registered 1.09 trillion RMB, ranking first in the country.
The top three products by exports are electric vehicles, lithium batteries and solar cells, which increased 15.4 times, 39.3 percent, and 93.7 percent, respectively.
Author | Fanny
Poster | Lu Lu
Editor | Wing, Olivia, Nan, Will, James