In the first quarter, Guangdong's total import and export volume hit an all-time high again, reaching 1.84 trillion RMB, according to a press conference held by the Guangdong Sub-administration of GACC on April 18.
The province's foreign trade scale continues to rank first in the country, with a growth rate of 0.03 percent year-on-year. It achieved a steady monthly increase, especially in March, up 25.7 percent year-on-year.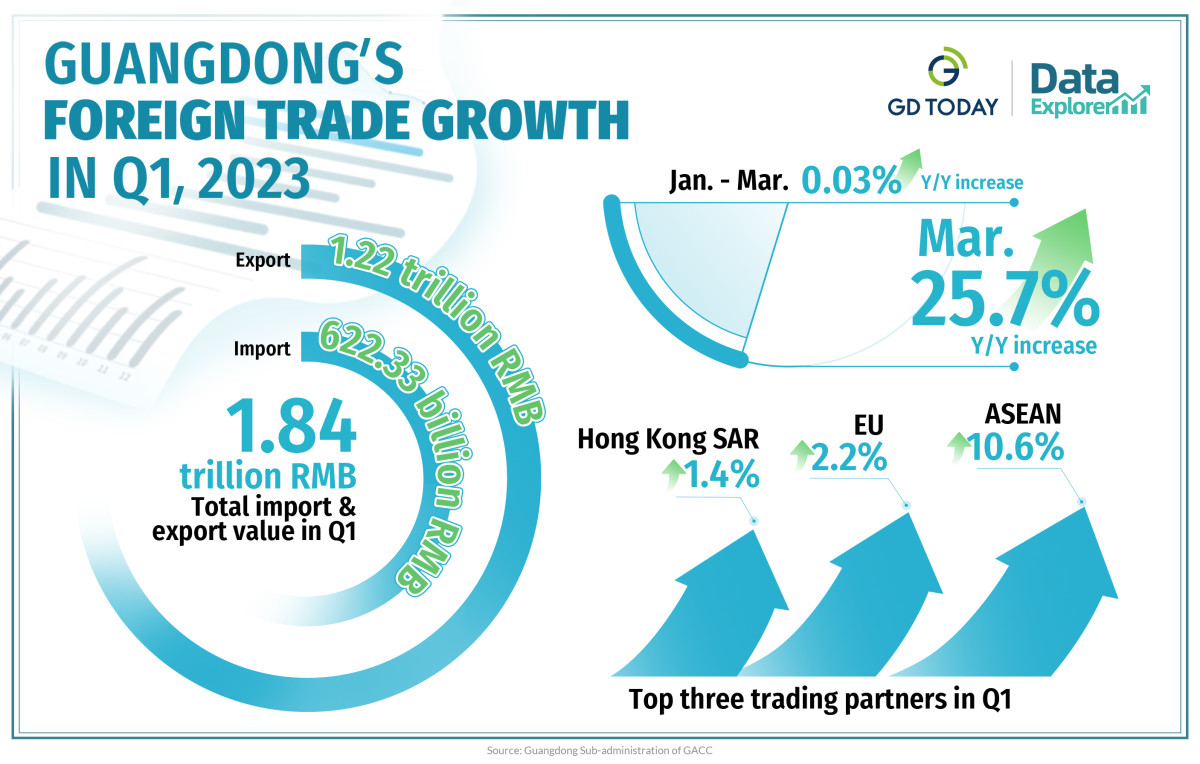 [Poster]
The market entities are fully vitalized with 91,000 foreign trade enterprises achieving an import and export growth of 8.8 percent year-on-year. Among them, the import and export volume of foreign-owned businesses registered 636.12 billion RMB, accounting for 34.6 percent of the total.
The full resumption of cross-border logistics has promoted the development of bonded business. From January to March, the province's imports and exports through bonded logistics registered 315.64 billion RMB, up 14.8 percent.
In the first quarter, ASEAN continues to be Guangdong's largest trading partner, followed by Hong Kong SAR and EU. The province's import and export to the three places increased 10.6 percent, 1.4 percent and 2.2 percent respectively.
High technology, high value-added and green products are becoming the new driving force of Guangdong's foreign trade growth.
For instance, the top three products by exports - electric vehicles, lithium batteries, and solar cells grew 10.5 times, 50.5 percent, and 1.2 times in the first quarter.
Furthermore, the export of distinctive agricultural products also achieved fruitful results, with an increase of 58.4 percent and 47.6 percent respectively in dried fresh fruit and vegetables.
Author | Fanny
Poster | Mia
Editor | Wing, Olivia, Nan, Jerry