"Uruguay will not impose migration restrictions, trade restrictions or any other restrictions on China. Our borders are open as usual."
"The coronavirus outbreak is one of the diseases or viruses in the world. This is not a problem of China, but a problem that happened worldwide," said Martin Alvez, Consul General of Uruguay in Guangzhou at an interview with Newsgd.com, "Uruguay will not impose migration restrictions, trade restrictions or any other restrictions on China. Our borders are open as usual."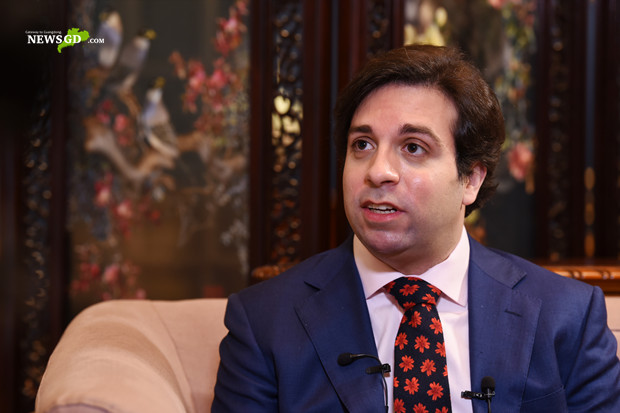 Martin Alvez,Consul General of of Uruguay in Guangzhou (Photo: Steven Yuen)
'All possible measures are being taken'
Alvez said the central point to prevent and control the outbreak is to take responsibility through timely communication with the international community. From this sense, he spoke highly of how the Chinese government and the people of China have been combating the coronavirus.
"The Chinese political and social systems make everything simpler and make communication and transportation much more organized," said the Consul General. "China can control the situation based on what it has learned from the outbreak of SARS since 2003 and the development of the past 40 years."
In order to curb the spread of the coronavirus (NCP), a series of measures have been taken: on January 23rd, Wuhan, the center of the outbreak, was locked down; On January 24th, numerous doctors and nurses across China rushed to Hubei and joined the fight; in about two weeks, two hospitals have been built to allow more patients to be taken good care of at an early date in Wuhan.
"Locking down a city is not easy," said Alvez. "At this point, I would like to express my deepest admiration for the people in Hubei province and especially in Wuhan. They have taken a big responsibility to control the spread of the virus and help the rest of the world."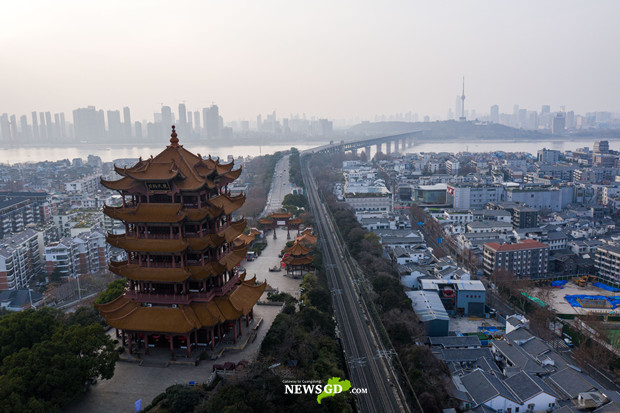 Wuhan, the center of the outbreak, was locked down on January 23rd. (Photo: Xu Hao)
Martin Alvez continued "China is making a huge effort to cooperate with the World Health Organization (WHO) and has been giving the public as much information as possible amidst this fight against the coronavirus".
According to official website of WHO, they highly appreciate the actions China has taken in response to the outbreak, its speed in identifying the virus and openness in sharing information with the international community.
"We gain updates about the situation every single day," The Consul General said. "We have heard scientists not only in China but in Australia, across the European Union and the US all studying the genetic composition of the coronavirus. We are sharing different knowledge and trying to come up with a solution."
'Stay calm, it will pass'
When talking about Uruguay's response to the outbreak of coronavirus, Martin Alvez said Uruguay always complies with international standards, and as of the latest briefing from the WHO, there is no reason for measures that unnecessarily interfere with international travel and trade.
"This is not a time to complain but a time to do whatever you need to do to keep yourself and your family safe," said Martin Alvez. "If you surround yourself in (a climate of) fear, panic or fake news, it won't solve anything."
"I want to tell our Chinese friends that they are welcome in Uruguay," he said. "Now there are outbreaks of different diseases in different countries. We have no point of treating this situation any differently because if we do so, we will have to shut down to the rest of the world."
.
World famous footballer Luis Suarez cheers for Chinese people through a video (provided by Consulate-General of Uruguay in Guangzhou)
Furthermore, the Consul General indicated that Uruguayans in Guangdong have maintained a positive mindset during the epidemic thus far.
"We have collected any doubts and questions that the Uruguayan community may have, ready to address," he said. "Guangdong has been sharing information about how to best protect ourselves, which is very useful."
Martin Alvez strongly believes that China will put in place measures to alleviate constraints and the worry of international market about Chinese performance in trade or finance.
"This is a difficult time, but it will pass," he stressed.
Authors(作者): Jasmine Yin(尹珏文), Steven Yuen (袁子翔)
Editors: Wing Zhang(张莹), Simon Haywood
Zero Ho also made contribution to this story.