"Guangdong enterprises should explore logistical flow from an early stage," said Frank Zwerts, Managing Director of POM Limburg. He suggested Guangdong set up a logistics chain to help their products
Frank Zwerts, Managing Director of POM Limburg. [Photo provided to newsgd.com]
"Guangdong enterprises should explore logistical flow from an early stage," said Frank Zwerts, Managing Director of POM Limburg. He suggested Guangdong set up a logistics chain to help their products better reach a European market.
The 21st Century Maritime Silk Road Forum on International Communication and China (Guangdong) Companies Going Global was unveiled in Zhuhai on November 29. In an interview, Mr. Zwerts shared his remarks on Chinese enterprises' trade engagement in the European market and gave advice for Guangdong companies on going global.
Q: What do you think of the competitiveness of Chinese enterprises entering the European market in recent years?
A: China has the capacity to mass production. In the past, the perception was that China didn't understand the standards used in European countries. Now it's very impressive that you manage to give us products of good quality but in a huge volume.
Q: Have you seen any improvement in Guangdong's high-tech innovation in recent years?
A: Europe and US already started that revolution (Industry 4.0), in China I saw it happening a couple of days ago. On Nov. 28, we had the pleasure visiting a company that was active in the printer business.
It can basically analyze or predict the need of customer by installing an intelligent chip on the cartridges. Through the Internet of Things, that information is pushed to the manufacturer, letting them know when a card is almost empty. So manufacturers can start making the cartridges, by the time the ink is gone they can ship as soon as possible.
It brings huge benefits to inventory management, production planning, and various other sectors.
Text by Will Wei
Edited by Oliver Ouyang & Simon Haywood
---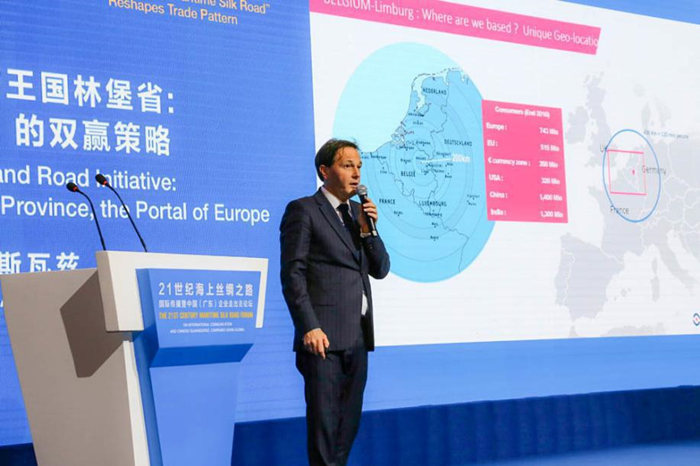 Frank Zwerts, Managing Director of POM Limburg. [Photo provided to newsgd.com]
Q: What advice can you offer for Cantonese companies on going global under the Belt and Road Initiative?
A: Guangdong is considered to be the factory of China, and to bring goods to a wider audience it needs a logistics chain. I would be very interested to help those companies to get that chain set up in Europe.
They should explore logistics flow from an early stage before they even have the idea of implementing it, because at the moment there is a big race going on in China to be number one in specific application. They have to put a lot of efforts in innovation or marketing to be the best factory.
Guangdong companies should stay open to receive innovative ideas coming from the other side, so that they are also open and provide access European companies to their market. Hence, they can learn from the behavior of the foreign companies to adjust their practices if they go abroad.
Q: What can Chinese enterprises learn from their European counterparts?
A: China is very much interested in a long term plan for the country. If you want to have a long term plan, you need to do this together with the US and Europe.
Chinese enterprises can learn a lot about European market from Belgium, since it is like a mini-Europe.
If you launch a product in Belgium which is a market of twelve million individuals, it's like a mega city in China. The market is controllable and durable because the Belgians are more conservative and a little bit like the average European. A lot of large international companies like Coca-Cola first launch a product in Belgium to test the market, then later they will become more successful in launching the product across Europe because they can still adjust the product.
Furthermore, the Chinese government might consider injecting more creativity into enterprises in the future. What I see today in China is creativity here and there but it doesn't exist at a scale where it has been put on top of the matrix. There should be a day where we copy ideas from China, a cross-fertilization through interaction.