Traditional Chinese medicine (TCM) has spread far and wide, up to around 183 countries and regions worldwide.
Traditional Chinese medicine (TCM) has spread far and wide, up to around 183 countries and regions worldwide. As the largest Chinese enterprise for TCM, Guangzhou Pharmaceutical Holdings Limited (GPHL) has been pushing for globalization through its herbal tea brand Wanglaoji. It has been claimed that GPHL will be listed among Fortune Global 500 by 2020.
Over 30 countries including Russia, France, Malaysia and Australia sought cooperation with China on traditional Chinese medical treatment and set up overseas TCM hospitals from 2011 to 2014, said Li Chuyuan, the Chairman of GPHL on the 21st Century Maritime Silk Road Forum held in Zhuhai recently.
TCM is gradually beginning to raise international attention especially in those countries along the Belt and Road. "(The benefits of) TCM should go global and be shared by the world," said Li.
"The Belt and Road initiative is a win-win allowing Chinese enterprises to go global and bring Belt and Road countries more knowledge about the benefits of TCM as a healthcare resource," added Li.
GPHL are promoting the internationalization of TCM not just in terms of products, but R&D and global events as well.
According to Li, GPHL's Wanglaoji herbal tea is currently being sold to more than 60 countries around the world with a sales exceeding 200 billion yuan (nearly 30 billion USD).
Herbal tea, made from healthy natural ingredients is increasingly capturing the attention of consumers and will lead the growth of the global traditional beverage market particularly in Asia.
The herbal tea formulas are adjusted according to the preferences of customers from different regions. Products selling to South East Asia are sweeter than other regions.
To raise R&D standards, GPHL has recruited top international talents including two Nobel Prize winners, one of which is Dr. Ferid Murad, known as the Father of Viagra, who has offered his professional advice in the development of Jin'ge, a product similar to Viagra. He also serves as the director of GPHL's Medical Equipment Institute.
GPHL is active on a variety of international stages promoting unique herbal tea culture. For instance, GPHL has participated in Boao Forum for Asia, the Summer Davos 2017, the Belt and Road Forum for International Cooperation. What's more, it will host a dedicated forum on health and pharmacy at the 2017 Fortune Global Forum to be held in Guangzhou from Dec 6 to 8.
"With the aim to promote cultural inheritance, GPHL has established five museums for Wanglaoji herbal tea, and we are going to set up 56 Wanglaoji herbal tea museums around the world," said Li, "TCM culture is expected to spread worldwide through these museums."
Driven by the growing TCM industry, GPHL has achieved a sales revenue of 78.3 billion yuan (11.9 billion USD), up 10.5% year-on-year from January to September of this year. It is expected to record sales of over 100 billion yuan in 2017
In future, Wanglaoji wants to be the most popular healthy beverage brand globally, it will become China's biggest exporter health drinks by 2021. "We are trying to build Wanglaoji into a world-renowned beverage brand like Coca-Cola," said Li.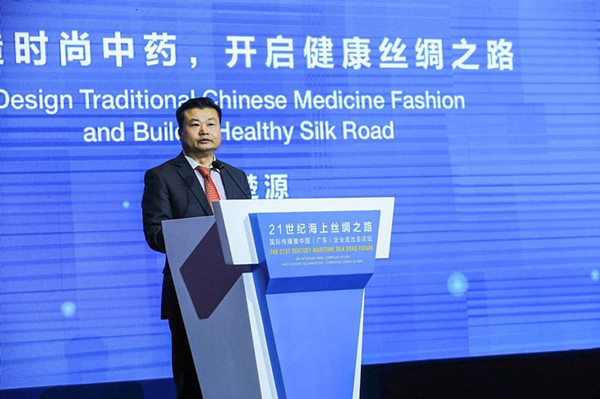 Li Chuyuan, Chiarman of Guangzhou Pharmaceutical Holdings Limited. [Photo provided to newsgd.com]
Reported by Will Wei
Edited by Simon Haywood & Olivia Ouyang