"I really hope Cambodia can build such a magnificent bridge, since many Cambodians are facing problems in transportation." Ung Kaneka, a journalist of TVK from Cambodia, sighed with emotion when visit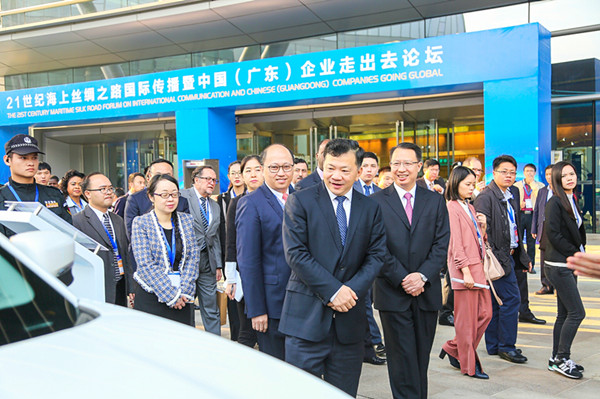 Shen Haixiong (M Front), a standing committee member of the CPC Guangdong Provincial Committee and head of Guangdong's publicity department, Zheng Yanxiong (R3 Front), Executive Deputy Director of Guangdong's Publicity Department, and Guo Yuanqiang (R1 Front), Party Chief of Zhuhai, visit the Belt and Road Achievement Exhibition. [Photo provided to Newsgd.com]
"I really hope Cambodia can build such a magnificent bridge, since many Cambodians are facing problems in transportation." Ung Kaneka, a journalist of TVK from Cambodia, sighed with emotion when visiting Hong Kong-Zhuhai-Macao Bridge during her stay in Zhuhai for the 21st Maritime Silk Road Forum on International Communication and China (Guangdong) Companies Going Global.
Kaneka is one of dozens of foreign journalists who have been invited to the forum. They had the opportunity to take a closer look at the Bridge which is scheduled to open by the end of this year, and were shocked by the high quality bar set by 'Made in Guangdong' brands. At the forum they were greatly impressed by a series of high-end products from 24 representative Guangdong-based companies.
This event provided a path for worldwide participants to understand more about Guangdong and development stories along the 21st Century Maritime Silk Road.
The issue of the Report on 'The Going Global of Enterprises from Guangdong Province of China in Building the Belt and Road' (2017) has helped many enterprises to better understand how to participate in B&R construction in future.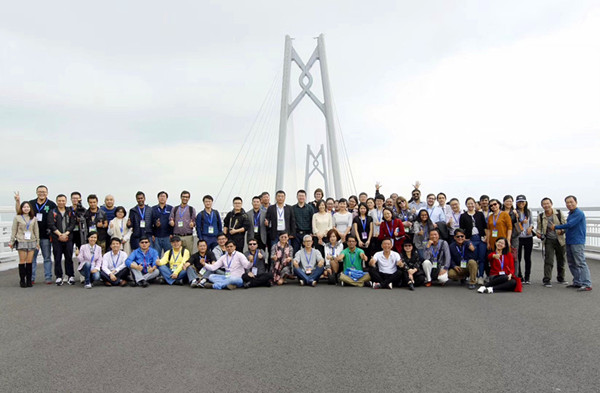 Media delegation to the 21st Century Maritime Silk Road Forum visit Hong Kong-Zhuhai-Macao Bridge on November 30 in Zhuhai. [Photo by Tang Shaolong, Hong Kong Commercial Daily]
A Belt and Road Achievement Exhibition cast a spotlight on the most outstanding Guangdong businesses and products such as GAC New Energy Automobile Co., Ltd's new energy vehicles, the passenger drone EHang 184, Wanglaoji herbal tea and Zhujiang beer, etc.
Furthermore the 'Chubby Women' sculptures created by the president of the Guangzhou Sculpture Academy, Xu Hongfei, presented a facet of Guangdong-based culture to the world.
Alejandra Olcese Zulueta is a journalist of Agencia EFE, the biggest Spanish international news agency. She was impressed by the rapid development of Chinese tech enterprises in overseas markets. "Enterprises including Tencent now rival the world's giant, Apple."
When visiting the exhibition, Kaneka said Guangdong's high-tech products, such as EHang's manned drone, are very impressive."The forum showcases a brand new image for Guangdong," said Ung Kaneka, "by gathering professionals across the globe, the forum brings in different voices to the in-depth discussion on B&R Initiative. It offers authentic and reliable market information to enterprises looking for international cooperation."
Reported by Hu Nan, Will Wei, Jasmine Yin
Edited by Simon Haywood & Olivia Ouyang