Chinese President Xi Jinping's first overseas trip in 2019 has achieved a train of tangible results, thus further unlocking potential for more dynamic and productive cooperation between China and its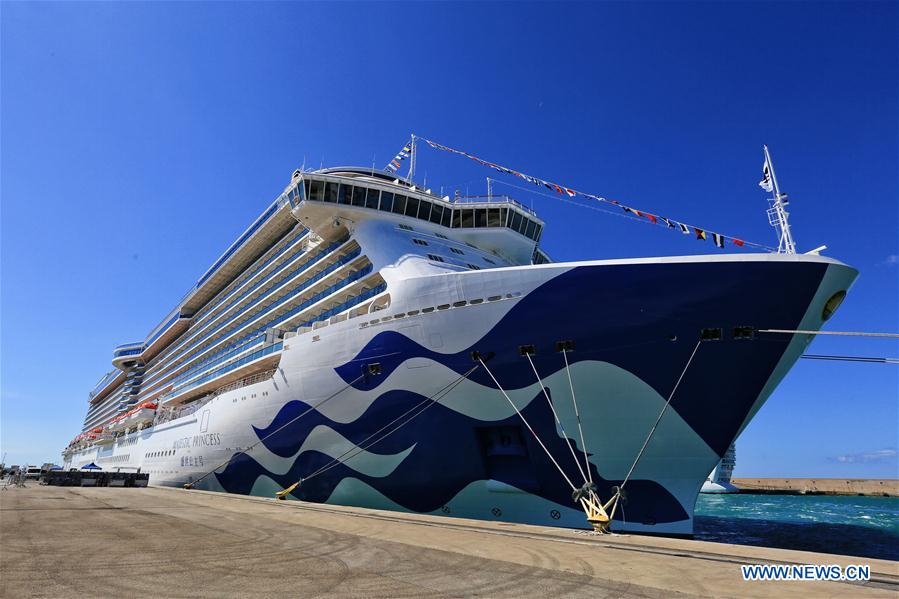 Photo taken on May 21, 2017 shows the Majestic Princess cruise ship at the port of Civitavecchia near Rome, Italy. A cultural program called Silk Road Stories made its debut on board the Majestic Princess. (Xinhua/Luo Na)
Chinese President Xi Jinping's first overseas trip in 2019 has achieved a train of tangible results, thus further unlocking potential for more dynamic and productive cooperation between China and its many European partners.
The Europe tour, which took him to Italy, Monaco and France, has helped bolster Belt and Road cooperation, stimulate inter-cultural exchanges, and build up a global consensus on safeguarding multilateralism for a better and more shared future.
B&R BOOSTER
During Xi's visit to Italy, the two countries inked a memorandum of understanding (MoU) on jointly advancing the construction of the Belt and Road Initiative (BRI). Rome's official endorsement of the BRI makes it the first Group of Seven member to do so.
In a joint communique issued by the two countries, Beijing and Rome agreed that the BRI boasts huge potential in promoting infrastructure connectivity.
The two sides stand ready to strengthen the alignment of the BRI and Trans-European Transport Networks, and deepen cooperation in ports, logistics, marine transportation and other areas, according to the document.
The BRI, proposed by Xi in 2013, aims to build a trade and infrastructure network connecting Asia with Europe, Africa and beyond.
Xi told Italian Prime Minister Giuseppe Conte during their meeting that China and Italy are at the two ends of the ancient Silk Road, thus they have every reason to carry out cooperation on the BRI.
Conte, in response, said Italy is glad to seize the historic opportunity, adding that he strongly believes that it will help fully explore the potential of Italy-China ties.
Manlio Di Stefano, Italian Undersecretary of State for Foreign Affairs and International Cooperation, said "it is evident that Italy is a natural European terminal for the Belt and Road Initiative."
Among the key sectors of the Italian economy that will benefit from the BRI, he added, are those "related to high technology and high specialization, in which we are a leader," as well as "the infrastructure sector and its supply chain, which are other priorities for us."
"In this way, we can open the way to the huge Chinese market for our highly specialized SMEs (small or medium-sized enterprises)," said the senior diplomat.
Matteo Bressan, a professor on international relations at University LUMSA, echoed Di Stefano. He said Italy's port advantage can facilitate the Belt and Road's construction and promote cultural exchanges and trade between the two countries.
Alessia Amighini, a senior associate research fellow at the Italian Institute for International Political Studies, a think tank, said Xi's visit and the BRI MoU are important to Italy and meaningful to the Europe.
GLOBAL GOVERNANCE
Apart from boosting bilateral practical cooperation, the visit has also become a platform for Xi and European leaders to compare notes on how to build a shared future in a world of growing uncertainties.
While in France, Xi, together with French President Emmanuel Macron, German Chancellor Angela Merkel and European Commission President Jean-Claude Juncker, attended in Paris a global governance forum co-hosted by China and France.
Addressing the forum, Xi warned of a rising volatility, uncertainty and protectionism facing nations, and raised what he termed the "four deficits" in global affairs, namely in governance, trust, peace and development.
To address these deficits, he proposed a four-pronged approach of fairness, consultation and understanding, joint efforts and mutual assistance, and win-win results.
He pledged that China would work with all parties to firmly uphold multilateralism, improve global governance and jointly address global challenges.
Macron said the meeting of Chinese and European leaders sent a positive signal to the international community that the EU and China firmly uphold multilateralism.
France and the EU are willing to further enhance mutual trust with China, and shoulder together the historic responsibility of promoting world peace, security and development, he said.
Merkel said Germany attaches importance to China's key role in international affairs, highly appreciates its support for Europe's prosperity, and is ready to work with China to advance multilateralism.
Juncker also said the EU and China could do great things together in jointly addressing global challenges.
David Gosset, a French expert on international affairs and China, said Xi's visit to France has bolstered cooperation between China, France and the EU in tackling climate change, maintaining multilateralism, enhancing the role of the UN and promoting trade connections.
The convergence is a source of hope for the world, Gosset said.
DEEPER UNDERSTANDING
Creating a better world requires a need for nations across the globe to better understand each other.
In his 2014 keynote speech at the headquarters of the United Nations Educational, Scientific and Cultural Organization in Paris, Xi laid out his vision of civilization, one featuring diversity, equality and inclusiveness.
"We need to encourage different civilizations to respect each other and live together in harmony while promoting their exchanges and mutual learning as a bridge of friendship among peoples, a driving force behind human society, and a strong bond for world peace," Xi said.
Five years on, China is joining various countries and regions to promote inter-civilization exchanges. As a result, the rest of world is becoming more knowledgeable and understanding of the Asian country.
Sonia Bressler, a French writer and sinologist who has made six trips to China, said China cannot develop without the world and vise versa.
The BRI connects the Chinese dream to the world's, she said. "The Belt and Road Initiative accords with the trend of the times."
"The China-Europe Railway Express has already transported goods between China and Europe. I believe I can continue my train trips to China again in the near future," said Bressler.
Prince Albert II, head of state of the Principality of Monaco, described Xi's visit to his country as a "historic" one.
Albert II, who has traveled to China 10 times, said he was deeply impressed by China's development.
"China has undergone tremendous development, as evidenced by its leading position in the global economy. But what strikes me most is Xi's determination and will to pursue green growth not only in China, but also at global level by participating as much as possible in all discussions on climate change and the protection of biodiversity," he said.
The prince told Xinhua earlier that he shares in the notion of "building a community with a shared future for mankind" proposed by Xi, saying Monaco and its neighboring countries have a similar saying for a "community of a shared destiny."
Extending the notion to the global level is an innovative move, the prince said, adding that it will benefit not only China but also the entire world.