Baby Aly Side, a Malian who has been living in China for 8 years, is working in the cross-border e-commerce business in the city and has established his own company here.
In the heart of Guangzhou's downtown area, Taojin Road, was the undisputed CBD of the city from the late 1980s to the mid-1990s. The road's Chinese literal meaning – gold rush, seemed tailor-made for its role as a "financial hub". Now, it's well-known by locals and expats alike for a number of nice restaurants, shops and bars.
It was in a café on this road that the journalist met BABY Aly Sidy – the leading role of this story at the first time.
"Hello, are you BABY", I said slapping him on the back. "Yes! How did you recognize me?" he asked. "Because of your halal hat", I answered with a smile.
"Haha!" Aly look around the coffee shop and said, "It's quite distinctive, isn't it" ? Then he went to the cashier, ordering three cups of coffee.
"Wo Mai Dan, Sao Wo Wei Xin (Chinese pinyin, meaning 'it's my treat, please scan my WeChat')", Aly spoke to the staff in fluent Mandarin.
A China old-hand that was my first impression of Aly.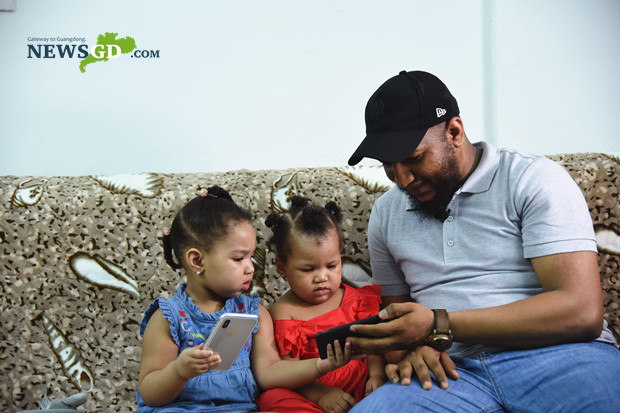 Aly played with his daughters [Photo/Steven, Newsgd.com]
Study to do better business
Baby Aly Sidy, a Malian who has been living in China for 8 years, is working in the cross-border e-commerce business in the city and has established his own company here. However, at first when two of Aly's local friends asked him to join their business, Aly refused them.
"I had to study first before I could do business in a better way".
Before coming to Guangzhou, Aly also spent almost a year and a half in Wuhan, where he met a Chinese mom who treated him like one of her family members.
"She introduced Chinese culture to me by taking me attend Chinese weddings and funerals." It was then that Aly developed a great interest in Chinese culture. "I think Mali's culture is not so far different from that in China. When we talk about culture, we are actually talking about humanity."
"Two months ago, an undocumented migrant from Mali (Mamoudou Gassama) risked his life and his future in France to rescue a child he did not know. Now the French called him 'Mali Spiderman'", Aly then mentioned this case as an example.
After studying Chinese in Wuhan, Aly came to Guangzhou and studied a business major at Jinan University, where he got a deeper understanding of Chinese business culture and finally overcame the language barrier.
"Now, when going to the market, I want to make friends with the local suppliers. I learn some words that can make them happy such as '一分钱一分货 (you get what you pay for)'. And because I know some Chinese dialects, I can communicate with locals better."
Due to his extroverted nature and good relationships with suppliers, whenever a Malian in his community runs into trouble in business, Aly is always the first one to stand up, solving the problem through negotiating with local suppliers.
---
Guangzhou makes me feel at home
"The Guangzhou we saw on TV is not what you see when you truly arrive. Guangzhou is different from cities in Africa, America and Europe and there are many old houses and old people here. It is a good place that accommodates so many nice people", Aly recalled this was his impression when he landed at Baiyun Airport for the first time, after 17-hour flight from Bamako, the capital of Mali, to Guangzhou.
During the first few days starting up his business in Guangzhou, Aly always went to Xiao Bei where many Africans went to purchase goods. He helped them book hotels and call a taxi because he spoke Chinese very well.
"Consequently, they wanted to exchange contacts and make friends with me. They asked me if I could help them buy goods."
Now, as e-commerce is booming in China, he prefers to use online channels more often as it takes much less time and it is more convenient. He showed us several cellphone apps, such as Taobao, 1688 and Pinduoduo that he found recently from a TV advertisement.
"These have been a great help to me," he said with much delight, "I don't even have to leave my office or house."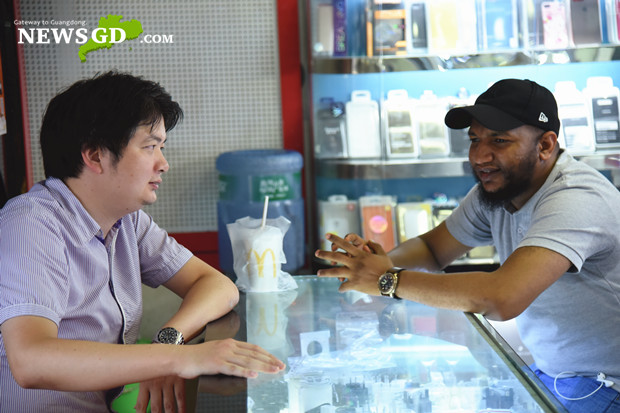 Aly doing business with a local supplier in Dashatou [Photo/Steven, Newsgd.com]
For work, Aly will go to almost everywhere around the Pearl River Delta to find goods that really meet his demand, just like locals. He will go to Dashatou which is not far from his home. He used to go to Shenzhen to purchase electrical devices in large quantities. For furniture and office supplies orders, he believed Foshan offers better alternatives.
"Guangzhou has now become a big market for Africans, well known by many foreigners".
In the eyes of Aly, Guangzhou is now more than a Mecca of business, "I feel like it is my second home, I can be myself here."
Reported by Keane & December
Edited by Olivia & Simon