If you travel to a foreign country, the airport is almost always the first place you arrive and your first taste of the unique vibe of a city or region.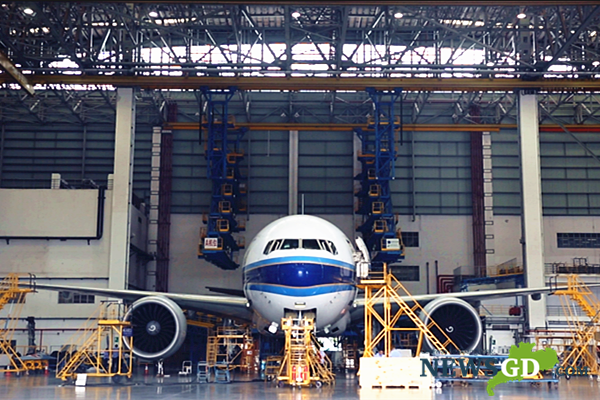 GAMECO's workshops [PhotoNewsgd.com]
If you travel to a foreign country, the airport is almost always the first place you arrive and your first taste of the unique vibe of a city or region.
Norbert Marx, CEO of Guangzhou Aircraft Maintenance Engineering (GAMECO), said his friends are always impressed by the convenience of Baiyun Airport when come and visit him in Guangzhou. "Smooth, clean and spacious are their first impressions. "
Their experience has to be attributed to the city's efforts in developing its aviation industry with the aim of becoming an international aviation hub. On September 15th, it just hosted the World Route Development Forum, which gathered aviation enterprises and investors from across the globe, and brought more opportunities to the city.
To gain more insight into this booming industry, we went through a series of security checks on Friday morning to visit Norbert Marx at his office which is located right beside the new Terminal 2. Inside it has giant aircraft being taxied around.
Reported by Jasmine Yin, Rebecca Tao
Edited by Wing Zhang, Simon Haywood
Photo by Shi Lei
---
Guangzhou's aviation "fullback": lifting, expanding and beyond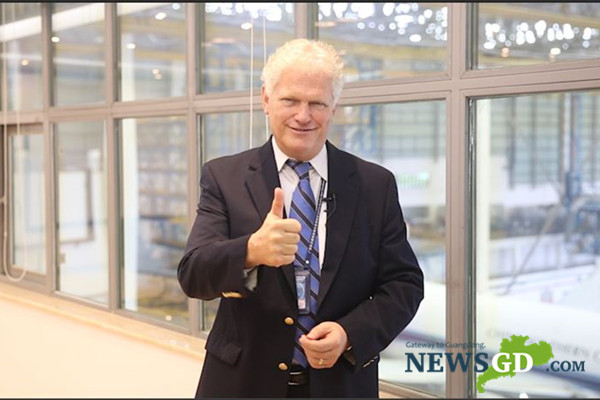 Marx in front of his meeting room windows [PhotoShi Lei]
Immediately after we arrived at his office, Norbert Marx guided us to a meeting room with a row of windows that he loves very much. Through the window, we could see GAMECO's workshop---hangers, technicians and aircraft being fixed.
"This is what we do," said Norbert, "we take care of the aircraft and make sure that they are safe and, technically reliable when you fly for vacation or business."
Similar to a lot of his fellow German's, Norbert Marx loves football and he compared the development of the aviation industry to playing football because, in his words, both of them require good teamwork. "Airport, customs, airlines and aviation companies like GAMECO have to be solid and create a good environment to boost development".
As for Guangzhou, he thinks the city naturally finds itself in a strong position to develop aviation, and become the 'south gate' of China.
"When I worked in Beijing in 1994, China was recognized as a big market (but) without strong capabilities. But that has changed," he said, "the industry is growing rapidly here with many good problems considering growth and efficiency. These are challenges and opportunities that you cannot find in many other countries nowadays."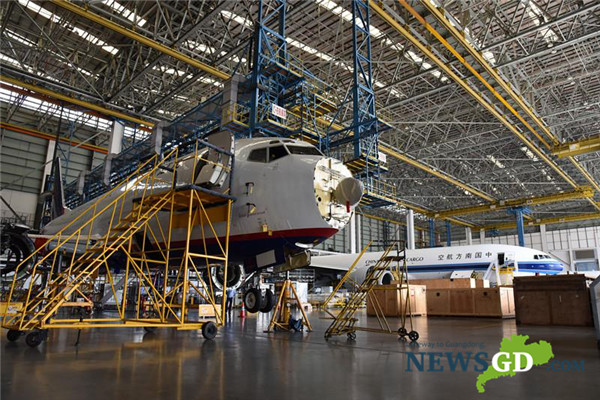 GAMECO's workshops [PhotoNewsgd.com]
Norbert said one of their most recent challenges and opportunities has been Baiyun Airport's expansion into Terminal 2 (T2). Four airlines including China Southern Airline, GAMECO's biggest customer, moved to the new terminal since April 26th, which means the company now have to cover both T1 and T2.
---
"The opportunity is obvious. Guangzhou can handle more passengers with more aircraft landing and taking off, which directly brings more business," he said, "but it's also challenging as the area T2 covers is very big. We have to have more mechanics and move the airport toll trucks and lots of supplies, such as, hydraulic power and air conditionining."
Norbert disclosed that the company has been hiring more people and building more hangers and workshops. It has also invested a lot in technology including digital solutions for composite parts. "We keep improving our capacity and efficiency, for example, whilst we hired forty percent more people, our revenue has more than doubled."
"The aviation industry is born to be global, international"
Norbert Marx has been in the aviation industry since the 1980s with work experience in Germany, Switzerland, Canada and U.S. From his perspective, people are one of Guangzhou's key advantages.
Compared to the Beijing company he worked for in the 90's, Norbert said GAMECO has much less foreign employees. "The know-how transfer was important at that time, however, we have caught up in the industry now and are able to form a really good team by hiring and training local people."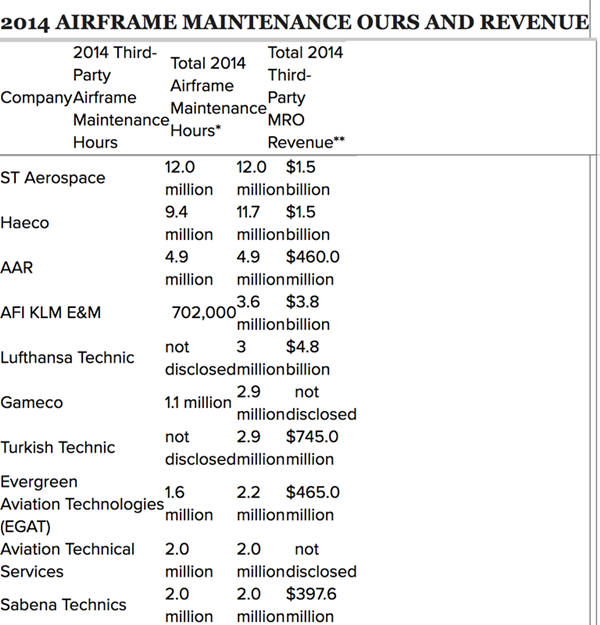 GAMECO first earned a spot on the Aviation Week's compilation of the world's top ten maintenance, repair and overhaul providers in 2015 since which the company has maintained their position on the list. [Photomro-network.com]
---
Having less foreign employees illustrates the changing demands on maintaining international relationships. Norbert Marx said what GAMECO needs is a bridge to connect itself with partners outside of China. And this is exactly his role in the company.
"Aviation is a global industry," he said, "aircraft maintenance is done under the approval of different countries' authorities, and done with different business partners from abroad. So I'm the accountable party to these authorities and business partners."
Marx believes that his previous experience will help create confidence and a business environment that can attract business from overseas companies to Guangzhou. "We will see an aircraft soon coming from Lufthansa, my former employer. I think this is because Lufthansa thinks GAMECO is competent, but also because they have somebody here that can help them if they have some trouble."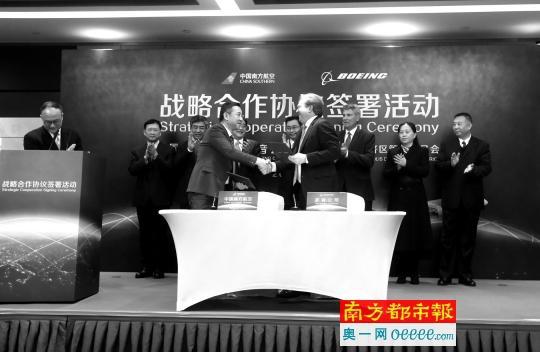 Norbert Marx mentioned many examples of GAMECO cooperating with its overseas partners such as GE, FedEx and Airbus. And one in particular: the company announced co-operation with Boeing in February this year. This contract will cover seven different projects such as composite part care and passenger to freighter conversion. [Photooeeee.com]
When asked about why he chose to stay in the city, Norbert said there are many big projects going on. He feels it is his responsibility to bring them to fruition if it was him that suggested them in the first place. Meanwhile, he also feels a lot of trust from his teams, directors and shareholders, which gives him a lot of motivation.
It has been seven years since Norbert Marx came to Guangzhou because of a phone call about a job offer from GAMECO.
"In the past, big cities developed around railway stations or harbors. But now they develop around airports. So I'm excited about the Guangzhou Aerotropolis Development District because I think it's managed well and has become (a center of) gravity that has attracted lots of business. I hope that Guangzhou, a city that many people in Europe don't know of, even though it is so big and so important, will be a major aviation hub in the near future," he said.
---
德国CEO带你走进广州飞机维修车间
      从一个国家到另一个国家,机场往往是大家到达的第一站,也是感受新的目的地独特风格的第一站。
      广州飞机维修工程有限公司(GAMECO)的总经理Norbert Marx说,如果有朋友从德国来广州,他们总会对白云机场印象深刻,赞赏通关、行李服务和接驳交通都非常便利。"流场、干净、宽敞通常是他们的第一印象。"
      良好的体验背后是辛勤的付出。近年来,广州大力支持航空业发展,着力打造国际航空枢纽。9月15日,有着航运界的"奥利匹克"之称的世界航线发展大会在广州举行,全球的航空公司、投资人将齐聚羊城,共商合作,为城市和行业带来更多机会。
      周五早晨,我们通过层层安检,来到坐落于白云机场T2航站楼旁的GAMECO。一进大门,办公楼尽处来往的"庞然大物"马上吸引了我们的目光,我们的目的地——Norbert Marx的办公室就在停机坪旁边,今日,他将带我们走进广州蓬勃发展的航空维修行业。
广州航空的"大后卫"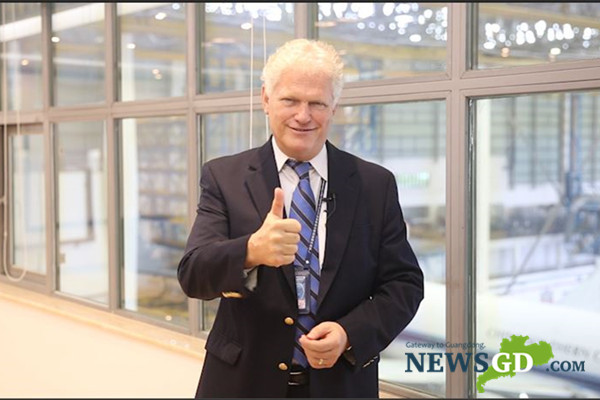 Marx站在会议室的窗前【图/石磊】
       刚迈进Marx的办公室,他便热情地领我们到一间会议室,指着偌大房间另一侧的窗户,说,"这窗外的景观特别好"。我们看向窗外,宏伟的维修车间尽收眼底,技术员围绕机身,正忙碌地进行检查和维修。
      "这就是我们的工作",Marx说,"我们对飞机进行维修、维护,当大家出门旅行、出差时,我们在技术上为大家保驾护航。"
       和很多德国人一样,Marx是个足球迷,他曾把航空产业比作踢足球,说两者都需要紧密的团队合作。"机场、乘客、航线和像GAMECO这样的公司要齐心协力,才能有效地促进广州的行业发展。而作为中国的"南大门",广州在发展航空产业上有着天然的优势。"
      "1994年,我曾在北京工作,当时大家认为中国虽是一个很大的市场,但技术不强。不过现在不一样了,"他说,"中国的航天事业正飞速发展,而面临的如何提高效率、如何促进增长的问题,可以看做是现在在其他国家和地区找不到的机遇和挑战。"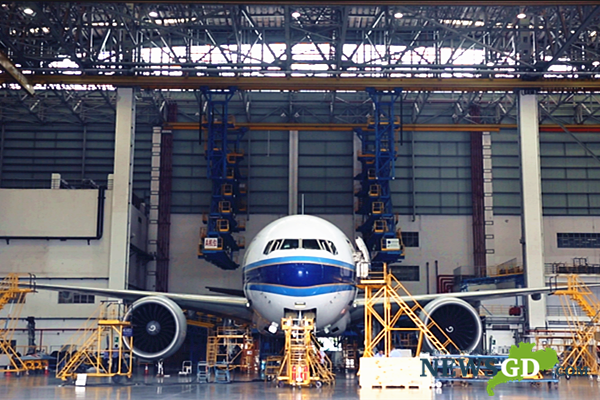 广州飞机维修工程有限公司的车间【图/石磊】
       Marx表示,GAMECO最近也正面临着很好的机遇和挑战——白云机场第二航站楼启用,包括南方航空公司在内的四家航空公司于今年4月26日迁入新航站楼并开始运营,这意味着公司要同时为新、旧航站楼提供服务。
      "随着T2启用,白云机场的吞吐量不断提高,以后会有更多的航班在这里起飞、降落,这直接为我们带来更多的业务,"Marx说,"但这也是个挑战,因为新航站楼占地面积非常大,我们需要一支更大规模的技术团队,同时要把机场拖车、空调、水电等物资运送到那里。"
       Marx透露,公司早在T2启用前就开始招聘更多员工、投建更多机库和车间。同时,公司一直很重视技术的投入,如采用更多电子解决方案等。"我们一直致力于提高产能和效率,虽然团队规模扩展了40%,但公司收入却翻了一番。"
航空产业的全球化基因
       自上世纪八十年代踏入航空产业,Norbert Marx俨然是位老行尊了,他拥有在德国、美国、瑞士、加拿大等多国的工作经 验。在他看来,"人"是广州谋发展的主要优势。
       相比94年在北京任职的公司,Marx说GAMECO规模更大但外国员工的数量很少。"过去,技术转移非常重要,但如今,中国企业的技术已赶上来了,广州有很多优秀的人才,我们通过招聘和培训本地员工便可组建一支非常优秀的团队。"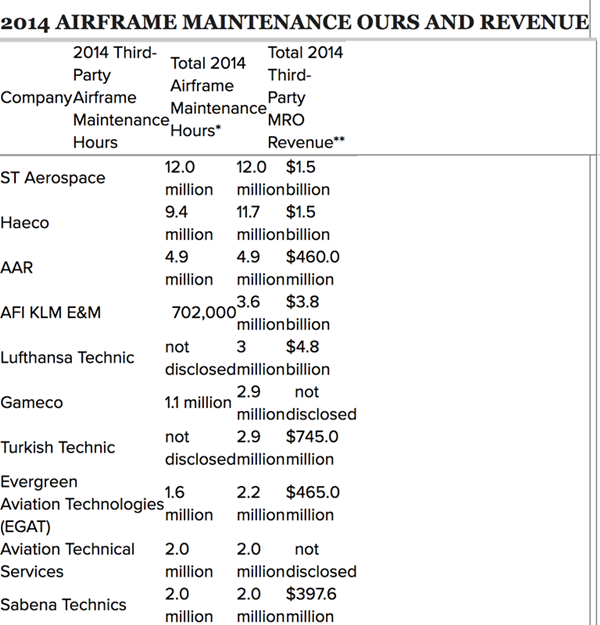 自2015年起,GAMECO一直被美国的《航空周刊》评选为世界前十位的航空维修公司。【图/mro-network.com】
       然而,外籍员工的减少并不意味企业闭门造车,它恰恰反映了中国企业对国际合作需求的不断变化。Marx表示,GAMECO这样的企业目前最需要的是建立一道促进对外交流与合作的桥梁,而这也正是他在公司扮演的角色。
      "全球化对航空产业来说是与生俱来的,"他说,"飞机维修必须在不同国家的官方授权下进行。飞机的机身、各种零部件产自世界各地,我们的商业伙伴遍布全球。因此,我的一项重要工作就是维护、拓展和这些海外授权机构、商业伙伴的联系。"
       Marx 认为他的工作经历可以给外国的航空企业带来信心,并为广州营造一个良好的商业环境,从而带来更多的海外业务。"我在德国汉莎航空曾工作过很长一段时间,而我们马上要迎接一架来自汉莎的飞机了,我想这一方面是对GAMECO实力的认可,另一方面是汉莎觉得将来如果遇到什么问题,也有个'老熟人'在这里帮忙。"
      七年前,Marx接到了GAMECO的一通电话,邀请他来公司任职。正是因为这通电话,他来到了广州,一待便是七年。"目前,公司有很多进行中的大项目,看着这些项目从萌芽到发展,我觉得自己有责任把他们执行好。而且,我在这里得到很多信任、收获很多友谊,这是我在广州奋斗的一个重要动力。"
      Marx认为,历史上的大城市都是沿火车站、港口分布的,而现在,机场将城市发展的重要依托。"看到广州成立空港经济区管委会的时候,我感到非常兴奋。这是一个很必要的项目。目前,它发展也非常好,已形成合力,带来很多商机。未来,我希望广州,这虽然很大、很重要但在欧洲还不太为人熟知的城市,可以成为一个在全球范围内首屈一指的国际航空枢纽。"
记者:尹珏文、陶心怡
编辑:欧阳妍