Since January 1st, Guangdong has become one of nine pilot provinces and cities to implement the new foreign talent visa system, greatly benefiting foreign talent in the province. One such person is Pr
Prof. Tirado works in the office. (by Shi Lei, Nanfang Plus App)
.
Since January 1st, Guangdong has become one of nine pilot provinces and cities to implement the new foreign talent visa system, greatly benefiting foreign talent in the province. One such person is Prof. Rafael Guzman Tirado, working for the "Yunshan" program at Guangdong University of Foreign Studies (GDUFS).
"So this chance to avoid having problems with my visa is essential. Otherwise, I wouldn't be able to be here (GDUFS)." said Tirado.
Indeed, as one of the first batch of individuals to receive the confirmation letter on foreign high-end talent which was issued by the Human Resources and Social Security Department of Guangdong Province on January 15th, Tirado could apply for a 5-10 year multiple-entry visa and has enjoyed positive changes in his life and strengthened his ties to Guangdong.
Text by Nan & Eric (Intern)
Video by Shi Lei & Eric (Intern)
Edited by Wing & Simon
---
Tirado is having leisure time with colleagues. (by Shi Lei, Nanfang Plus App)
Visa problem solved
An expert in linguistics and translation into Spanish and Russian, Tirado gave a series of lectures in GDUFS two years ago and later became a professor on the "Yunshan" program of the university.
However, Tirado found that his cooperation with GDUFS had to be delayed because of visa issues—he could only apply for a single entry visa at that time, which meant every time he flew to other places to attend academic conferences and forums, he had to apply for another visa before he could return.
"I am also member of different associations. I have to go to Russia and teach Russians translation theory, one of the most important fields in my professional life, " Tirado explained.
Fortunately, the confirmation letter for foreign high-end talent solved this problem as it allows Tirado to apply for a single visa with multiple entries valid for 5 to 10 years, and a duration of 180 days at most for each stay.
With this visa in hand, Tirado began his life and work ar GDUFS in earnest this spring.
---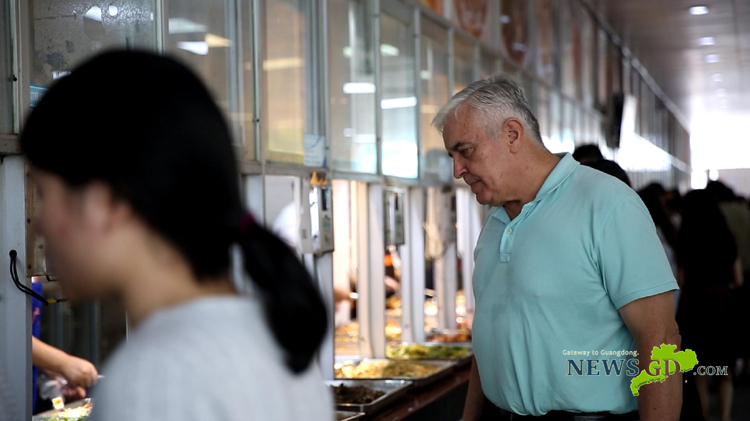 Prof. Tirado in the dining room at university. (by Shi Lei, Nanfang Plus App)
Enjoying life on the campus
Tirado finds his life in GDUFS rather exciting, as he has fulfilled his childhood dream of learning Chinese through attending the Chinese courses provided by the Faculty of Chinese Language and Culture.
In addition, as a sports lover, he is rather satisfied with the sports facilities in GUDFS, especially the running track. "I go jogging at 7 am every day as it feels so good to run after it has been raining." said Tirado.
Also interested in martial arts such as karate, Tirado is also enjoying the opportunity to learn Kungfu at GDUFS.
As for his future in Guangdong, Tirado is rather optimistic and believes despite the end of his contract with GDUFS coming next year, he will not lose his ties to the university or to Guangdong. "We will continue our cooperation in a different way." he said.
---
广外教授拉斐尔·蒂拉多:
外国人才签证新政让我常驻广外成为现实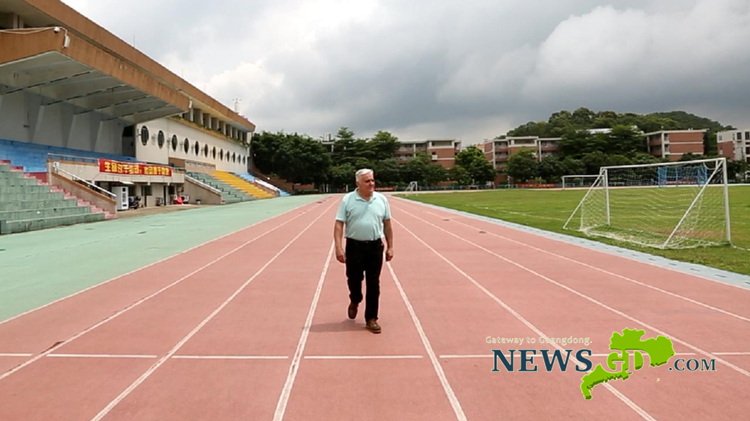 广东外语外贸大学云山学者讲座教授拉斐尔·古兹曼·蒂拉多。(南方+客户端记者 石磊 摄)
"如果没有《高端人才确认函》,我不会像现在这样常驻广外。(外国人才签证)新政策让我在这里任教成为现实。"广东外语外贸大学云山学者讲座教授拉斐尔·古兹曼·蒂拉多(Rafael Guzman Tirado)在接受采访时感慨道。
今年1月起,广东等9个省市作为第一批试点开始实施外国人才签证制度。1月15日,我省人力资源和社会保障厅签发了首批《外国高端人才确认函》。蒂拉多是首批获签的外国专家之一。
这封确认函让蒂拉多的生活发生了极大的改变,也让他与广外,与广东的缘分更加深了。"在这里真的很舒服,对我来说这是个很完美的机会。"
签证曾是最大障碍
蒂拉多的研究主要集中在语言学和翻译,是研究西班牙语和俄语翻译的高端人才。早在两年前,蒂拉多就已经与广外结缘,当时他所在的西班牙格拉纳达大学与广外开展合作项目,他从西班牙飞来广州,为广外学子开设为期一个星期的学术讲座。
也正是在这一个星期里,广外给蒂拉多留下了很深刻的印象。当广外向他发出邀请,聘请他担任云山学者讲座教授时,他毫不犹豫地接受了。
然而,蒂拉多发现,签证问题成为他来广外最大的障碍。他经常需要飞到世界其他地方参加国际性学术会议和论坛,但他能申请到的签证是单次入境,每次出境之后必须重新申请中国签证。这给他带来了极大的困扰,也因此他与广外的合作也耽搁了一年。
外国人才签证政策对广外和蒂拉多来说就是一场"及时雨"。蒂拉多在获发《外国高端人才确认函》后,可凭此函向驻外使领馆申请有效期5至10年、多次入境、每次停留180天的人才签证。在广外和广东省外国专家局的帮助下,他很快拿到签证,今年春天开始了在广外的工作和生活。
蒂拉多除了分担一些教学任务,给研究生上课之外,还经常与西语学院的同事进行科研合作和交流。"两天前,我才给西语学院青年教师们上了一个关于如何指导学生写学术论文的讲座。"
圆了学中文的梦
在广外的生活也让蒂拉多特别兴奋。广外让他圆了学中文的梦想。"在我很小的时候就萌生了学习中文的梦想,现在广外给了我这个美妙的机会。"广外中文学院为蒂拉多提供了非常密集的中文课程,也让他的中文水平飞速提高。如今他已经能简单地用中文进行交流。
此外,蒂拉多对广外校园的运动设施特别满意。他是跑步爱好者,广外北校区的田径场是他最爱的地方之一,每周都要来跑三四次。"我今天早上七点钟就起来去跑步了,雨后跑步的感觉真是太好了。"
田径场除了能让蒂拉多跑步,也让他有机会学武术。蒂拉多是日本空手道爱好者,来中国之前就有学习。在他看来,日本空手道是源自中国武术,能有学习武术的机会,他自然不愿错过。然而遗憾的是,他的膝盖不太好,练了一段时间后只能忍痛放弃。
谈到对未来的期待,蒂拉多非常乐观。到明年,他与广外的聘用期将结束,他和广外,和广东的联系也不会被斩断,"会换个方式继续我们的合作"。
采写:胡南,郑逸康(实习生)
视频:石磊,郑逸康(实习生)
编辑:张莹