In recent years, many time-honored Guangdong-based companies have taken action to refresh their brand image and step onto the world stage.
In recent years, many time-honored Guangdong-based companies have taken action to refresh their brand image and step onto the world stage. For instance, Pearl River pianos, the world's largest piano manufacturer, claims to produce 35% of China's pianos and a quarter of the world's, and Zhujiang beer is exported to over 40 countries and regions.
"The 21st Century Maritime Silk Road Forum" highlighting Chinese (Guangdong) companies going global will be held in Zhuhai next month. Here are the stories about the above companies (also two participants of the forum), presenting their role in international trade.
Pearl River Piano: world's largest piano manufacturer with high praises
"I like Pearl River pianos very much because they almost sing…and that gives me a lot of musical inspiration," said world-famous pianist Lazer Belma. After touring in China and playing a Pearl River piano in concert several times, he understood why Pearl River takes such pride in their instruments.
Lazer Belma, autographed the piano plate with the words Be Proud of the Piano.
Guangzhou Pearl River Piano Group Co., Ltd., is the largest piano manufacturer in the world with a 60 year history. Pearl River Pianos are the best selling pianos in China and have been exported to more than 100 countries and regions.
It is said that Pear River pianos are recommended world-wide by teachers, performers and technicians. According to Yang Weihua, the Secretary to the President of Pearl River Piano Group, most people who have played the Pearl River Piano praised the piano's outstanding quality of timber used in construction.
In 2016, Pearl River's sales accounted for 38.6% of the Chinese market, and 27.26% of the global market. The conpany's globalization plan has contributed a lot to the company's transformation into such a world-renowned brand today.
Since 1985, Pearl River began to employ top piano designers from Europe to perfect the design and production of fine pianos. By combining the art of European craftsmanship with quality components and the latest technological advances in instrument production, and attending international events like the National Association of Music Merchants Show, it has gradually taken the brand onto global stage.
On May, 2016, Pearl River completed the purchase of Germany's largest and most famous piano maker Schimmel, which marks an important step on the brand's journey to globalization. Schimmel's advanced production technology and brand reputation will help to further develop Pearl River's European and North American markets, since it sells around 2,200 pianos annually worldwide, giving it a 10% global share.
Three Pearl River pianos will be presented during the 21st Century Maritime Silk Road Forum at the Zhuhai International Convention & Exhibition Center from Nov 28 to 30.
---
Zhujiang Brewery: different beers for different consumers
It is said that people can purchase Zhujiang beer all over the world. Pineapple beer sells well across many parts of Canada, you can even find Zhujiang draft beer at supermarkets in Singapore.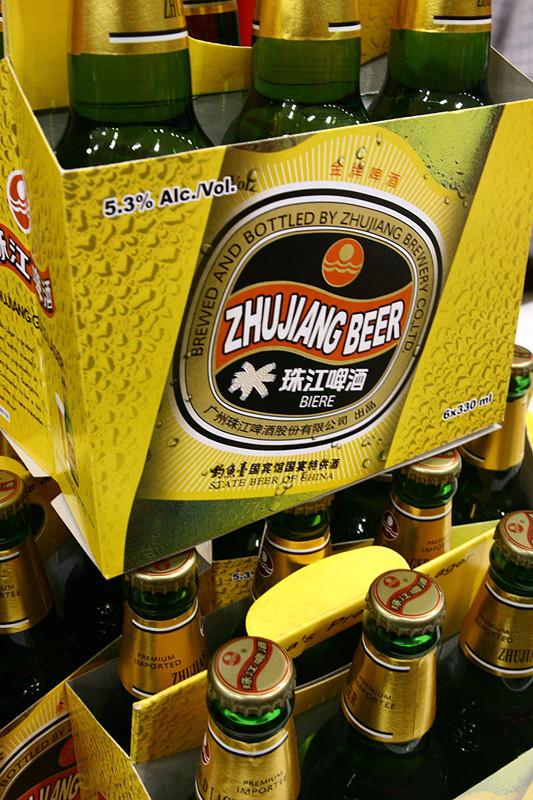 Zhujiang Beer - Zhujiang Brewery's main product.
The producer, Zhujiang Brewery (Guangzhou Zhujiang Brewery Group Co., Ltd) was established in 1985 and is one of 4 Chinese national beer brands. Also, The brewery is one of the largest single site production facilities in the world.
This Guangzhou-based company, whose business mainly focuses on China, now is striving to develop its brand into a global one.
Actually, since 1986 Zhujiang beer has been exported to over 40 countries and regions across the globe, including Canada, Australia, Sweden, the UK and many more along the Belt and Road.
Beer is one of the world's most popular beverages, but the global beer market share is mainly controlled by European companies like Denmark's Carlsberg and Heineken from the Netherlands. So, how then is Zhujiang beer able to penetrate these markets?
Most importantly, Zhujiang beer uses a differentiated marketing strategy to sell its products. For instance, the company sells draft beer in central and eastern Europe, North America and Australia where consumers demand beer with a more intense flavor; while beer with more alcohol by volume is exported to market in Africa and South Pacific countries, said Yu Hong, the Manager of Overseas Sales Department of Zhujiang Brewery.
Hence, the broad tastes of a varied consumer base are satisfied by using such a strategy.
Furthermore, the company keeps improving their products in line with international standards to ensure high quality output. It has established the Zhujinag Brewery International Research Center with the Technical University of Munich (TUM), aiming to develop advanced research programs and train more professionals in the field.
Zhujiang Brewery's next goal is to become a leading enterprise in the middle-and-high-end beer markets worldwide.
Author: Will Wei
Editor: Simon Haywood; Olivia Ouyang