The Chief Executive of Hong Kong Special Administrative Region Carrie Lam Cheng Yuet-ngor announced at a press conference on Jan.28th that Hong Kong will suspend individual visit scheme involving 49 C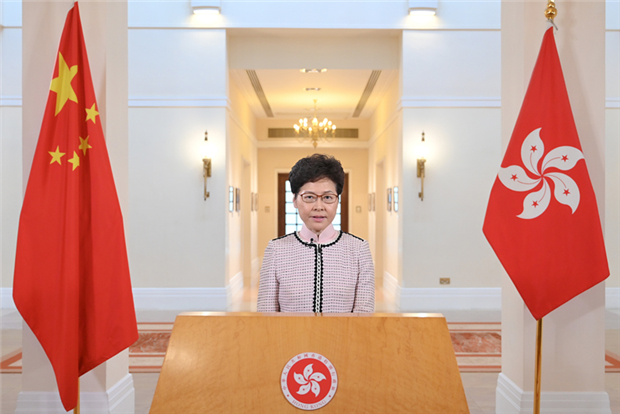 Photo/Nanfang Daily
The Chief Executive of Hong Kong Special Administrative Region Carrie Lam Cheng Yuet-ngor announced at a press conference on Jan.28th that Hong Kong will suspend individual visit scheme involving 49 Chinese mainland cities. Lam said the ban got the approval from the central government and it aims to combat the spread of the coronavirus-related pneumonia.
According to previous data, individual visit scheme accounts about half of mainland travellers visiting Hong Kong. At the same time, Chinese mainland has suspended tour groups to Hong Kong, which accounts about 20%. The ban will significantly reduce mainland visitors, Lam said.
The city also suspends high-speed rail service to the Chinese mainland. Lam also said all cross-border ferry services would be suspended and the number of flights to the Chinese mainland will be halved. Starting from Jan 30, immigration checkpoints at the city's high-speed rail station and Hung Hom station will be closed. Passenger traffic at Sha Tau Kok, Man Kam To will be suspended.
Lam stressed that the ban aims at reducing mainland tourists coming to Hong Kong, bland to cut the number of Hong Kong residents going to the mainland.
Lam said that in order to reduce the contact amongst people in Hong Kong, the government has previously announced the suspensions of school and large-scale activities. The government also called on people who returned from the mainland to stay at home for 14 days and wear mask if they need to go out.
Lam also revealed that there are 200 Hong Kong residents still in Hubei as the province remains locked down. The SAR government's office in Wuhan kept contact with the residents. She said the SAR government was communicating with the central government on the arrangements to bring them back home.
During a press conference held on Tuesday afternoon, Zhang Yongchun, director of Macao's Justice Affairs Department of the Macao Special Administrative Region, announced that according to the central government's notification, Macao will also suspend individual visit scheme from the mainland.
Eight people in Hong Kong and seven people in Macao have been infected so far.
Author| Keane
Editor| Wing