A stand that displays different types of auto wine opener attracted a special group of visitors to the Canton Fair. "I saw many interesting products that I'd really like to have," said Antonia Hugh, Jamaican Ambassador to China, "I have been to the fair a few years ago and I was impressed by how the products were updated in such a short period of time this year!"
A stand that displays different types of auto wine opener attracted a special group of visitors to the Canton Fair. "I saw many interesting products that I'd really like to have," said Antonia Hugh, Jamaican Ambassador to China, "I have been to the fair a few years ago and I was impressed by how the products were updated in such a short period of time this year!"
Diplomats from 22 countries' embassies in China and 44 foreign Consuls General in Guangzhou attended the Canton Fair on October 14. This is the first time for the fair to hold offline exhibition after the Covid-19 pandemic.
"Electronics, cars, accessories...we buy a lot from Canton Fair!"
Luis Schmidt, Chilean Ambassador to China, said he is an 'old friend' of the Canton Fair as he attended for the first time in 1998. "During my first period as ambassador, I came to the Canton Fair frequently with Chilean companies because it's the most representative trade fair worldwide that presents all the new products in China."
High-tech products and electronics presented at the fair are the most attractive items to many countries. "As we are replacing traditional transport with electric buses in Santiago, the Capital of Chile, we bought lots of electric buses from Guangdong companies like BYD. And we will buy electric cars and trucks in the future," said Luis Schmidt.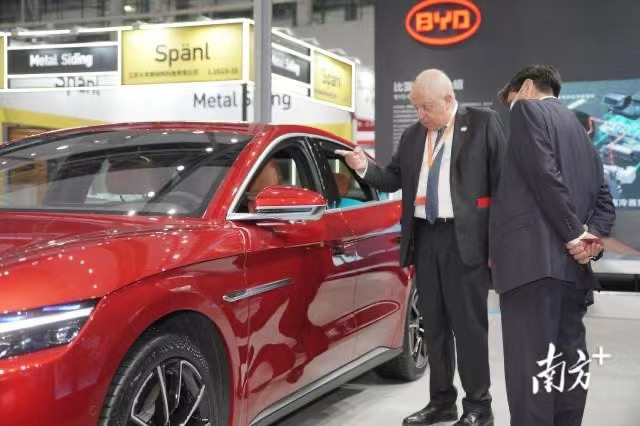 Luis Quesada (L), Peruvian Ambassador to China, visits the BYD stand at the Canton Fair. [Photo/Shi Lei]
"We buy high tech from China, such as cars, machinery for mining, mobile phones, computers and tablets," said Luis Quesada, Peruvian Ambassador to China, "China is very much ahead in technology and innovation, and the relationship between the quality and the price made Chinese products very attractive."
In the meantime, China imports a wide range of agricultural products from these countries. Paulo Estivallet de Mesquita, Brazilian Ambassador to China, said Brazil has become the largest supplier of agricultural products to China. In Guangdong, people can see more and more Brazilian products starting with meat.
According to statistics, Brazil's export volume of beef reached 4.28 bn USD by the end of September in 2021, increased 24.9 percent year on year.
Luis Schmidt added: "Chile exports a large volume of seafood, pork and wine to China. We are also famous for cherries, and 95 percent of our cherries enter China by Guangzhou." This is the reason why many Chileans looking forward to an offline Canton Fair.
We will seek multilateral solutions to trade problem after pandemic
Luis Quesada, Peruvian Ambassador to China, said October 14 is a special day for him because the Chinese Prime Minister Li Keqiang invited the President of Peru to give a message at the opening ceremony of the fair.
"This is a very important message from both the Chinese and Peruvian governments that we are looking for multilateral solutions to trade problems and the Canton Fair is an important mean to conduct international business," said Luis Quesada.
When asked about how the bilateral trade volume was affected by the pandemic, most diplomats have a positive outlook and consider China as one of their most important trade partners.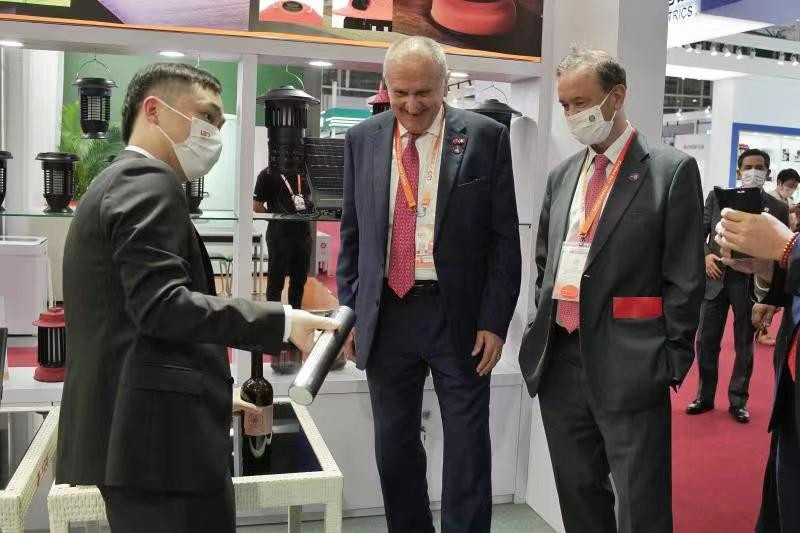 Paulo Estivallet de Mesquita (R),Brazilian Ambassador to China, visits a stand presenting an auto wine opener. [Photo/Shi Lei]
Paulo Estivallet de Mesquita said trade between Brazil and China has kept growing throughout the pandemic. "Last year our bilateral trade volume hit a new record of over 100 bn USD. And this year, at the end of September, we had already reached that level. So, we will reach a much higher record at the end of this year."
Diyar Khan, Consul General of Pakistan in Guangzhou, said China is the largest trading partner of Pakistan with an annual trade volume of 20 bn USD. "Guangdong is our largest trading partner in China, so the Canton Fair is very important for us and we'll continue to attend it."
Andrei Popov, Consul General of the Republic of Belarus in Guangzhou, highlighted the cooperation between Guangdong and Belarus is of great strength with a variety of projects. "Apart from trade, Guangdong-based companies are top investors of the China-Belarus industrial park Great Stone, which is an important flagship Chinese project abroad."
"We are also happy to see more destinations are opening for the China-Europe freight trains. There is an idea of establishing a joint company, which will be responsible and will run around this route, bringing together products from the whole Eurasian Economic Union to China so that the mutual trade between this major trade block and China will grow even more," he added.
"Offline Canton Fair indicates a good sign for global economy"
Andrei Popov said the online-offline integrated format indicates a good sign that China is continue to reopen and opportunities for countries to strengthen their economic ties with China. "It was encouraging to hear from the Canton Fair organizers that the percentage of space devoted to international exhibition area will grow bit by bit," he said.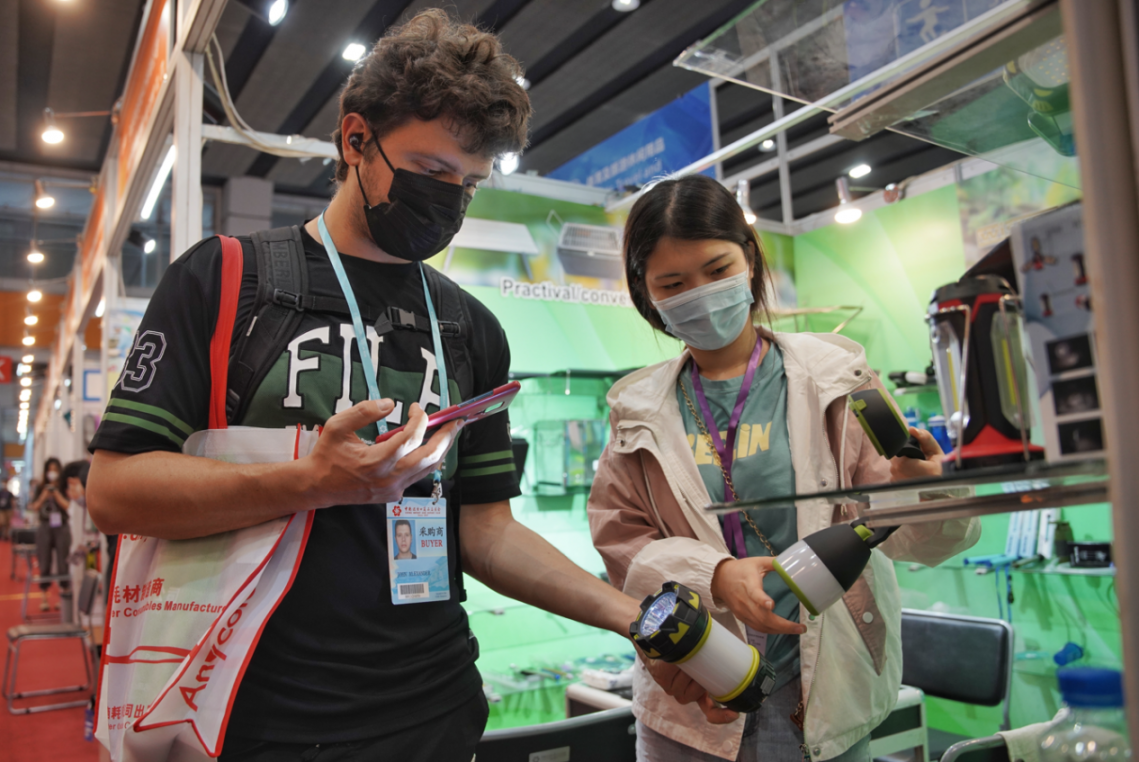 A buyer is taking photos of a piece of lighting equipment and sending to his colleague overseas. [photo/Shi Lei]
According to the Canton Fair, this session saw 143 thousand registered buyers and 1280 offline exhibitors with 4682 stands. As it continues its online format, it has 4292 online exhibitors with 12936 virtual stands.
Different countries react to the online Canton Fair differently, but Luis Quesada said he was happy to see many Peruvian businessmen are participating now virtually. "The global pandemic did hit our economy but interestingly, we have improved our tradein 2020 as more people are get used to telework and e-commerce."
Diyar Khan considers that the online Canton Fair is an innovative way and will be a helpful way to boost trade volume until the pandemic is under control. He said, "we actively promote the online Canton Fair through our Ministry of Commerce and Chamber of Commerce."
Author:Jasmine
Cameramen: Chen Weifeng, Shi Lei
Video editor:Axin
Graphic design: Mia
Editors: Wing, Jerry