Since the Atlanta shooting on March 16, 2021, there have been several shootings in the United States. The discussion surrounding the crime is not limited to racial discrimination, and the debate on gu
On March 16, a white gunman burst into three spas in Atlanta, killing eight people, including six Asian women.
On March 17, five people were shot by gunmen as they prepared for a vigil in Stockton, California's Central Valley.
On March 18, shots were fired in the city east of Portland, Oregon.
On March 20, five people were shot in a club in Houston.
On March 20, eight people were shot by an unknown assailant in Dallas, one fatally.
On March 20, one person was killed, and another five were wounded in a shooting in Philadelphia.
On March 22, 10 people, including police officers, were killed at a Boulder, Colorado, grocery store.
Since the Atlanta shooting on March 16, 2021, there have been several shootings in the United States. The discussion surrounding the crime is not limited to racial discrimination, and the debate on gun control is placed at the forefront.
In fact, the gun situation in the United States is now so dangerous that more than one mass shooting per day, on average, has been recorded in 2020. So far, the worst year on record.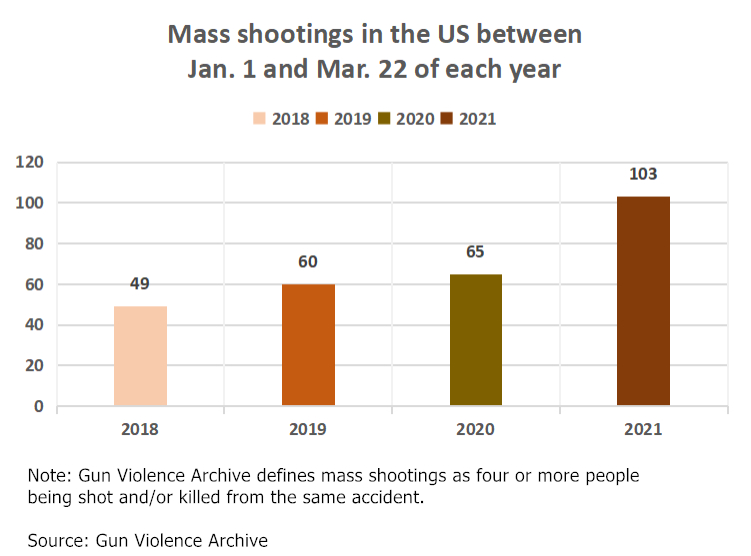 Gun control debate may become a partisan battle
For a long time, gun abuse and violence have been a persistent disease in American society, which has caused significant threats and harm to social security. For many years, the gun control bill has been one of the focal points between the Democratic and Republican parties in the United States.
On March 23, 2021, President Joe Biden and his party Democrats called on the Senate to move quickly to pass a ban on assault weapons and close a background-check loophole in response to two mass shootings that killed 18 people last week.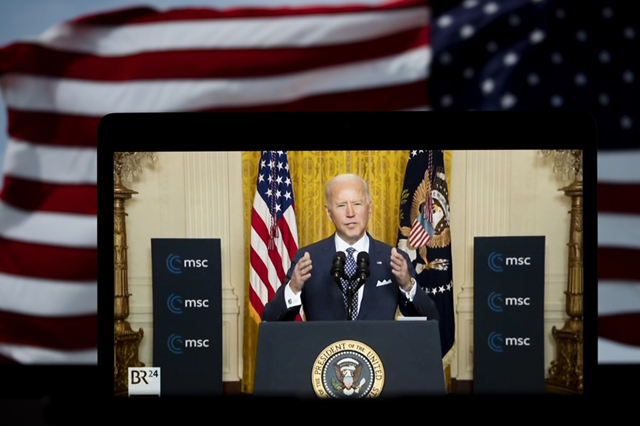 Photo taken in Arlington, Virginia, the United States, on Feb. 19, 2021 shows a screen displaying U.S. President Joe Biden speaking in Washington, D.C. during a virtual event with the Munich Security Conference in a video provided by the U.S. State Department. (Xinhua/Liu Jie)
On March 24, however, White House officials said gun safety remained a goal, given strong Republican opposition, and reiterated that the country should make gun violence under control through reinforcing police affairs rather than restricting gun rights.
From this, we can see that the two parties have opposite opinions on the issue of guns. When looking back on last year's presidential election, gun control has also become one of the main topics in presidential and congressional elections. It has become an essential factor determining the success or failure of the election. Democrats support gun control, while Republicans oppose it.
However, in recent years, due to American electoral politics' influence, the Democratic Party's position on gun control has continued to soften because strict gun control policy is not conducive to maximizing the Democratic Party's votes.
Simultaneously, the political party's position on gun rights will affect Congress's legislation and the Federal Supreme Court's rulings.
In 2010, the Republican-dominated Supreme Court ruled in the McDonald case that American citizens in all States and cities throughout the country could possess guns under the Constitution's rights. Since then, the level of gun control in the United States has dropped dramatically, and about half of the States have amended their original laws to allow gun owners to carry guns openly in most public places.
Firearms industry chain involves many interest groups
This has become an American routine: After every mass shooting, the debate over guns and gun violence starts up once again, but when the attention of the shooting fades, the demand for gun control disappears at an alarming rate.
Why can't the United States escape the strange routine of "shooting-shock-reflection-shooting again"? While a majority of Americans support gun control, they are far less committed than those who oppose it.
First of all, the Second Amendment of the US Constitution stipulates that people have the "right to keep and bear arms". Despite the public's discontent over the series of shootings, the U.S. government only discussed "gun control" and never touched on "gun ban" completely, regardless of whether the Democratic or the Republican party holds power.
In addition, the huge gun industry chain, including manufacture, sale and use of firearms in the United States, involves many interest groups, which also makes it difficult to get any control turned into law.
Founded in 1871 and with more than 5 million members, the National Rifle Association (NRA), which recently filed for bankruptcy and, in a controversial move which some see as an effort to avoid its debts, changed its headquarters from New York City to Texas, is the main opposition force to the gun control movement in the United States. Over the past few decades, it has used its large number of members and funding to impact elections and oppose anti-gun candidates. Public opinion generally believes that the organization is responsible for the spread of gun violence in the United States.
Twelve organizations headed by NRA have become powerful forces in American political activities, providing huge political donations for presidential and congressional elections over many years. Under the influence of these interest groups, American congressmen, especially Republican congressmen, have become active supporters in order to get the support from relevant interest groups so that they can be elected successfully.
The NRA announced that it has filed for bankruptcy protection in January, unveiling its plan to move from New York to the state of Texas. According to the announcement on its website, the NRA said it has decided to free from New York's "toxic political environment" and is "pursuing plans to reincorporate the NRA in Texas" after filing for bankruptcy.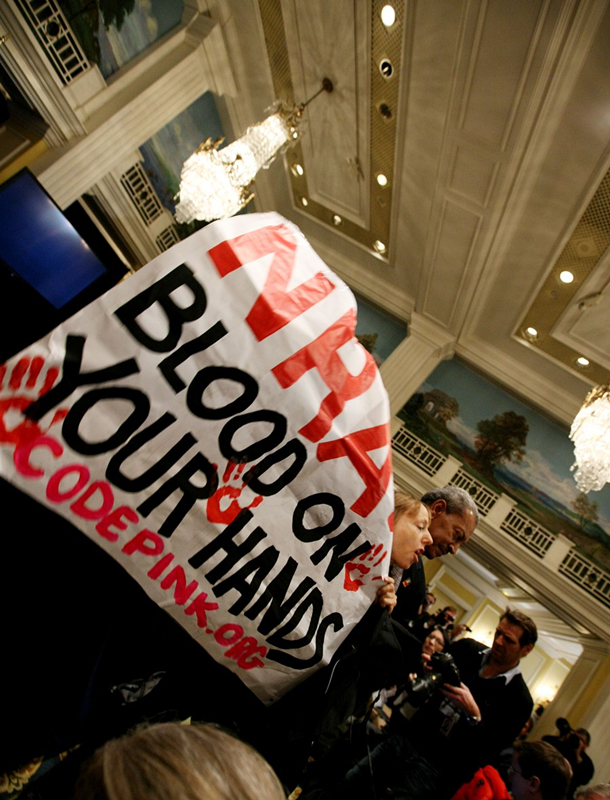 Protestors hold up a sign during a speech by Wayne LaPierre, executive vice president of the National Rifle Association (NRA), at a news conference in Washington, D. C. Dec. 21, 2012. NRA, a powerful U.S. gun lobby, called for armed guards for every school in the country, as the response of the gun industry to the mass shooting in Sandy Hook Elementary School in Newtown, Connecticut. (Xinhua/Fang Zhe)
Now the US has by far the highest number of privately owned guns in the world. Estimated for 2017, the number of civilian-owned firearms in the US was 120.5 guns per 100 residents, meaning there were more privately owned firearms than people. On November 24, 2020, the Statista Research Department released statistic that shows the percentage of households in the United States which own firearms from 1972 to 2020. In 2020, about 42 percent of U.S. households had at least one gun in their possession.
Taking action to control guns is easy to say but difficult to implement under the current political circumstance of the United States. For today's America, it is out of the question to achieve effective gun control and curb gun violence in the short term.
Author | Cao Ruowen, Nan, Monica, Nancy (intern)
Editor | Keane, Jerry