Social harmony and stability have been crucial to sustaining social development and economic vitality in the Hong Kong Special Administrative Region (HKSAR), and is also within the fundamental interes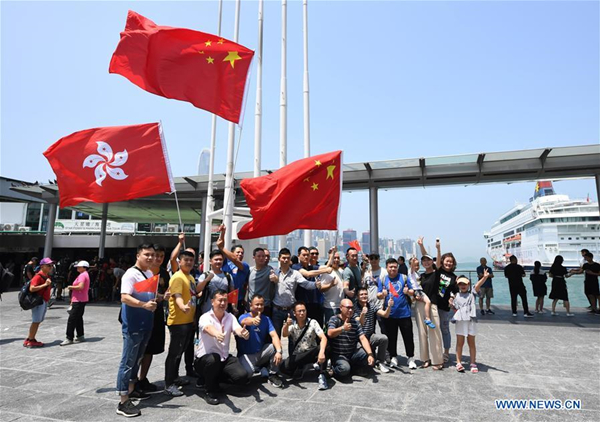 People wave the Chinese national flag and the flag of the Hong Kong Special Administrative Region(HKSAR) at a pier in Tsim Sha Tsui of Hong Kong, south China, Aug. 8, 2019.(Xinhua/Lui Siu Wai)
Social harmony and stability have been crucial to sustaining social development and economic vitality in the Hong Kong Special Administrative Region (HKSAR), and is also within the fundamental interests of HKSAR.
However, protests in Hong Kong, which have continued for over two months, have severely impacted the region's prosperity and stability, as well as Hong Kong people's livelihood, and are pushing the region into a "dangerous abyss".
From storming and vandalizing the Legislative Council (LegCo) building, to paralyzing transport networks and assaulting the police force with bricks and petrol bombs, protesters have gone far beyond the realm of peaceful demonstrations.
A small number of violent radicals are at the forefront together with some kind-hearted but misguided and coerced citizens who are caught in the middle. However, the masterminds behind the violence are anti-China forces from within and outside of Hong Kong.
Subversive forces have whitewashed and instigated violence, attempting to drag all Hong Kong residents into political turmoil and intensifying social chaos. To them, the well-being of Hong Kong's seven million people is a disposable pawn in their strategy.
A chaotic Hong Kong will do no one any good. Thus, it is the immediate task facing all Hong Kong residents to stop the violence and chaos and bring back order.
China's determination to safeguard sovereignty, security, and development interests, and to implement a "one country, two systems" for Hong Kong's prosperity and stability is unwavering.
Since Hong Kong's return to the motherland 22 years ago, the practice of "one country, two systems" in the region has been a widely recognized success, and the policies of "one country, two systems," "Hong Kong people governing Hong Kong," and a high degree of autonomy have been faithfully implemented.
Meanwhile, the central government has also done its utmost to create opportunities for Hong Kong people through the Belt and Road Initiative and the development of the Guangdong-Hong Kong-Macao Greater Bay Area, as well as the Shenzhen-Hong Kong Stock Connect, Shanghai-Hong Kong Stock Connect and Bond Connect.
Therefore, Hong Kong citizens should think carefully about who will suffer if the situation becomes irreconcilable, and who will benefit in the end? The fate of Hong Kong will ultimately be decided by all Chinese people including Hong Kong residents.
Text by Nan
Edited by Wing, Olivia and Chris