Every day, more than 5,000 tourists from across the country swarm to Shazhou village in Chenzhou city, Hunan province, to visit the site of an important event in the history of the Communist Party of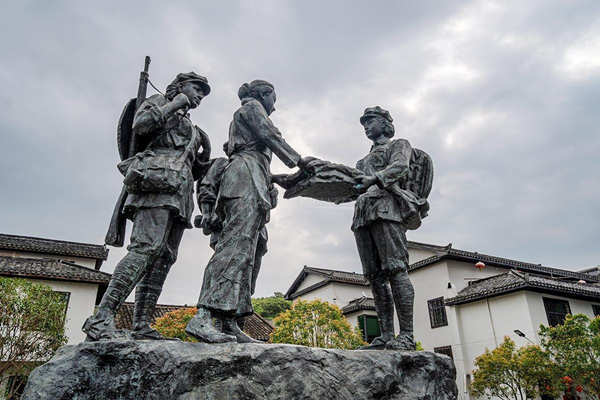 A statue in Shazhou village in Chenzhou city, Hunan province, tells the story of "half a quilt": three Red Army soldiers left half of their quilt to a local villager during the Long March (1934-36). [Photo/Xinhua]
Every day, more than 5,000 tourists from across the country swarm to Shazhou village in Chenzhou city, Hunan province, to visit the site of an important event in the history of the Communist Party of China.
The event happened in 1934, when three female soldiers from the Red Army, a predecessor of the People's Liberation Army, sought shelter in the home of Xu Jiexiu, an elderly Shazhou resident, as they passed through the village. When they left, the soldiers cut their only quilt in two, leaving half with Xu.
In 2016, President Xi Jinping mentioned the story in a speech at a ceremony to commemorate the 80th anniversary of the Long March (1934-36), saying that it showed a deep emotional bond between the Red Army and the people.
Renowned for the "half a quilt" story, Shazhou has gained a reputation in recent years as a new destination for revolutionary-themed Red tourism.
During the five-day May Day holiday, the village saw 32,000 domestic trips, with related revenue exceeding 1.78 million yuan ($278,000), according to local tourism authorities.
"More than 300 villagers are engaged in work related to Red tourism, and our village has earned tourism revenue of more than 10 million yuan every year since 2019," said Zhu Xiangqun, Xu's great-grandson, who is Party branch secretary and village committee director of Shazhou.
To meet the needs of the growing number of tourists, Shazhou's residents have opened more than 40 guesthouses and eateries, including coffee shops, and set up 80 stalls in the village square to sell agricultural produce, Zhu said.
Once, most of the residents earned a living by growing fruit and vegetables, but the formerly impoverished village now offers opportunities for locals to start businesses in their own homes. For example, resident Zhu Lizhi owns a stall that sells bottled water, soft drinks and local agricultural produce, such as dried long beans, to tourists.
"During the Spring Festival holiday in February, the peak season for tourism, my gross income every day was between 4,000 to 5,000 yuan," he said.
In 2015, Zhu owed more than 100,000 yuan in medical bills for treatment of his mother's mental issues and the severe arthritis that affected his wife.
"Thanks to the development of Red tourism in Shazhou, my household's annual income is close to 80,000 yuan now," he said.
As the cradle of China's revolution, Hunan was the home province of Chairman Mao Zedong and many other revolutionaries who dedicated themselves to the nation.
The province boasts 310 Red tourism destinations, including Shazhou, with 28 rated as national-level attractions and 53 as provincial-level venues.
In the first three quarters of last year, Hunan generated more than 121 billion yuan in related revenue by receiving some 130 million Red tourism trips. The development of Red tourism has played a significant role in the province's high-quality economic and social development, its fight against poverty and its efforts to achieve a moderately prosperous society in all respects.
For example, Red tourism has become an important part of the economic development in Mao's hometown of Shaoshan, a small city in central Hunan.
As a traditional Red tourism destination, Shaoshan has made good use of interactive hologram technology in recent years to offer a vibrant experience for visitors.
Mao Zedong, China, an outdoor 3D pixel-mapping project, immerses audiences in the shared history of the country and Mao through vivid imagery.
Last year, Shaoshan received 12 million tourists, which generated revenue of 3.5 billion yuan and accounted for more than 50 percent of the city's GDP, according to local government statistics.
Revolutionary museum
When Xi visited a "half a quilt"-themed exhibition hall in Shazhou during an inspection tour of Hunan last year, he said that the story illustrated the original aspirations and character of the CPC.
Lacking food and clothing, even facing life-or-death situations, the Red Army still kept the people's wellbeing in mind, Xi said, and he urged efforts to make good use of revolutionary resources to pass on the Party's traditions.
In a signed article published in March, Xu Dazhe, secretary of the CPC Hunan Provincial Committee, wrote, "Abundant with revolutionary resources, Hunan is like a revolutionary history museum without walls."
Reviews of the CPC's 100-year history are significant, helping people to carry out and pass on the revolutionary spirit as well as boosting their determination to fight for the Party's cause, Xu said.
A memorial in Tongdao, Hunan province, commemorates a pivotal event in the Red Army's Long March. [Photo/Xinhua]
Looking at history through visits to revolutionary sites will help people draw wisdom and strength from the Party's original aspirations and character, he said.
Xu added that such visits also offer people the opportunity to hear or review stories about the early revolutionaries.
As this year marks the 100th anniversary of the CPC's founding, Red tourism destinations in Hunan are exploring innovative ways to carry out Party history education campaign activities that give tourists the chance to read and think about history at the sites closest to the events.
At 6:50 am on April 9, a special train departed from the railway station in Huaihua, a city in southwest Hunan, carrying more than 500 CPC members on a trip to Tongdao Dong autonomous county.
On the train, the Party members listened to revolutionary stories and sang revolutionary songs. At 10:15 am, the train arrived at Tongdao Railway Station, and the passengers visited an exhibition hall that commemorates a pivotal event in the Long March.
In 1934, a meeting in Tongdao, close to Hunan's border with Guizhou province, was convened to discuss the direction of the Red Army.
During the meeting, Mao suggested that instead of marching farther into Hunan, the force should change direction and head toward Guizhou, where the enemy's defenses were expected to be weak.
Passenger Su Wenzhen said, "I felt strong emotions during the trip. I think such an innovative method of revolutionary education is impressive and effective."
The train is expected to make 100 trips to Tongdao by late next month.
Wu Wenxue, former deputy director of the China National Tourism Association, said it is the call of the times to develop Red tourism, while the country's new development paradigm provides support for its development.
The new paradigm applies domestic demand as the country's economic mainstay, with the domestic and foreign markets reinforcing each other.
Speaking at a forum in November, Wu urged greater efforts to step up infrastructure construction near Red tourist sites, the promotion of smart Red tourism supported by artificial intelligence and exploration of a mechanism for the coordinated development of Red tourism among different regions.
Since 2019, Shazhou has invited several experts to hold short-term Red education classes in the village to better promote revolutionary history education. So far, more than 20,000 people have attended such courses.
According to Zhu Xiangqun, Shazhou's Party branch secretary, construction of a cadres' academy for revolutionary education in the village is near completion, and a branch of the Chenzhou Party School is under construction and due to be completed by next month.
"I hope Shazhou will become a national Party learning and education base. I believe that the future of our village can only get better and better," he said.