Hunan province will leverage its geographical advantages, promote high-quality development and create a favorable business environment in order to fulfill its new mission of building the province into
Editor's note: This year, the Communist Party of China is celebrating the 100th anniversary of its founding. China Daily is publishing a series of stories looking at the tremendous changes that have occurred in provinces, autonomous regions and municipalities under the leadership of the Party. They also include stories of the people and places that have left indelible marks in the Party's path to glory.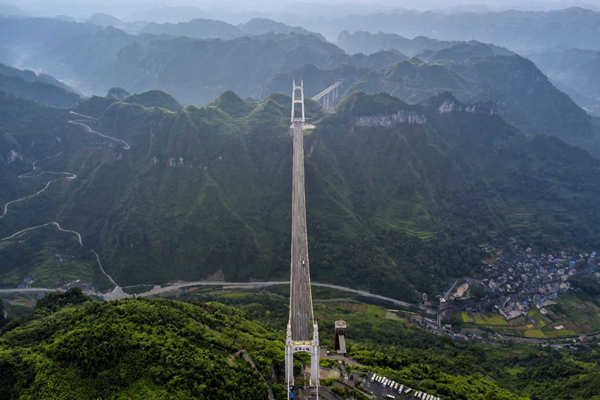 The Aizhai Bridge, in Jishou city of Hunan province, allows vehicles to travel nearly 400 meters above a valley. LIU ZHENJUN/FOR CHINA DAILY
Pilot FTZ, cooperation with Africa to play role in province's chase of opening-up, high-quality development
Hunan province will leverage its geographical advantages, promote high-quality development and create a favorable business environment in order to fulfill its new mission of building the province into a hub of reform and opening-up in inland regions, said Xu Dazhe, secretary of the Communist Party of China Hunan Provincial Committee.
"Reform is the way out for Hunan's development and opening-up is a necessary requirement," Xu told China Daily.
During an inspection tour to Hunan last year, Xi Jinping, general secretary of the CPC Central Committee, asked the province to blaze a new path of high-quality development and demonstrate a renewed sense of responsibility in promoting the rise of the country's central region.
As an inland province far from the coast and international borders, Hunan is a transitional zone between the country's coastal areas in the east and the central and western areas. It is also part of the Yangtze River Economic Belt, a regional development plan that involves 11 provinces and municipalities.
Xu said that since the 18th National Congress of the CPC, Hunan has made a series of historic achievements and experienced historic changes in various areas.
From 2012 to 2020, the province's GDP has exceeded 4 trillion yuan, laying a solid foundation for achieving socialist modernization.
New breakthroughs were made in the province's industrial development with three industries — equipment manufacturing, agro-processing and materials — hitting the 1-trillion-yuan ($153 billion) milestone.
As the province promotes innovation, Hunan has seen many advanced scientific and technological achievements in recent years, including super computers, super hybrid rice varieties and super high-speed trains.
So far, Hunan has established trade and economic cooperation with more than 200 countries and regions. The China-Africa Economic and Trade Expo, China's only national-level mechanism to promote economy and trade with Africa under the Forum on China-Africa Cooperation, will be permanently hosted by the province.
In the first three months of this year, two-way trade between Hunan and Africa reached 7.5 billion yuan, a year-on-year increase of 37.1 percent, according to local customs.
Last year, the China (Hunan) Pilot Free Trade Zone was approved. A master plan issued by the State Council said that the new pilot FTZ will focus on building a world-class advanced manufacturing cluster, an international investment and trade corridor linking the Yangtze River Economic Belt and the Guangdong-Hong Kong-Macao Greater Bay Area, and a leading area for in-depth economic and trade cooperation between China and Africa.
According to Xu, residents in Hunan enjoy better lives now thanks to the province's progress in infrastructure construction, poverty alleviation, environmental protection, education and healthcare.
The province's 51 counties and 6,920 villages once listed as impoverished and 6.82 million registered poor households have all been lifted out of poverty.
"The remarkable journey that Hunan has gone through in the new era fully shows the outstanding superiority of the CPC's leadership and the system of socialism with Chinese characteristics," Xu said.
During the 14th Five-Year Plan period (2021-25), Xu said that Hunan will roll out a series of plans and projects for developing itself into a hub of advanced manufacturing industry of national importance, a hub of technological innovation with core competitiveness and a hub of reform and opening-up in inland regions.
Specifically speaking, efforts will be made to boost the high-quality development of the manufacturing industry by making progress in such areas as engineering machinery, rail transportation, aerodynamics and new materials, he said.
According to Xu, Hunan will also coordinate its efforts to promote regional development with those boosting a new type of urbanization, thus contributing to the country's new development paradigm, in which the domestic market is the mainstay and the domestic and foreign markets reinforce each other.
"The purpose of our efforts is to make Hunan's contribution in writing a new chapter for upholding and developing socialism with Chinese characteristics in the new era," he said.
To develop Hunan into a new highland for the inland to open up, Xu said that reform plays a crucial role in promoting the improvement of systems in all areas.
Hunan will deepen economic restructuring in key areas including State-owned enterprises, investment and financing, and reforms to delegating power, streamlining administration and optimizing government services, Xu said.
He said that barriers that constrain the high-quality development or hamper the smooth flow of economic activities will be removed in order to boost innovation and vitality.
Xu noted that Hunan will use opportunities provided by the pilot FTZ and the China-Africa Economic and Trade Expo to attract investment from leading companies at home and abroad, expanding cooperation with European and American companies, and carrying out in-depth cooperation with companies from Africa and the Association of Southeast Asian Nations.
"We will speed up the transformation of government functions, implement the negative list system, and create a market-oriented, law-based and internationalized business environment in order to enable Hunan to become a glamorous hot spot for foreign investment," he said.