Chinese Vice President Wang Qishan on Sunday said that China adheres to peaceful development and firmly supports multilateralism, stressing that China's development will not lead to its replacing any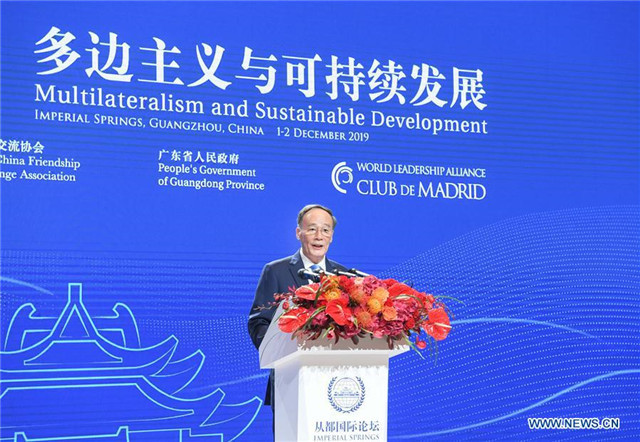 Chinese Vice President Wang Qishan addresses the opening ceremony of the 2019 Imperial Springs International Forum in Guangzhou, south China's Guangdong Province, Dec. 1, 2019. (Xinhua/Shen Hong)
Chinese Vice President Wang Qishan on Sunday said that China adheres to peaceful development and firmly supports multilateralism, stressing that China's development will not lead to its replacing any other country, and China will never seek hegemony and engage in expansion.
Wang made the remarks when addressing the opening ceremony of the 2019 Imperial Springs International Forum in southern China's Guangzhou.
Wang said peace and development are the themes of the times, multilateralism is an inevitable choice for human beings and expanding cooperation and common development are the appeals of all countries in the world.
However, in recent years, there have been twists and turns in economic globalization, and the rise of unilateralism, protectionism and populism has fundamentally impacted the order of multilateralism, said Wang, stressing that the world looks forward to a rational answer in pursuing integration or separation and choosing cooperation or dispute.
Wang expounded on China's thoughts in front of dozens of the former heads of state and government and leaders of international organizations, and several experts and business leaders.
Wang said China advocates building a new type of international relations and a community with a shared future for humanity. China is committed to realizing the goal of creating a more prosperous and beautiful world while upholding win-win cooperation, adhering to international rules, pursuing fairness and justice, treating multilateral mechanisms as the basis and eyeing effective actions.
He said that sustainable development is the golden key to launching new practices in the cooperation of multilateralism. China is willing to work with the international community to fully implement the 2030 Agenda for Sustainable Development, actively participate in international cooperation in addressing climate change, and work to open up a new path for sustainable development.
The Imperial Springs International Forum was founded in 2014 and co-hosted by the Australia China Friendship and Exchange Association, the Chinese People's Association for Friendship with Foreign Countries, the Guangdong Provincial People's Government and the World Leadership Alliance-Club de Madrid.
The forum aims to promote understanding and consensus among different parties through discussions of such important topics as international peace, economic development and cultural exchange, so as to further regional and global cooperation.
---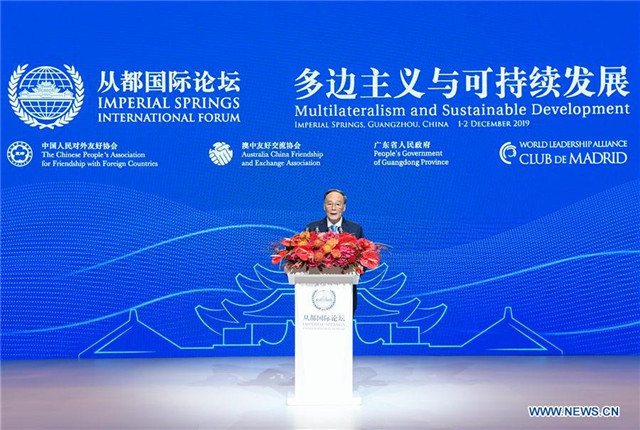 Chinese Vice President Wang Qishan addresses the opening ceremony of the 2019 Imperial Springs International Forum in Guangzhou, south China's Guangdong Province, Dec. 1, 2019. (Xinhua/Shen Hong)