"The University of Macau (UM) staff and students hope that the dedicated channel from UM to Hengqin Port will open as soon as possible, thus facilitating cooperation with the Chinese mainland." Song Y
Song Yonghua, Rector of the University of Macau. (Photo provided to Newsgd.com)
"The University of Macau (UM) staff and students hope that the dedicated channel from UM to Hengqin Port will open as soon as possible, thus facilitating cooperation with the Chinese mainland." Song Yonghua, Rector of the UM, shared his excitement when interviewed with GD Today.
Recently China's central authorities issued a general plan for building a Guangdong-Macao in-depth cooperation zone in Hengqin. It will provide the impetus for the University's development.
Song added that the Hengqin cooperation zone would provide Macao youths more choices of studying, living, and working. UM is preparing to arrange more living, educational, and research facilities in the cooperation zone.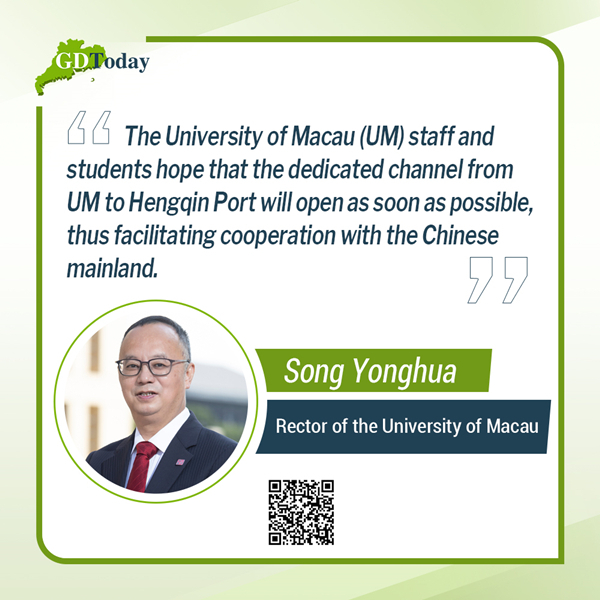 GD Today: Hengqin cooperation zone attaches great importance to talent training and introduction. What are the plans of UM in cultivating talents?
Prof. Song: We will carry out new disciplines and training systems, especially for the education of high-level talent like Masters and Doctors, in combination with the construction focus of the zone. For example, we can add data science and microelectronics courses into the curriculum.
GD Today: What opportunities will the Hengqin cooperation zone bring to UM's education, research and collaboration with industry?
Prof. Song: UM always strives to apply scientific and technological achievements to the market. Up to now, we have established a research base and multiple laboratories. We've also established Zhuhai UM Science & Technology Research Institute (ZUMRI), the first industry-education-research demonstration base in the Greater Bay Area (GBA). On this basis, UM has set up three state key labs branches in Hengqin and joined hands with Huafa Group for a collaborative laboratory.
In the future, by taking account of the development focus of the GBA and Hengqin cooperation zone, UM will be dedicated to becoming a key node in the Guangzhou-Shenzhen-Hong Kong-Macao innovation corridor and a highland of scientific innovation in the west of GBA.
GD Today: What development opportunities will the Plan bring to Macao youth?
Prof. Song: The Plan has introduced several measures to provide a better employment environment for youths from Macao. And the "Macao New Neighborhood" project provides high-quality living services in Hengqin.
Moreover, we will create better conditions and a broader platform, enabling more college students to work in companies in GBA mainland cities as interns. In the past few years, many UM students have taken an internship in Zhuhai, Shenzhen, and Guangzhou, which gave them fascinating insights into the development opportunities in the GBA. In years to come, more and more young people will be willing to work and start businesses in the mainland cities of GBA and then set sail for the world.
GD Today: What are your plans to strengthen cooperation with other universities in GBA?
Prof. Song: Universities in Guangdong, Hong Kong, and Macao have distinct histories and characteristics. Under such circumstances, universities should first reach a consensus to work on talent nurturing collaboratively. The Guangdong-Hong Kong-Macao Greater Bay Area University Alliance can play an active role in promoting cooperation.
In addition, UM and the other 17 universities of the west bank of the Pearl River have established the Alliance for Technological Innovation and Talent Development in Western GBA. In this way, the level of scientific innovation and talent training will be improved, and the coordinated development of the GBA will be achieved soon.
Reporter: Xie Weidong, He Jingwen
Poster: Mia
English version: Olivia (intern)
English Editor: Wing, Nan, Jerry