Two years ago, in 2019, a girl from Turkey stood on the balcony of a house in Guangdong's Meizhou, enjoying the fireworks with her mother-in-law from China!
.
Editor's note: the GDToday team spent a day with several expats who are working and living in different cities of Guangdong and present how they are preparing for the Chinese New Year despite of the back-and-forth Covid-19 pandemic through the 'My Chinese New Year Style' series.
Two years ago, in 2019, a girl from Turkey stood on the balcony of a house in Guangdong's Meizhou, enjoying the fireworks with her mother-in-law from China!
"It was so beautiful!", the girl exclaimed. However, what you may not know is that her love story might be more beautiful than the fireworks.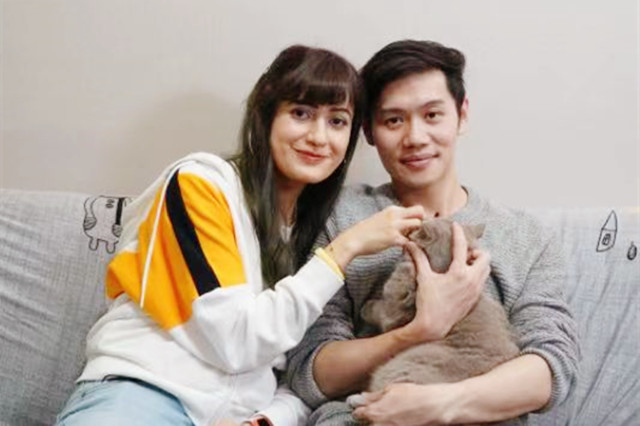 Tying the knot by learning language
Neslihan Kilavuz (Nesli for short) is a post-90s girl from Turkey. A few years ago, she met his husband Zhang Haibao on a social networking application. According to Nesli, at that time she was looking for someone who can teach her Chinese.
"I found him so attractive, handsome, then I sent him a message - can you teach me Chinese? And as I can see, you want to learn English and can practice together. Then he said, okay, let's meet in Taiwan."
As Nesli's twin sister and her husband live in Taiwan, she sometimes went there and visited her husband. It also became a main reason for her to know Chinese culture and language.
"To be honest, my twin sister's husband is an amazing person. I got an idea that maybe Chinese people are kind, nice and helpful so I wanted to learn Chinese to find my true love".
Refreshing her memory of falling in love, a sweet and beautiful smile glows on her face. On Valentine's Day of 2018, Nesli and Zhang Haibao met in Taiwan.
"In Taiwan, we travelled to Taipei and Taizhong for 10 days. Our connection became stronger and stronger. We really wanted to spend time together every day and get married as fast as possible. When we said goodbye to each other, we cried a lot".
Marrying into a Chinese family
In 2018, they held an engagement ceremony in Istanbul, Turkey and then married in Shenzhen.
"The first time I saw the tall buildings in Shenzhen, I felt it was amazing because we don't have that many tall buildings in Turkey".
After finding and trying some jobs, she decided to open her personal accounts on YouTube to share her life in Shenzhen.
"First, I shared my videos on IGTV, but once one of my followers on Instagram sent me a message and said, why don't you become a YouTuber? And I found it is a good idea".
On October of 2018, Nelsi uploaded her first video on YouTube and the topic is "finding a job in China is possible"! Afterwards, she kept sharing her work and life in China on her channel, known as nesli_zg. Now she has more than 10 thousand subscribers. Family life is one of her main topics.
"Everyone tells me that my mother-in-law likes me so much. I can feel and I love her so much. I feel very lucky to have her. Because when I have problem, sometimes I can't tell my mother in Turkey. Even if I tell her, she can't help me, because of the distance. When I tell my problem to my mother-in-law, she always helps me. Sometimes she even sends me a very long message to make me feel better and comfortable so I feel very lucky to have her".
In 2018, the first year that she came to China, Nesli went to her husband's hometown Meizhou to celebrate the Chinese New Year with the big family.
"The first night, we all gathered together and had a family dinner. It was a very exciting moment. I was also feeling a little shy because first time I was seeing and meeting my husband's relatives, including his grandmother and grandfather. They were very hospitable".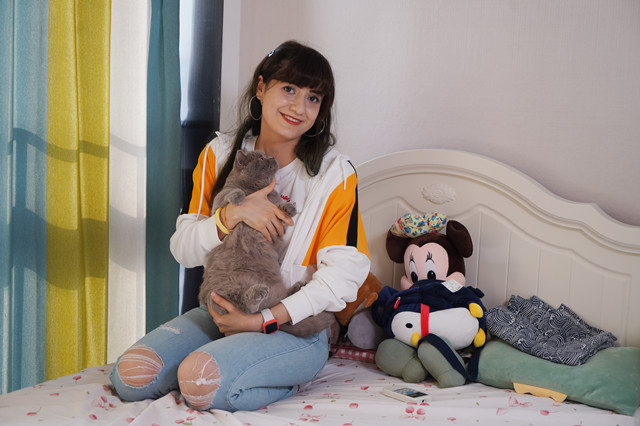 "Our culture is very similar"
As the Year of the Ox is around the corner, Nelsi and her family plan to go to Meizhou to celebrate this most important traditional festival. This time, Nesli wants to share more with her YouTube subscribers.
"I want to tell my subscribers that our cultures are very similar". Nesli introduced that in Turkey they also a Spring-Festival-like celebration.
"We call it Ramazan Bayrami or Kurban Bayrami. The culture is really similar. For example, we also gather together with family and have family dinner. We also give money, but not in red pocket, we give the cash directly. This is also very similar".
Talking about her plan for the new year, Nesli said that she wanted to have more contents that tells about China and Turkey.
"I want to upload more videos about cultural differences between China and Turkey and also similarities".
She also hopes that when the epidemic is over, she can ask her parents to come to Shenzhen and see her life here.
"I want them to be sure that I'm really happy here".
Co-produced by GDToday and Southern Metropolis Daily
Reporter: Keane, Li Lin, Wu Jialin, Xie Qinfeng (Intern)
Editor: Jerry Grey
English Subtitles: GDUFS Chinese Cultural Story Exchange Group