"Foreign investors could enjoy better market access and business environment in Hengqin and Qianhai. The zones will also adopt an administrative system and regulations up to international standards wh
"Foreign investors could enjoy better market access and business environment in Hengqin and Qianhai. The zones will also adopt an administrative system and regulations up to international standards while supporting global investors with more legal services and tax incentive policies." Dr. E Zhihuan, Chief Economist of Bank of China (Hong Kong) said in an interview with GDToday.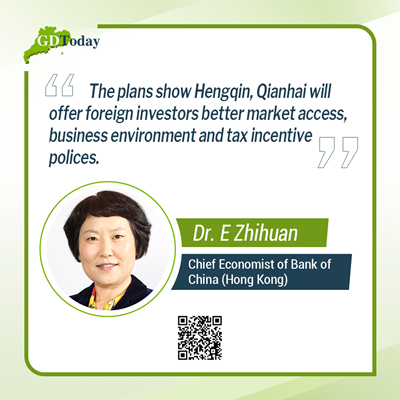 E made the remarks after the plan to build the Guangdong-Macao In-depth Cooperation Zone and the plan to further develop the Shenzhen-Hong Kong Modern Service Industry Cooperation Zone were respectively issued on September 5 and September 6.
Hengqin to attract investment to these industries
E Zhihuan said "The plan indicates that Hengqin will develop major industries such as sci-tech research, high-end manufacturing industry, integrated circuits and new materials. These industries require large amounts of financing and diversified financial services. Therefore, the plan encourages social capitals to set up various investment funds to attract foreign investment to these emerging industries."
Hengqin is an area located in the southern part of Zhuhai city in Guangdong, just across from Macao. The Hengqin plan aims to provide Macao with new space and opportunities for development, and includes a series of measures to help promote Macao's appropriate economic diversification.
E Zhihuan said Macao's economy was over reliant on the gambling industry. Its GDP was hit hard by the Covid-19 pandemic and decreased 56.23 percent YoY in 2020, according to Macao's Statistics and Census Service.
In addition, investors would enjoy considerable tax reduction if they were in the emerging industries mentioned above. "For example, the zone will offer a 15 percent business income tax reduction on companies that flow into the emerging industries. It will also exempt the enterprise income tax on the income generated from new foreign direct investment of tourism, modern service and high-tech enterprises set up in the zone," said E Zhihuan.
Qianhai to further ties with Hong Kong financial market
In terms of the Qianhai plan, E Zhihuan considers it could expand the scale and influence of Hong Kong's financial market and attract more international financial institutions to land resources in Hong Kong. "The plan indicates to connect Qianhai with the Hong Kong market through further reform and opening up. This will reinforce Hong Kong's position as a financial center," E said.
The finance industry is one of the four pillar industries of Hong Kong and its value-added accounts for 21 percent of Hong Kong's GDP. In recent years, Hong Kong remains competitive as an international finance center despite the effect of social events, pandemic and China-US relation.
E Zhihuan said this was largely hinged upon Hong Kong's strength and resources from Chinese mainland. Hong Kong Exchanges and Clearing Limited (HKEX) data showed that mainland companies contributed more than 70 percent of market capitalization and 87.8 percent of trading volume.
To further Qianhai-Hong Kong ties, the plan indicates to adopt mechanism, regulations and standards that are consistent with Hong Kong SAR and foreign countries. E Zhihuan said it means Qianhai would have closer bonds with Hong Kong financial market while the Hong Kong financial market would gradually push forward regulation convergence, mechanism links and service integration with Qianhai.
In terms of legal services, the Qianhai plan indicates that the zone will formulate the Qianhai Investor Protection Regulation and improve the protection for foreign-funded and private companies.
A survey conducted by Our Hong Kong Foundation (OHKF) on August 5 this year showed that 72 percent of the respondents supported that Hong Kong should deepen collaboration with nine mainland cities in GBA, because this would give Hong Kong enterprises a chance to embrace a larger possible market.
"Hong Kong investors value the Guangdong Hong Kong-Macao Greater Bay Area development and have a strong appetite for investing here. With the continuous promotion of mainland's business environment and more efficient resource allocation, more Hong Kong investors will enter Qianhai," said E Zhihuan.
More preferential policies to attract global talent
To attract global talent, both Hengqin and Qianhai launched a series of administrative reform and tax incentive policies. For example, Qianhai vows to implement a more open global talent management system and provide more convenience to visa, resident permit application while Hengqin exempts the part exceeds 15% of personal income tax for high-level talent and urgently-needed talent at home and aboard.
"The plans not only help financial practitioners from Hong Kong and Macao pursue their careers in Hengqin and Qianhai, but also ensure them a broader career path in the zones through further reform and opening-up," said E Zhihuan.
Reporter: Rofel
Poster: Mia
Eidtor: Wing, Keane, Jasmine, Jerry