As the number of new coronavirus cases in Guangdong have started to drop, since February 17th more enterprises have resumed work in Guangzhou.
As the number of new coronavirus cases in Guangdong have started to drop, since February 17th more enterprises have resumed work in Guangzhou.
According to data released by different city districts, 120 of the 121 office buildings have re-opened in Tianhe CBD ; 19856 enterprises resumed work in Yuexiu; more than 90 percent of enterprises have resumed production in Huangpu; 100 percent of Internet enterprises have their staff already working from home in Haizhu.
As office buildings are becoming crowded again, most of their management teams have upgraded regular services and disinfection work to prevent the virus spreading:
Temperature checks at entrance
Most office buildings now require temperature checks at entrances and have strengthened visitor management.
At the IFC in Zhujiang New Town, people now have to register their intent to enter the building at least one day in advance. The building has equipped its entrances and exits with infrared detection devices, which can meet the demand for temperature checks while maintaining the flow of people in and out of the premises.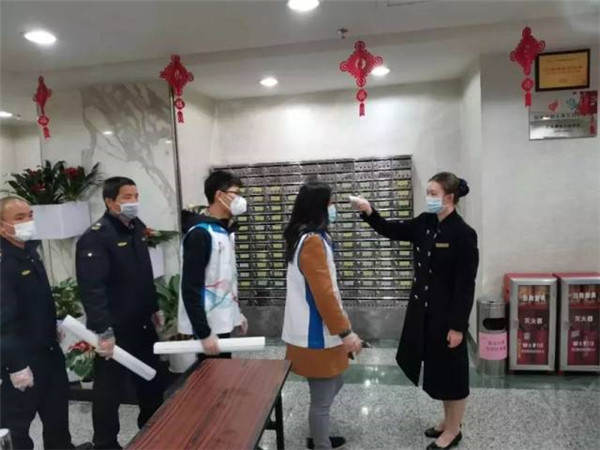 Guangdong International Hotel[PhotoNanfang Daily]
Guangdong International Hotel is also enforcing temperature checks on people entering the building.
K11 requires enterprises to report the health status of their employees on a daily basis.
Avoiding crowding
To minimize crowding, many office buildings require people to come into work and take their lunch break in different waves, and have population control on elevators.
The IFC has the employees starting work in four waves between 8:15 and 10:00. The management team encourages people to bring their own lunch. The building's canteen is also accepting orders and offering a delivery service. Food delivery and couriers are not allowed to enter the building.
Restaurants near office buildings are launching innovative services aimed at meeting the increased demand for food delivery. The five-star Crowne Plaza inside Guangdong International Hotel launched takeaway combo priced between 20-25 yuan. While T-mall in Tianhe has launched an e-platform where office workers can order food and have it delivered from the restaurants in the mall.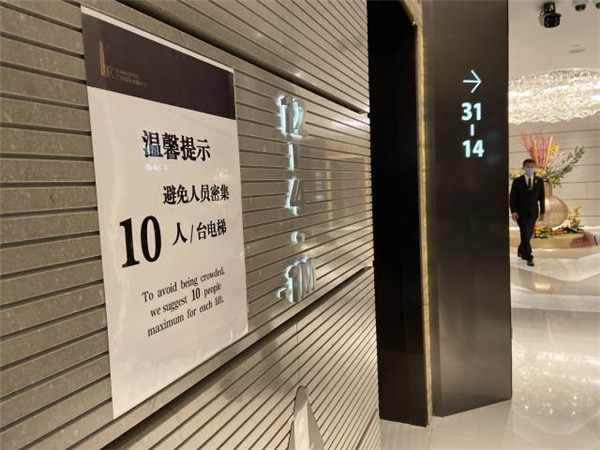 [PhotoNanfang Daily]
Office buildings such as IFC, K11 and R&F center have put up notices outside elevators suggesting a 6-10 person maximum for each lift.
Disinfection inside buildings
To strengthen disinfection inside the office, many buildings have shut down their AC system.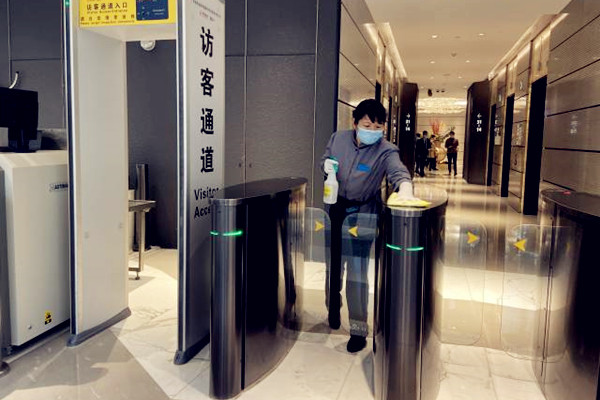 [PhotoNanfang Daily]
"We disinfect the public facilities including elevators and air outlets as well as the public areas once an hour. We have also opened the windows to ventilate the building and turned off the air conditioning system," said by Tan Guoyong, general manager of the K11 management team.
Tan Shasha, project manager of Jiangwan Xincheng(阳光城江湾新城) said the team has been upgrading the measures on epidemic control. "We disinfect the elevators once an hour, the hall and public areas twice a day, and the garbage bins twice a day."
Voice: we need plans for potential emergencies
Chen Hong, a staff member working in Tianhe CBD, said she is not worried about daily protection or office disinfection. "Thus far, some employees are working in the office while others are still working from home. What I worry about is if there is an emergency. For example, what would our company do if a company nearby had confirmed cases? If the building was locked down, who would be responsible for the rent? We need plans for these situations."
Author:Jasmine, Zero
Editor:Simon