Guangdong has 147 national intangible cultural heritage representative projects and 701 provincial intangible cultural heritage representative projects. Now GDToday and Newsgd.com, together with Nanfa
Editor's Note
Guangdong has 147 national intangible cultural heritage representative projects and 701 provincial intangible cultural heritage representative projects. Now GDToday and Newsgd.com, together with Nanfang Daily and Nanfang Plus App, launch a special report named "masters," aiming to record the representatives of these charming intangible cultural heritage projects in Guangdong.
.
When talking about Wing Chun, undoubtedly, most people will come up with a blockbuster Ip Man. The hero Ip Man is one of the most famous and representative figures.
According to historical materials, Ip had seven students in Guangzhou and Foshan when he returned to his hometown from Hong Kong, and Kwok Fu is one. According to the apprenticeship, Kwok Fu ranked seventh, but because of his rapid progress and the strongest kungfu, he was respected as the "first student."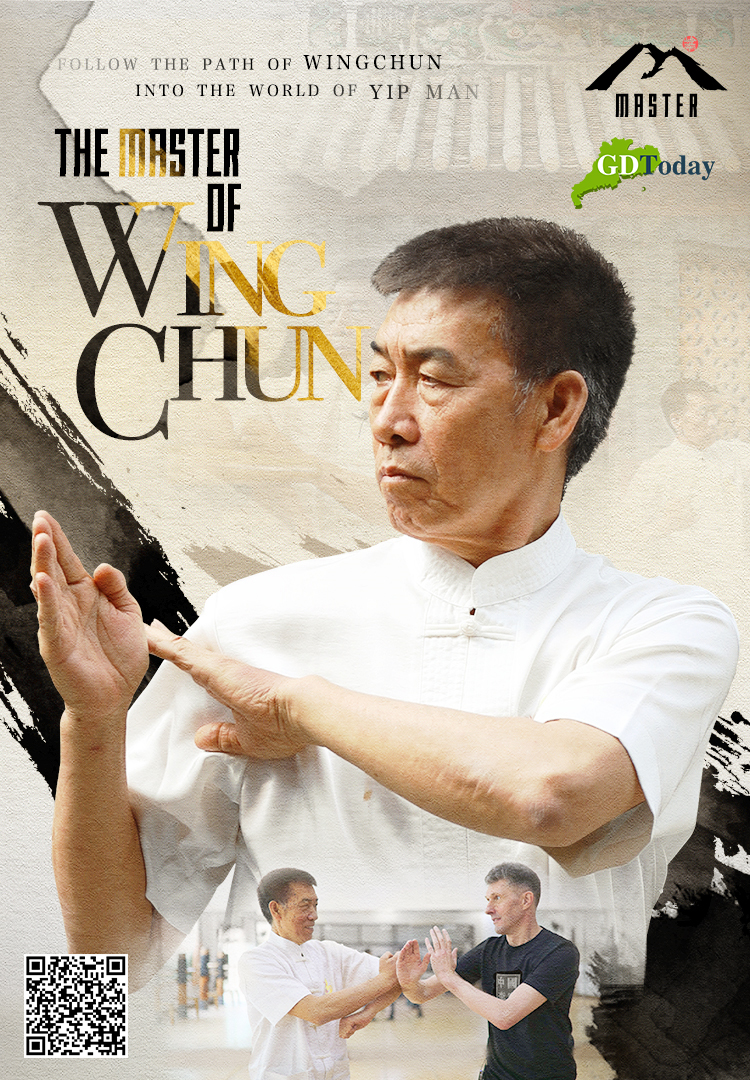 (Poster / Mia)
Kwok Fu has become a familiar tale among those interested in Wing Chun since he and his son Kwok Wai Jarm have run dozens of martial arts schools around the world and passed on the skills of Wing Chun to over 10,000 students from within China and aboard.
"My father was one or two years older than the other students. He often carried flour, and thus, he was stronger than others. He had studied in an old-style private school and could quickly understand what Ip taught. In addition, he studied and practiced hard, so he soon distinguished himself among all students," Kwok Wai Jarm recalled.
Ip was very proud of Kwok Fu. Before his death, he told his students in Hong Kong, "if you want to learn authentic Wing Chun, go to Foshan and find Kwok Fu."
Kwok Fu had never failed when playing with others. He did not hurt anyone. Like Ip, Kwok Fu paid most attention to their motivation to learn martial arts when looking for students. Those who are aggressive in fighting will never be his students. Therefore, the number of students was minimal. Also, few people knew Kwok Fu was good at kungfu.
Kwok Wai Jarm started to learn Wing Chun when he was 9-years-old, which was a little bit late. He was very diligent in practice and rarely encountered rivals in his prime.
In inheriting Wing Chun, Kwok Wai Jarm's thinking is different from Ip's and his father's. He believes that popularization is the best way to promote martial arts. The first point of inheritance is to let people know and understand Wing Chun.
As early as the 1990s, Kwok Wai Jarm promoted Wing Chun through holding competitions. Over the past few decades, he has had students from all over the world and opened more than 50 martial arts schools in Argentina, Denmark, Switzerland, Singapore, and other places. Many of his students who open martial arts schools return to Foshan every year to continue their studies with Kwok Wai Jarm.
Reporters: Peng Bo, Wang Fang, Gao Haotian (intern)
Videographer: Wang Liangjue
English Version: Nan, Monica, Chen Weifeng
English Editors: Wing, Jerry