The province has confirmed a total of 14 new coronavirus-related pneumonia cases as of 3pm on January 21st. All cases are getting treatment under quarantine in designated hospitals.
Guangdong officials and experts held a press conference on the situation of the new coronavirus-related pneumonia (2019-nCoV) in Guangzhou today.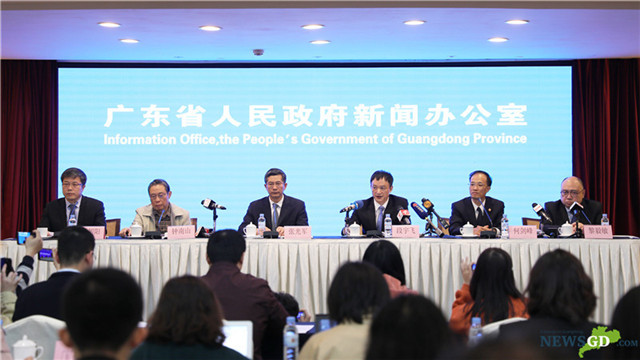 The press conference (Photo: Cao Yaqin)
The province has confirmed a total of 14 new coronavirus-related pneumonia cases as of 3pm on January 21st. All cases are getting treatment under quarantine in designated hospitals.
GD's new coronavirus-related pneumonia cases in numbers
(As of 3pm, January 21st, 2020)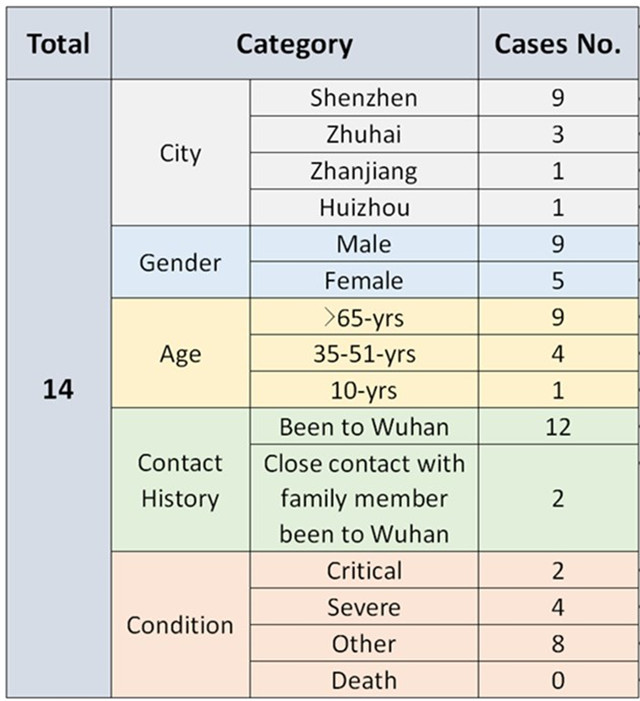 Based on the current situation, experts' opinions as well as Guangdong's experience from the battle against SARS and high-quality, high-efficient medical resources and technology, "We believe the epidemic of the novel coronavirus-related pneumonia is preventable and controllable," said Zhang Guangjun, vice governor of the province.
The new coronavirus that has caused a pneumonia outbreak in the central Chinese city of Wuhan can be spread through human-to-human contact, according to Prof. Zhong Nanshan, head of the medical team fighting against Severe Acute Respiratory Syndromes (SARS) in 2003.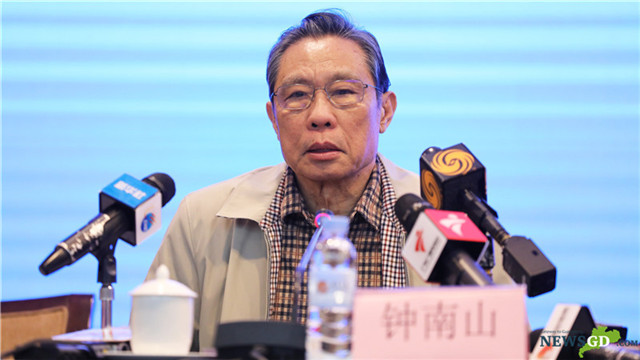 Prof. Zhong Nanshan (Photo: Cao Yaqin)
Zhong confirmed human-to-human infection during a live interview with China Central Television yesterday. He also mentioned that fifteen medical workers in Wuhan have been diagnosed with pneumonia caused by the novel coronavirus, plus one suspected case.
There are no specific, effective treatment procedures and medicines for the novel coronavirus so far, Zhong pointed out.
Yet, he remains confident that the outbreak will be put under control as long as the patients get treatment under quarantine.
"We have confidence in controlling the new coronavirus," he said.
The pneumonia outbreak in Wuhan, will not evolve into a massive outbreak similar in scale to the SARS outbreak 17 years ago, Zhong said.
"I believe the outbreak will not have the same impact on the society and economy as what SARS did 17 years ago."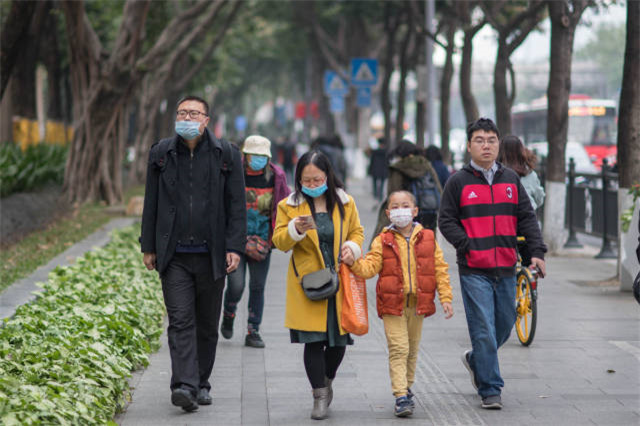 People wearing masks walk on the street. (Photo: Zhang Ziwang)
The province has taken effective measures to curb the spread of the virus:
1. Start body temperature monitoring at the airport, ferry terminals, railway stations and bus stations and strengthen case screening.
2. All confirmed cases are being and will be treated under quarantine in designated hospitals.
3. Closely monitor the people who had close contact with the patients and prevent hospital-acquired infection. People who had close contact with both the confirmed and suspected cases will be quarantined for medical observation.
4. Prepare sufficient medical supplies including detection reagents, drugs, consumable items, and protection equipment.
5. More effort on inspection, monitoring, cleaning, disinfection and ventilation of crowded places such as airports, stations, markets, hospitals and public transportation means.
6. Campaign on "no wild animal sales" and more instructions for businesses related to live animals, such as farmers' market, restaurants, and hotels
7. More promotion of health guide and disease prevention tips to the public.
Starting from January 22nd, Guangzhou Metro will measure the body temperature of all passengers.
The traffic peak of the Spring Festival travel rush has already begun, along with frequent passenger movements, and respiratory diseases such as influenza have higher incidence during both winter and spring.
Medical experts remind that residents who develop a fever and show symptoms of respiratory tract infection are advised to seek medical treatment in a timely manner. People should pay attention to maintaining indoor air circulation, washing hands frequently, avoiding closed and airless public places and crowded places, and to wear masks if necessary.
A passenger wears a mask in Guangzhou Metro. (Photo: Zhang Ziwang)
How to wear a mask properly?
Masks can be helpful for protecting you from a variety of infectious diseases. However, among the common types of masks, only the surgical face mask (医用外科口罩) and the N95 mask (N95口罩) can be effective in protecting you from flu and other respiratory viruses.
The coloured side of the mask faces outwards. The strings or elastic bands are positioned properly to keep the mask firmly in place. The mask should cover the nose, mouth and chin. The metallic strip moulds to the bridge of the nose. A mask should be discarded after use and under no circumstances should it be used for longer than four hours.
More tips from WHO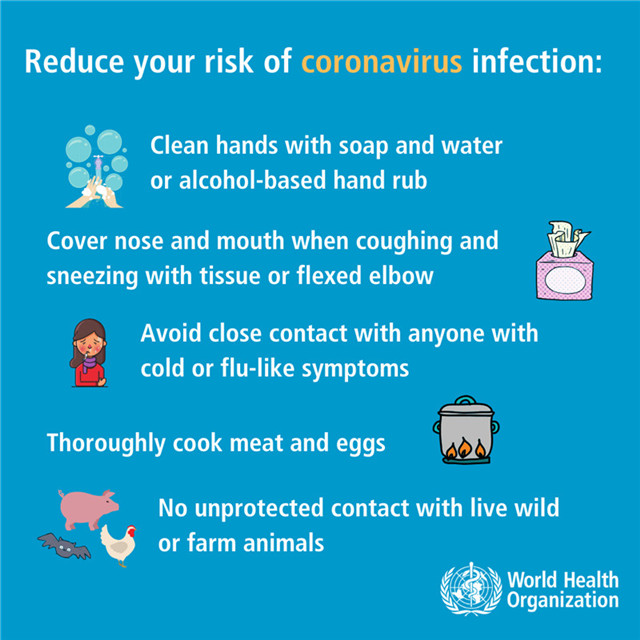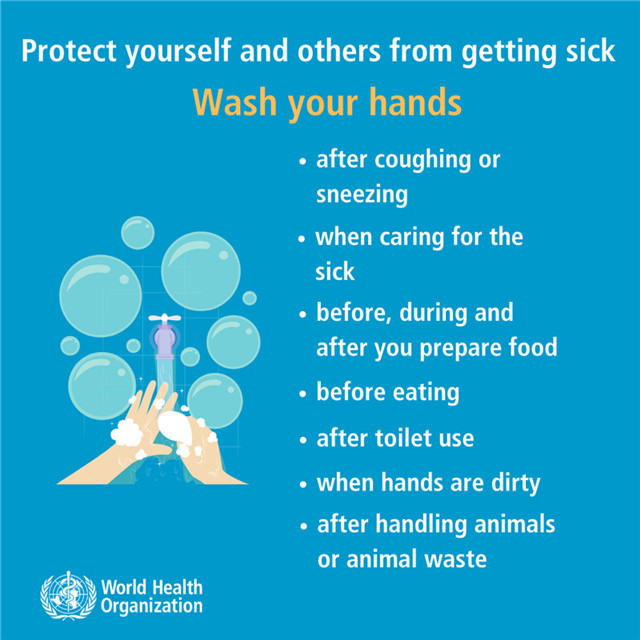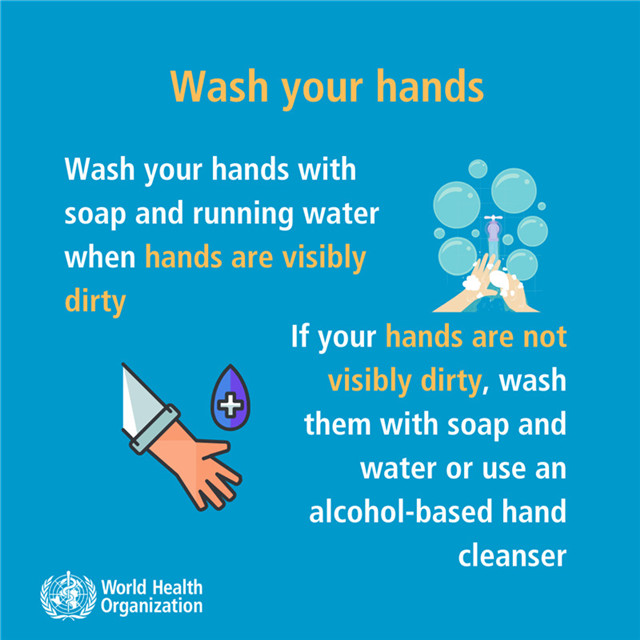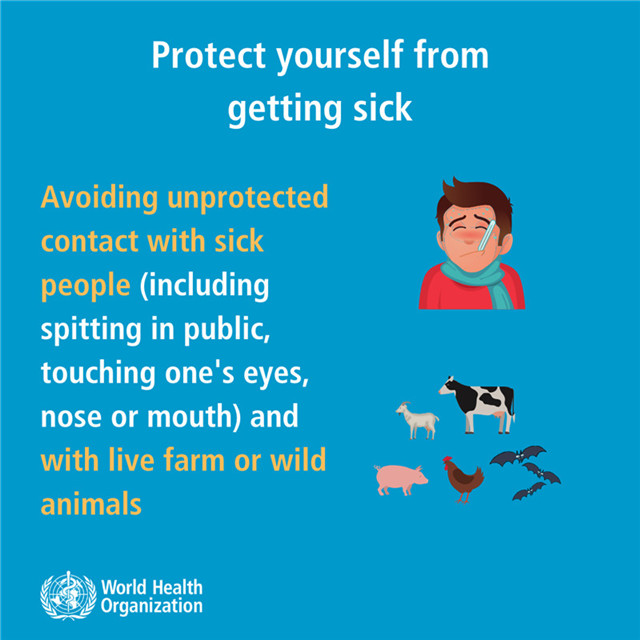 [Photos: WHO]
Author | Monica & Steven
Editor | Keane & Wing