To develop an international talent pool and seize the opportunities posed by the construction of Guangdong-Hong Kong-Macao Bay Area, Guangzhou will hold the 2018 Convention on the Exchange of Overseas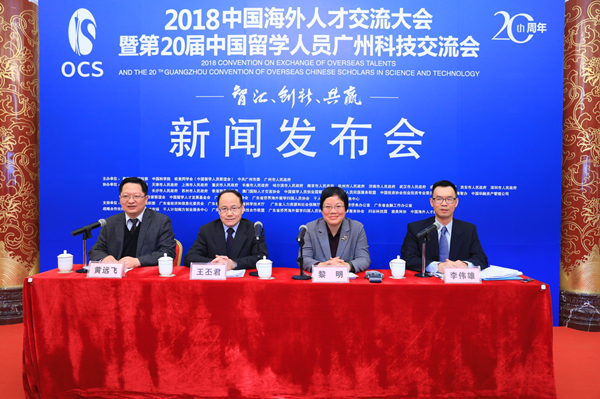 (Provided to Newsgd.com)
To develop an international talent pool and seize the opportunities posed by the construction of Guangdong-Hong Kong-Macao Bay Area, Guangzhou will hold the 2018 Convention on the Exchange of Overseas Talent as well as the 20th Guangzhou Convention of Overseas Chinese Scholars in Science and Technology (OCS) from December 21st to 22nd, according to the press conference held in Beijing on November 13th.
As the country's most high-end and influential convention targeting overseas professionals, this year's convention is estimated to attract 50,000 participants, 3,500 of whom are from foreign countries including Nobel Prize winners, famous academics, foreign students studying in China and more.
The convention will include a wide range of activities such as a job fair, project partnering, project exhibition, roadshows and company tours to help place people in jobs and encourage more projects to get up and running.
Reported by Jasmine from Beijing
Edited by Olivia & Simon
---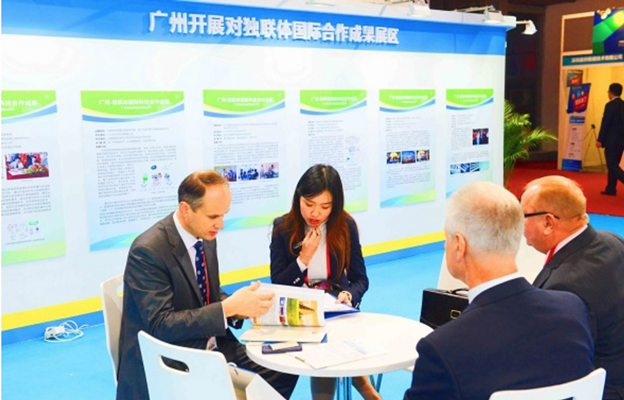 Overseas professionals interact with local enterprises at the previous OCS. [file photo]
The fair at this year's convention will have employers from Fortune 500 companies, along side domestic universities and companies, targeting different types of overseas professionals and foreign students who are studying in China's universities.
In addition, Li Ming, Vice Mayor of Guangzhou, said this year's event would work to strengthen cooperation between Guangdong Hong Kong and Macao, and boost the talent flow within the Greater Bay Area.
"We will organize a forum this year to explore the ways to develop a talent pool connecting the Bay Area cities. A recruitment fair will be also held in Hong Kong as a sub-forum of this convention," said Li.
She added that a national business park to offer overseas professionals year-round HR services will be officially launched during the convention. The business park will be located in Guangzhou and Shenzhen, and the service it provides is expected to cover South China, Hong Kong and Macao.
According to the Guangzhou government, last year's convention the total number of participants hit a record high. Scholars and professionals from foreign countries attended and brought with them more than 2,000 projects. 70 percent of them expressed the intention to start a business in China.
The organizer also highlighted that the 2017 convention saw 378 delegations from 32 provincial administrations including Hong Kong and Macao, which brought more than 10 thousand jobs.
Being a key city in China, Guangzhou has launched a series of measures including favorable policies, innovation and entrepreneurship competitions and subsidies to attract high-end overseas job hunters.
In 2017, it pushed forward the Kapok Plan which covers high end talent recognition, related services, IP protection and funding schemes, aiming to encourage overseas professionals to start their careers in the city.
If you would like to attend the 2018 Convention on the Exchange of Overseas Talent, contact the committee via
Telephone: (8620) 83563549
Email: ocs@gz.gov.cn