Mauro Marchesan, an Italian pilot, first came to Guangdong in 2012. Once called "Canton" by the west, all he knew of Guangzhou was its rapidly growing prosperity and geographical proximity to Hong Kon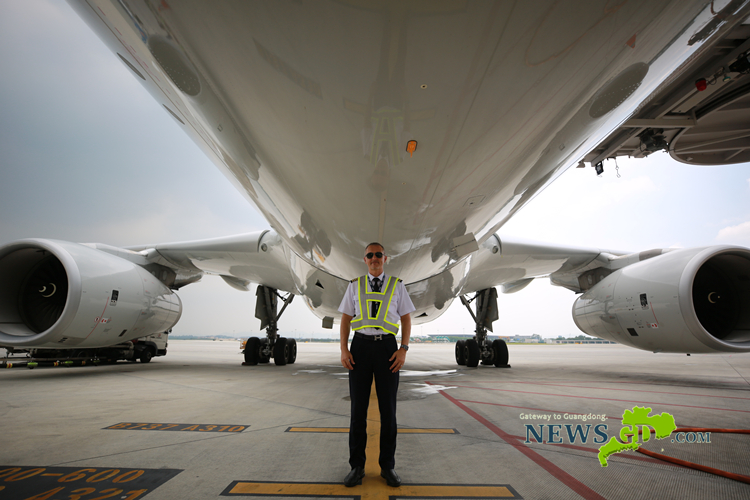 Mauro Marchesan. (Provided to Newsgd.com)
Mauro Marchesan, an Italian pilot, first came to Guangdong in 2012. Once called "Canton" by the west, all he knew of Guangzhou was its rapidly growing prosperity and geographical proximity to Hong Kong.
After 6 years working for China Southern Airlines, however, he has gradually become as familiar with the city as many locals are, using WeChat, Didi, dining with Chinese colleagues in Cantonese restaurants, and even learning Wing Chun from a martial arts master in Foshan, a southern city once home to both Ip Man and Bruce Lee.
"Now I can see even more foreigners doing business (in the city). So I have the feeling that the opening of the economy in China is really working well," said Mauro.
Reported by Nan & Eric(Intern)
Edited by Olivia & Simon
---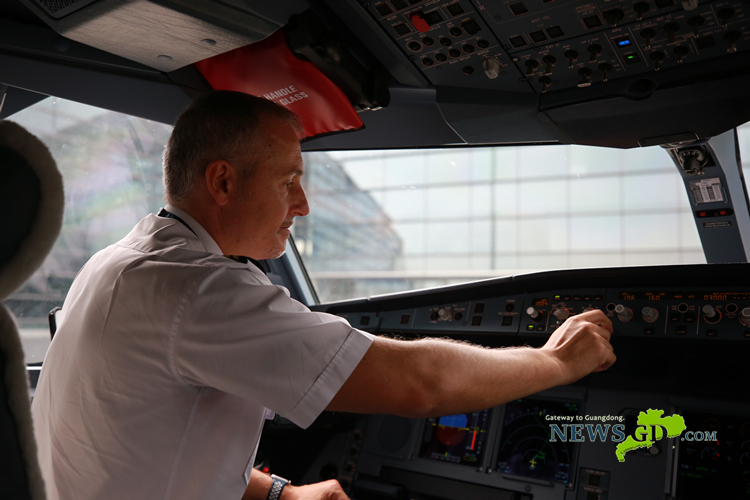 Mauro works in the cockpit. (Provided to Newsgd.com)
The daily life of Pilot Mauro
Mauro accepted the position at China Southern Airlines while Europe was still under the spectre of the debt crisis.
Now as the captain of Airbus 330, Mauro has a full schedule every day. He holds a briefing with the aircrew hours before every flight to get familiar with his crew members, especially the first officer. As all staff members are friendly and can speak good English, Mauro stresses that they have no problems communicating.
In terms of domestic flights, Mauro flies between Guangzhou, Beijing and Shanghai as well as Chengdu while also flying international routes between Guangzhou and cities in Southeast Asia, Australia, New Zealand and Europe.
Mauro regularly has to attend training and testing arranged by the company. Just the day after the interview, he was scheduled to go to Zhuhai for further training.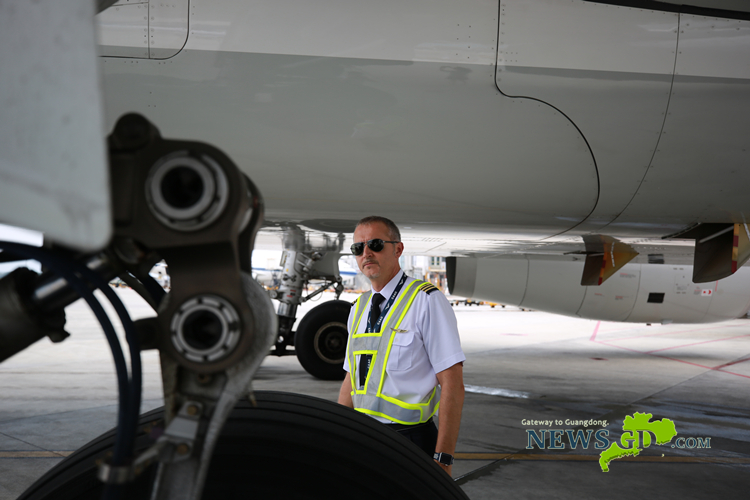 Mauro checks the airplane before flying. (Provided to Newsgd.com)
---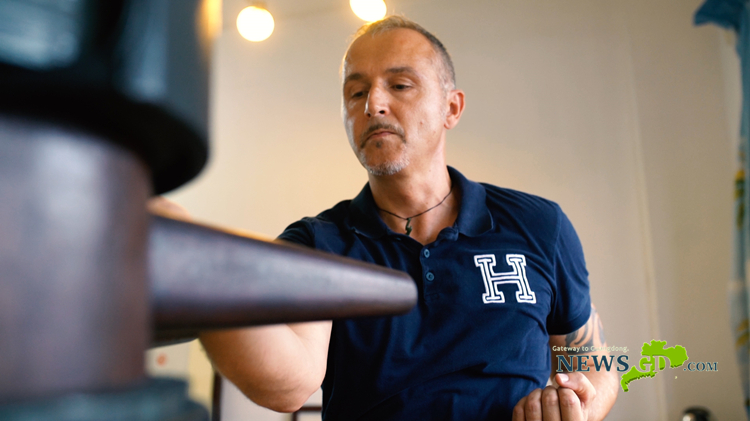 Mauro practices Wing Chun. (Dong Tianjian, Nanfang Daily)
Fulfilling a dream of learning Kung Fu
At the end of 2013, with the help of his colleagues, Mauro made the acquaintance of a Wing Chun master, Lu Bojun, in Foshan and began to learn Kungfu there.
Master Lu, nearly 70 years old, began learning Wing Chun aged just 14. Now he is the Wing Chun coach of an association of martial arts in Foshan. Moreover, Master Lu speaks English and can explain the theory and skills of Wing Tsun to his Italian student.
For Mauro, to learn martial arts also means learning about Chinese martial culture and history. Every 2-hour long lesson begins with a tea talk with Master Lu who tells Mauro of his experiences, deepening Mauro's understanding of Chinese martial arts. It is because of this that Mauro makes the effort to take at least 3 lessons every month despite his busy schedule.
As a student and friend of Master Lu, Mauro has even invited Master Lu to visit Italy, and with Mauro's help, Master Lu was granted an Italian visa and even stayed at Mauro's home for a week.
When talking about his life in Guangdong, Mauro expressed his satisfaction, noting how convenient it is to take the metro or grab a taxi, and that he can find shops and supermarkets easily. "The city has everything, basically."
---
开得了飞机,耍得了咏春,南航这位"洋老广"要逆天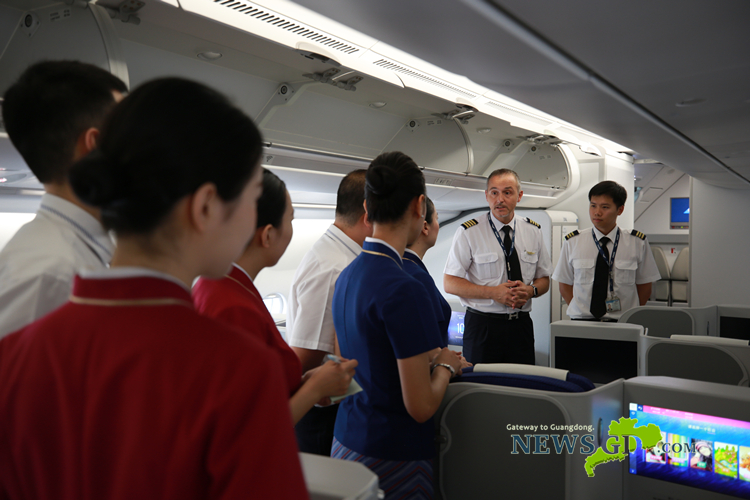 马洛(右二)与机组成员在机舱开会。
2012年9月,当意大利人马洛(Mauro Marchesan)初次踏上南粤大地,他对这里知之甚少。这个在西方被称为Canton的城市,距离香港特别近,现在发展很快,是中国最富裕的地区之一——这些大概就是他仅知的所有信息。
当时的马洛大概也不会想到,在中国南方航空公司工作6年多,他已被熏陶成"广东通":跟家人朋友联系用微信,出行打车靠滴滴,经常跟中国同事相约去地道粤菜馆觅食,甚至还跑去佛山拜师正儿八经地学起咏春拳……
"越来越多像我这样的外国人,来中国工作,经商。我想这就是中国发展开放型经济带来的改变之一。"马洛感慨道。
A330机长的繁忙日常
马洛与南航结缘,始于一个神奇的契机。当时整个欧洲笼罩在债务危机的阴影中,马洛决定换工作。当南航向他抛出橄榄枝的时候,出于对中国的兴趣,他欣然接受了。
马洛现在在南航主要执飞A330。作为机长,马洛每天的工作排得相当满。如果当天有安排航班,马洛需提早数小时来到飞行准备室,与机组成员开准备会。通常航班的机组成员并不是固定搭档,马洛必须利用准备会的时间来跟其他机组成员熟悉起来,尤其是第一副驾。马洛说,同事们对他都非常友善,大都会英语,跟他交流基本无障碍。
目前马洛执飞的国内航线主要是广州往返北京、上海和成都。国际航线的话,东南亚、澳新和欧洲航班都执飞过。这个主要是根据南航的国际航线排班而定。2018年夏秋季,南航新开广州-罗马航线,8月28日又开通广州-拉合尔航线,在广州的通航点达到145个,其中国内94个,国际和地区通航点51个。
此外,机长的日常还包括经常接受公司安排的大量培训和考核。就在我们采访的第二天早上,马洛就必须飞去珠海培训。
圆了多年"武侠梦"
刚来广州时,马洛内心有点忐忑,毕竟一句中文也不懂。很快他的顾虑被打消了——尽管语言不通,大家还是很热情地用肢体语言帮助马洛解决问题。也正是在热心同事的"牵线搭桥"下,马洛实现了自己多年的"武侠梦"——2013年年底,他在佛山正式拜咏春拳大师陆柏钧为师,开始学习武术。
现年近70的陆柏钧,14岁开始师从"佛山咏春三雄"之一姚才的高徒林瑞文学习,如今是佛山市精武会咏春拳教练。陆师傅除了有一身精湛的武艺,还能用英语对咏春拳的名词术语,作出准确的翻译,毫不费劲地向洋弟子讲述咏春拳的拳理、要领——这对不懂中文的马洛来说尤其意义重大。
对外国人来说,学习武术,不仅是学习招式路数,也需要懂得武术中蕴含的博大精深的中国文化。马洛介绍,跟着陆师傅学习,一节课大约持续2个小时,每节课都是从喝茶聊天开始,在这个过程中陆师傅会跟他聊自己的学武趣事,并从中穿插中国文化和武术发展渊源,以此加深马洛对武术的认识。也正因如此,尽管工作忙碌,马洛还是坚持每个月至少上3次课。
马洛和陆师傅的友谊也从武馆延伸至马洛的家乡意大利。在一次闲谈中,马洛主动邀请陆师傅去他的家乡。在马洛的帮助下,陆师傅顺利办好签证前往意大利,并在马洛家里住了一个星期。
除了学咏春,马洛对在广东的生活表示非常满意。地铁和出租车都很方便,也很便宜,商店超市俯拾皆是,"基本上,这座城市拥有了一切"。
采写:胡南,郑逸康(实习)
编辑:欧阳妍