"Today Guangdong is a different world than when I first time came here. I've been very lucky to witness all of the development and to be a part of it," said Dr. Harley Seyedin, president of AmCham Sou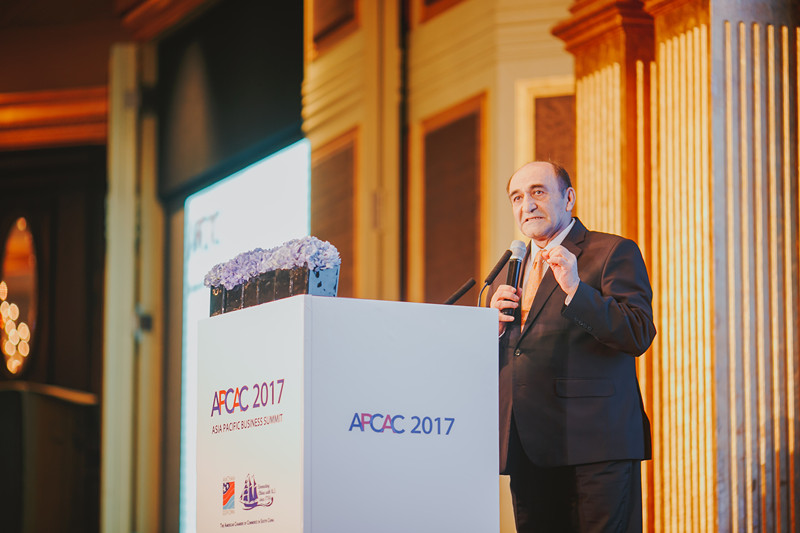 Dr. Harley Seyedin, president of AmCham South China.[Photo provided to newsgd.com]
"Today Guangdong is a different world than when I first time came here. I've been very lucky to witness all of the development and to be a part of it," said Dr. Harley Seyedin, president of AmCham South China.
When Seyedin became president, AmCham South China had just 211 members, while as of today, the number stands at more than 3,000 members.
Since 1991, Dr. Seyedin and AmCham South China have seen Guangdong's change and its capacity to be a major player in development projects and global economy grow.
Guangzhou and Shenzhen ranked as the two most popular destinations for investment from a list of 44 cities in China, according to Special Report on the State of Business in South China released by AmCham South China in March this year.
Everything in Guangdong has changed
When Seyedin came to Guangzhou in 1991, the city looked quite small and many parts of today's city did not yet exist. There was no Zhujiang New Town, just a few sports facilities in Tianhe District.
In the old Baiyun Airport, there were no signs that could tell you whether a flight was coming or leaving.
But people were still very happy and friendly. They were anticipating the explosive development to follow: "I could see people who were very excited about what we could do together," said Seyedin.
At present, there are thousands of kilometers of super highways connecting cities and towns. The high speed railway now links Guangzhou to Hong Kong.
With the launch of Baiyun Airport's T2, the city will handle a hundred million passengers a year, not to mention the airport in Shenzhen, which is an international airport of the highest quality. In regards to business, Guangdong is now the thirteen largest economy in the world. It has surprised many countries with a large GDP volume.
Also, people's quality of life is steadily improving. A number of museums, opera houses, theaters and river walks are common now in every city across Guangdong.
The province is on its way up.
---
A vibrant economy to attract foreign investment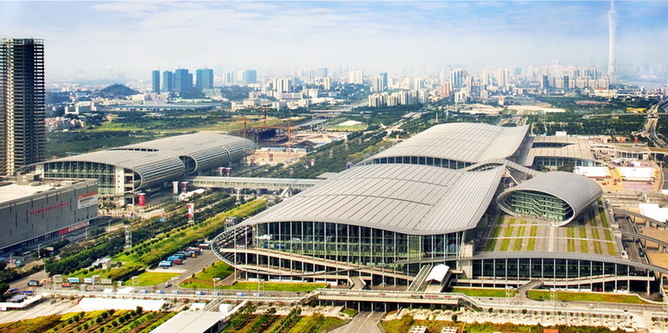 Guangdong was the first place to open to the outside world. With the development of Shenzhen, it provided the opportunity for China to experiment with opening up, to see how foreign investment could help develop the economy of China.
The province has always been at the forefront of transparency with an open government, inviting foreign investment in almost every area. It has also been very protective and supportive of new technology being introduced to Guangdong by foreign companies.
According to Seyedin, Guangdong offers advantages that some other places can not. One of them is being very closely located to Asia-Pacific region, for example, from Guangzhou or Shenzhen, in just two or three hours you can be in the capital of one of the surrounding countries like Singapore, Malaysia, Indonesia, Cambodia, Laos. This unique location has made it the regional headquarters of many foreign companies.
Furthermore, way Seyedin sees it, Guangdong has done a great job to provide the brain power for development of foreign companies, for example, following the establishment of the Guangzhou Higher Education Mega Center, there are now more than one hundred thousand students in higher education.
Today, nearly every university graduate speaks a reasonable standard of English and are well educated. That has enabled foreign companies to grow in Guangdong, and as regards the Guangdong-Hong Kong-Macao Greater Bay Area, it gives Guangdong the talent pool that many innovators around the world will need.
The province now boasts many new types of technological development centers in Guangzhou, Shenzhen among other areas. When taken together, they provide a capability that doesn't exist anywhere else in the world.
Finally, for foreign companies, Guangdong is offering the best in telecommunication, transportation, cargo handling, and supply chain facilities in China.
It makes absolutely perfect sense therefore, that companies, especially American companies will continue to invest in Guangdong, Seyedin added.
Learning is the best way to go
Seyedin also offered advice as to how Guangdong can develop better and bring in more foreign talent.
Guangdong has been learning from its experience collaborating with companies and organizations that are based in other countries. For instance, under the Guangzhou Award for Urban Development, it will bring together hundreds of urban planners, urban developers and architects from all around the world. They will give their opinions as to how better plan out Guangzhou's development over the next twenty years.
In January 2018, Guangdong put a new visa policy in place with an expected benefit to over 5000 individuals already working in the province and which should help attract scientists, entrepreneurs and talented individuals. According to the policy, those eligible can apply for confirmation letters from the Human Resources and Social Security Department of Guangdong Province. And with these letters, they can then apply for the R Visa via their respective country's consulate in China.
To attract more foreign talent, it needs to have funding and to make sure that the foreigners have the basic necessities (to settle down), said Seyedin. Many people will come if they feel the doors are open. There has to be an established, determined plan, an organized recruitment process.
"I think efforts are well underway across various cities to attract foreign talent," said Seyedin.
Reported by Will
Edited by Simon
---
华南美国商会会长哈利·赛亚丁:"很幸运能成为广东发展的一份子"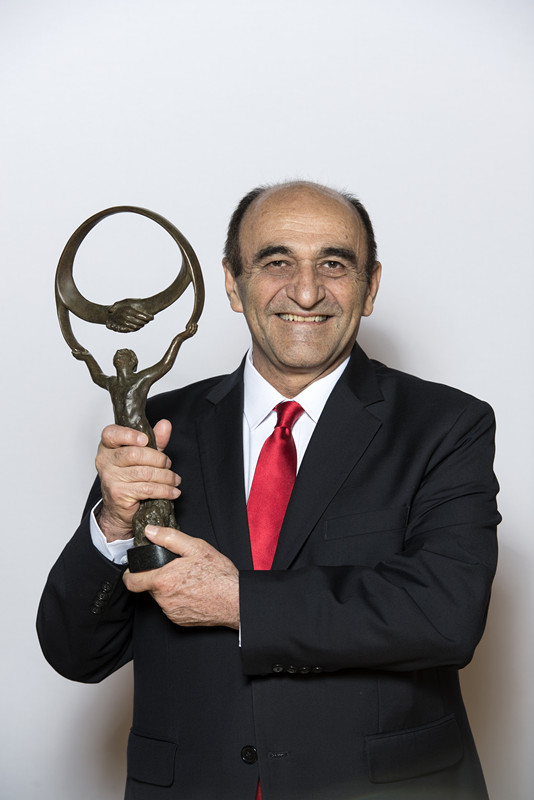 "今天的广东跟我刚来时天差地别。我很幸运能见证它一直以来的的发展,并成为其中的一份子,"华南美国商会会长哈利·赛亚丁博士(简称哈利)说。
      当哈利当选商会主席的时候,华南美商会只有211名成员;今天,它的成员数已经过了3000家企业。
      自从1991年以来,哈利和华南美商会目睹了广东的变化和它在系列重大项目和全球经济发展方面扮演的重要角色。
      根据华南美商会今年3月发布的《华南地区经济情况特别报告》显示,在最受欢迎的投资目的地方面,广州和深圳在涵盖的44个中国城市中包揽前两名。
广东的一切都在发生改变
      当哈利1991年来到广州的时候,这里看起来还只是一座小城市,因为如今的很多城区还不存在。当时的天河区还没有珠江新城,只有一些体育设施。在旧白云机场,旅客甚至找不到告知航班起飞降落时间的告示牌。
      但人们仍然十分快乐与友好。他们预见到了即将到来的快速发展,"我可以见到人们对我们将能共同达成的事感到非常兴奋,"哈利说。
      现在,成百上千公里的高铁连接起各个城市,其中包括连接广州和香港的粤港高铁。随着白云机场T2航站楼落成,广州将有能力接待每年过百万旅客。更别说深圳高质量的国际机场了。在商业方面,广东如今是世界第三大经济体,以庞大的GDP总量超越了许多国家。
      同时,人们的生活水平也在稳步提高。如今,广东的每个城市都建立了博物馆、歌剧院、剧场和河畔步道。
      广东的发展正蒸蒸日上。
吸引外国投资的活跃经济体
      广东是中国第一个对外开放的地区。深圳的开发给中国一个机会进行对外开放,见证外资如何帮助经济增长。
      广东一直站在提高政府透明度的前沿,欢迎外资在各个领域进行投资。广东也对外国企业引入的新科技提供了很好的支持和保护。
      哈利还认为广东有着其他地方无法提供的一些优势。其一是其接近亚太地区的优越地理区位。从广州或深圳出发,两三小时内就能到达这些周边国家,包括新加坡、马来西亚、印度尼西亚、柬埔寨、老挝等。因此,这也使广东成为许多国际企业的地区总部。
      此外,广东还为外企发展提供了大量高质量的人才。比如,随着广州大学城建成,它拥有十万名以上接受高等教育的学生。今天,几乎每个大学毕业生都受过良好的教育,能说一口流利的英语。这有助于外企在广东发展。
      同时,在"粤港澳大湾区"规划下,广东拥有来自全世界的投资者需要的人才储备。广东正在广州和深圳建设许多新兴科技开发中心。总的来看,这给予了广东全世界独一无二的优势。
      最后,对外国公司来说,广东正竭力提供中国最好的电信、交通、货物处理和供应链。
      哈利补充说到,外国公司特别是美国企业会顺理成章地继续在广东开展投资。
学习是最好的发展方法
      关于广东如何能更好发展、吸引更多外国人才,哈利也给出了相关的建议。
      广东一直在从其与外国公司和机构合作的经验中学习。例如,广州国际城市创新奖从世界各地吸引了数以百计的城乡规划者和建筑师,为如何更好地规划广州接下来20年的发展献计献策。
      2018年1月,广东实施了新的签证政策,预计将使超过5000名在粤工作的外国人收益,并吸引科学家、企业家和其他人才。根据政策规定,符合资格的人士可以从广东省人力资源和社会保障厅获得申请表,并通过其本国驻华使领馆申请R类签证。
      哈利表示,为了吸引更多的外国人才,广东需要获得足够的资金,并确保外国人有安居的基本条件。如果许多人感到大门向他们敞开,自然而然的他们会乐意前往此处。因此,广东必须有相应完善的计划和申请程序。
      "我认为广东的各个城市都已经采取了措施以吸引外国人才,"哈利表示。
作者:魏申,郑逸康