In his own words, "following the electronics industry", Radu Gosav first arrived here in 2001 and joined TÜV SÜD two years later. As director of the EMC department for TÜV SÜD Greater China, Radu's ro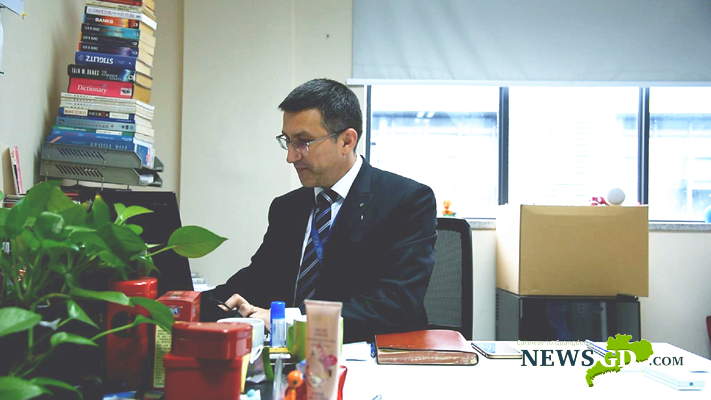 Radu Gosav works in the office. (Photo by Eric)
.
Over the past 17 years Radu Gosav has made over 100 long-haul flights between Guangdong and Romania, something you might guess from the model planes dotting the shelves of his bookcase.
In his own words, "following the electronics industry", Radu Gosav first arrived here in 2001 and joined TÜV SÜD two years later. As director of the EMC department for TÜV SÜD Greater China, Radu's role is to oversee testing on the quality of products ranging from consumer electronic products to automotive sub-assemblies and components.
Reported by Nan, Eric(Intern) and Phoebe(Intern)
Video by Eric(Intern)
Edited by Olivia and Simon
---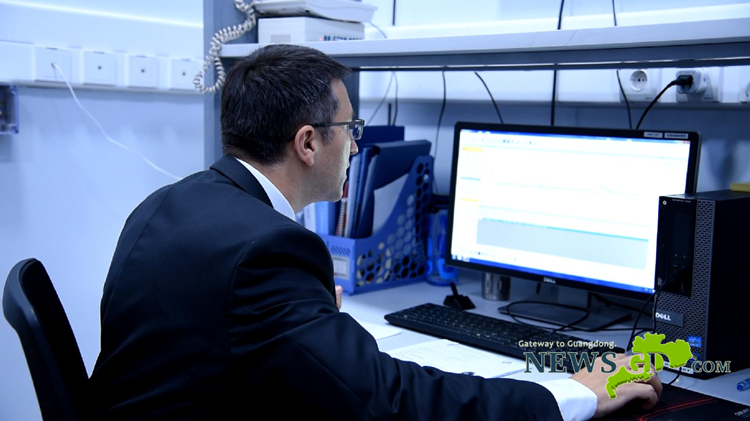 Radu Gosav works in the lab. (Photo by Eric)
Guangdong leads the world in manufacturing
Radu has been working for TÜV SÜD for fifteen years. Headquartered in Munich, TÜV SÜD is a world-renowned testing, certification and inspection company. At present, the EMC department is employed by Guangdong enterprises to test the quality of electronic products which are about to be exported to the world. With the electronics manufacturing boom in Guangdong, Radu and his colleagues have become increasingly busy.
"I have to say that throughout the last fifteen years, what I notice is that the Chinese manufacturers have improved the quality every year, and there is an active interest from our clients in improving the quality, improving the functionality, making the products better."
Located in a laboratory in Wisdomland Business Park in Shenzhen's Nanshan district, samples of products, ranging from mobile phones to home appliances, are ready for testing by the EMC department. Radu explained that after the completion of the new EMC Laboratory in Panyu next October, that laboratory will extend the scope of testing to to automobile parts and accessories .
With the transformation of industry and labor force in Guangdong, the province's electronic information industry has realized a production value of over 3 trillion RMB, and has formed an emerging industrial clusters worth over 100 billion RMB covering areas as diverse as: mobile communication, flat-panel display, high-end software, semiconductor lighting, biological medicine, intelligent manufacturing equipment, and new materials. Over the past 17 years in Guangdong, Radu has experienced and witnessed the transformation and upgrade of "Guangdong Manufacturing".
"Guangdong used to be the manufacturing industry for everything, especially for consumer low cost products. But in time, the quality of the products has improved, and also the level of technology has improved." Radu said, "I'm very pleased to see that Guangdong Province is at the forefront of changing technology."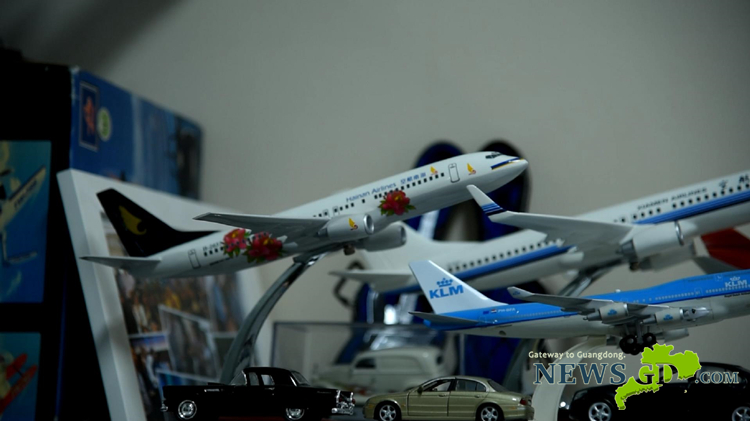 Airplane models in Radu's office.(Photo by Eric)
---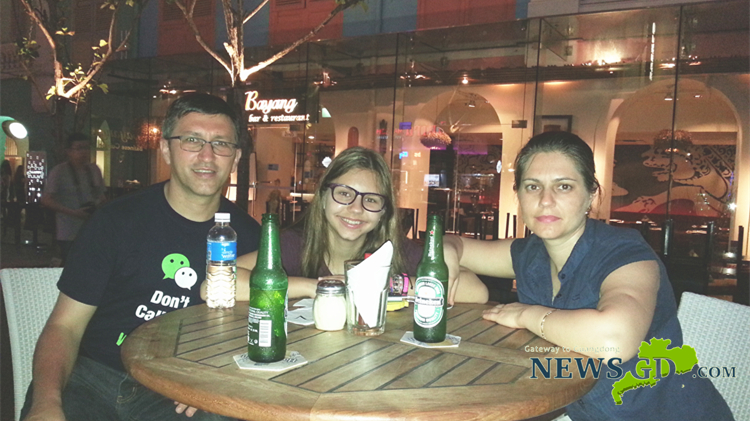 Radu and his families. (Provided to Newsgd.com)
More livable, more open
After living in Guangdong for 17 years, Radu feels at home here. With increasingly better government services, education, medical care, transportation and living conditions, Guangdong has become more and more livable.
Since English is widely spoken throughout Guangdong, it is more convenient for expats to live here. Furthermore, the signs, displays and announcements on the Metro and busses are all provided in English as well.
What impressed Radu most, however, are the government services in Guangdong. Since government employees communicate in English and forms are written in English, it is more efficient for expats to deal with issues. There is an Overseas Management Service Center for expats in Shenzhen, which is very close to where Radu lives in Nanshan.
Radu's wife and daughter settled in Guangdong in 2009. His daughter is now studying at an international school in Nanshan. At present, there are about 25 international schools across Guangdong, most of which follow curriculums based on those of the United States, the United Kingdom or Canada.
"From my experience, the Opening up is best expressed in terms of increasing the quality of everything I have here."
---
亲历广东制造业转型升级,这位"洋老广"有话说
走进拿督(Radu Gosav)的办公室,最吸人眼球的,是他办公室一角书柜上摆着的8架飞机模型——这些飞机模型见证了他在过去17年近百次往返广东和家乡罗马尼亚的长途飞行,对他来说这是人生最好的见证。
2001年"跟随电子产业的发展趋势"来到广东,2003年加入TÜV南德意志集团,作为TÜV南德意志大中华集团EMC电磁兼容测试部门总监,这些年拿督的工作重心是为电子产品做质量检测。拿督经手做质检的产品,一开始是电子零件,随后是诸如手机之类的电子电气产品,而现在已经开始向汽车"进军"。
2008年,一场国际金融危机加速倒逼广东以加工贸易为主的外向型经济产业转型。广东实施"双转移"战略,推动"腾笼换鸟"。 如今,广东电子信息产业产值超3万亿元,并形成新一代移动通信、平板显示、高端软件、半导体照明、生物医药、智能制造装备、新材料等超千亿元新兴产业集群。
在某种程度上,拿督可以说是广东制造业转型升级的亲历者和见证者。
"广东制造"达国际先进水平
今年是拿督加入TÜV南德意志集团的第十五年。TÜV南德意志集团总部位于慕尼黑,是国际知名的第三方检测认证机构。目前拿督主管的EMC电磁兼容测试部门,接受来自广东企业的委托,检测企业即将出口全球的电子产品能否达到国际标准。随着广东电子制造产业的蓬勃发展,拿督和他的同事们也日益繁忙。
"不得不说,在过去15年,我发现中国的电子制造厂商们都非常有冲劲,产品质量和技术含量都逐年稳步提升。这也是我们这些年业务量逐年上升的原因。" 拿督在接受采访时表示。
当记者走进位于深圳南山区智恒战略新兴产业园的实验室,随处可见委托拿督主管的EMC电磁兼容测试部门做质检的产品样品,从普通的手机到大点的家电,一应俱全。据拿督透露,如今他们正在升级位于广州番禺的实验室,预计将于明年10月左右完工。届时新实验室的测试服务将扩大到汽车零部件。
拿督说,广东此前是世界工厂,尤其以生产价格低廉的消费品著名。但是经过这些年的发展,'广东制造'很多都达到国际先进水平。"我非常高兴地看到广东走在技术革新的前列。"
外国人觉得宜居是开放的最佳诠释
拥挤,潮湿,炎热。这三个词就是拉杜并不那么美好的广东初印象。但如今,在广东安居17年,这里俨然已经成了拿督的第二故乡。
拿督笑着说,他觉得这些年广东越来越宜居了,不管是政府服务,还是教育、医疗、交通和居住条件,一切都在越来越好。"十几年前,找人问路时,大家只能靠肢体语言沟通"。如今,地铁公交站牌都有英语,还提供英语报站。小学就开设了英语课,下至三五岁幼童,上至六七十岁耄耋,都能随口来几句英语。
让拿督感触最深的是广东的政府服务。刚来中国时,拿督去政府部门办事,几乎找不到会英语的工作人员,每次都必须要公司的中国同事陪同。如今,有英文版表格,有英文流利的工作人员,甚至在离拿督家不远的地方还有一个境外管理服务中心,专门为在深圳的外籍人士提供服务。
拿督的妻子和女儿2009年搬来广东定居,如今女儿在深圳南山区一所国际学校就读。拿督对子女教育非常重视,女儿入读前做了大量的功课——目前广东有大约25所国际学校,大都采用美国、英国和加拿大课程。最后拿督选择了一所位于深圳南山提供加拿大课程的国际学校。
"对我来说,中国对外开放的最好诠释,就是我在这里所拥有的一切越来越好," 拿督满足地感叹道。
采写:胡南,郑逸康(实习)
视频:郑逸康(实习)
编辑:欧阳妍